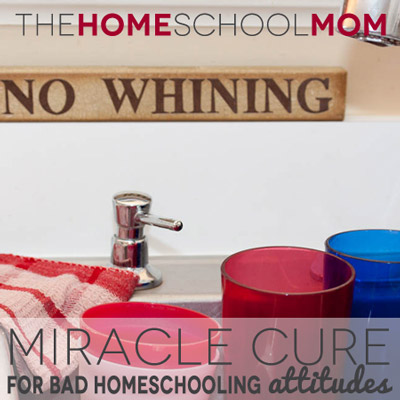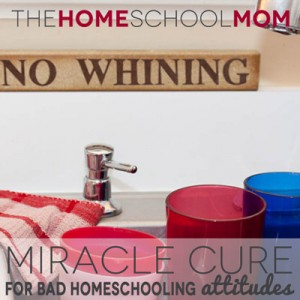 There's no way to get through homeschooling without experiencing it.
It comes in various forms: "I hate Math". "This is boring". "Why do we have to spend so much time on this?" "I don't feel like doing school today". Or sometimes even just "I caaaaaaaaaan't". Whether it's whined, complained, stated matter-of-factly or yelled in frustration, there's no way getting around the inevitable bad attitude about getting schoolwork done.
When children balk at their academics, it can twist homeschooling from a lively adventure into a grinding battle. And, unfortunately, in this war, there are no winners. Kids turn sour, parents turn angry, work doesn't get completed, and learning is stalled. If the battle continues long enough, it can significantly alter family life and damage relationships. For some, bad attitudes can lead to giving up on homeschooling all together.
So what's a parent to do?
Figuring out the source of the complaints is a good place to start. When children begin resisting doing their school work, parents should step back and take an assessment:
Are we moving too quickly, or does the child not understand a concept? If so, then it could be that simply slowing the pace or explaining things in a different way can help ease a child's frustration.
Is there a learning disability or special condition involved? Dyslexia, ADHD, and other challenges should be identified and parents should get support in handling those specific issues, in order to maximize learning.
Am I using teaching methods that best enhance my child's learning style? A hands-on learner is going to be bored and not learn as effectively by simply listening to lectures. Using techniques that incorporate the student's personal modality of learning will help him or her stay invested and engaged.
Is this curriculum the best for my child's ability and learning style? One of the biggest benefits of homeschooling is the ability to tailor the homeschool curriculum to the learner rather than vice versa. Simply adjusting resources to the specific needs of the learner can make all the difference in the child's attitude and confidence toward learning.
Has school become too routine? It is easy to get into a rut and do the same thing day after day. Simply changing schedule or doing some activities outside of the norm can make school interesting again. Field trips, anyone?
Is my own attitude and approach helping my child learn? Often we as parents can contribute to our kids' frustration without even realizing it. Keeping an optimistic attitude, encouraging spirit, and excitement about "doing school" will help the kids to feel the same way.
Is my child getting enough sleep, nutrition, and physical exercise? All of these factors can significantly affect a child's ability to learn and attitude toward learning.
But what if all of those factors have been addressed, and the child still has a bad attitude on a regular basis? Enter the Miracle Cure.
What is the Miracle Cure?
The Miracle Cure is an old-fashioned remedy for persistent bad attitudes that is simple, but effective. It falls along the lines of making life without getting schoolwork done less desirable than life with getting schoolwork completed. Some might know it by its more common name: manual labor.
It works like this: Each time the child complains, whines, makes a negative comment about schoolwork, or displays an unwillingness to be diligent, he or she gets to do some other, less enjoyable work instead. There are endless possibilities as to what this "work" can entail, but household cleaning and yard maintenance are excellent options. Essentially, the Miracle Cure involves helping the child understand that the alternative to not doing schoolwork is not something enjoyable; the alternative is less desirable work of another sort. Oh, and by the way, when they finish that less desirable work, their schoolwork is still waiting for them.
How is the Miracle Cure implemented?
The Miracle Cure only works effectively if the "alternative" tasks are not given in anger or frustration. It should simply be framed as a choice: "Johnny, it is important for you to be diligent and learn the information and skills you need to be successful. If you choose to not do your schoolwork with a cheerful spirit, then you will need to do some other work until you are ready to return to your schoolwork with a good attitude." The child should be expected to continue completing assigned tasks until he/she can demonstrate a willing spirit to be responsible. The tasks can be given by the parent according to things that need to be done around the house at that moment, or tasks can be pre-written on slips of paper and put in a jar ahead of time for the child to take out and complete one at a time (checking in with the parent after each one). When the child demonstrates a positive, diligent attitude, she then returns to whatever schoolwork assignments she did not complete. A key to the Miracle Cure is that whenever the child is ready to do schoolwork with a good attitude, he/she must go back and finish everything that was originally assigned; any time spent doing chores should not take away from school assignment time, but from personal time.
Why does it work?
When children recognize that having a poor attitude about completing schoolwork only results in them getting more work to complete, schoolwork quickly becomes remarkably more desirable. Vacuuming rugs, cleaning bathrooms, folding socks, and scooping dog poop out of the backyard are all valuable lessons in diligence and responsibility that are, conveniently, usually much less enjoyable than completing a page of math problems. And if they aren't less enjoyable, find some tasks that are. When the option is not "schoolwork or no schoolwork" but "schoolwork or hard work", attitudes about academics miraculously improve.
There are many factors in why children complain about doing schoolwork, and it is always important to get to the source of the issue and address significant underlying problems. But if the issue is simply an unwilling spirit, or a desire to do something more enjoyable than schoolwork, the Miracle Cure is true to its name. After just a few days or a couple weeks of consistently applying the Miracle Cure, kids will be contentedly completing their academics and parents will no longer be pulling their hair out. In the process, a lot of tasks that need to be done around the house will get finished, and kids will learn the value of responsibility, diligence, and cheerfulness.