Activities, Lesson Plans, and More
Age Range Key
Y—Young (PreK-3rd)
M—Middle (4th-6th)
O—Older (7th-12th)
T—Teacher Resources
Library of Congress Thanksgiving Documents  (O)
A collection of primary sources from the Library of Congress that include historical proclamations, articles, and art. A teacher's guide is also available.
A Native American Perspective Activity  (M, O)
This activity for older students provides a perspective on Thanksgiving from Native Americans that will challenge them to reflect. The activity provides writings from Native Americans on Thanksgiving and is accompanied by discussion and writing topics.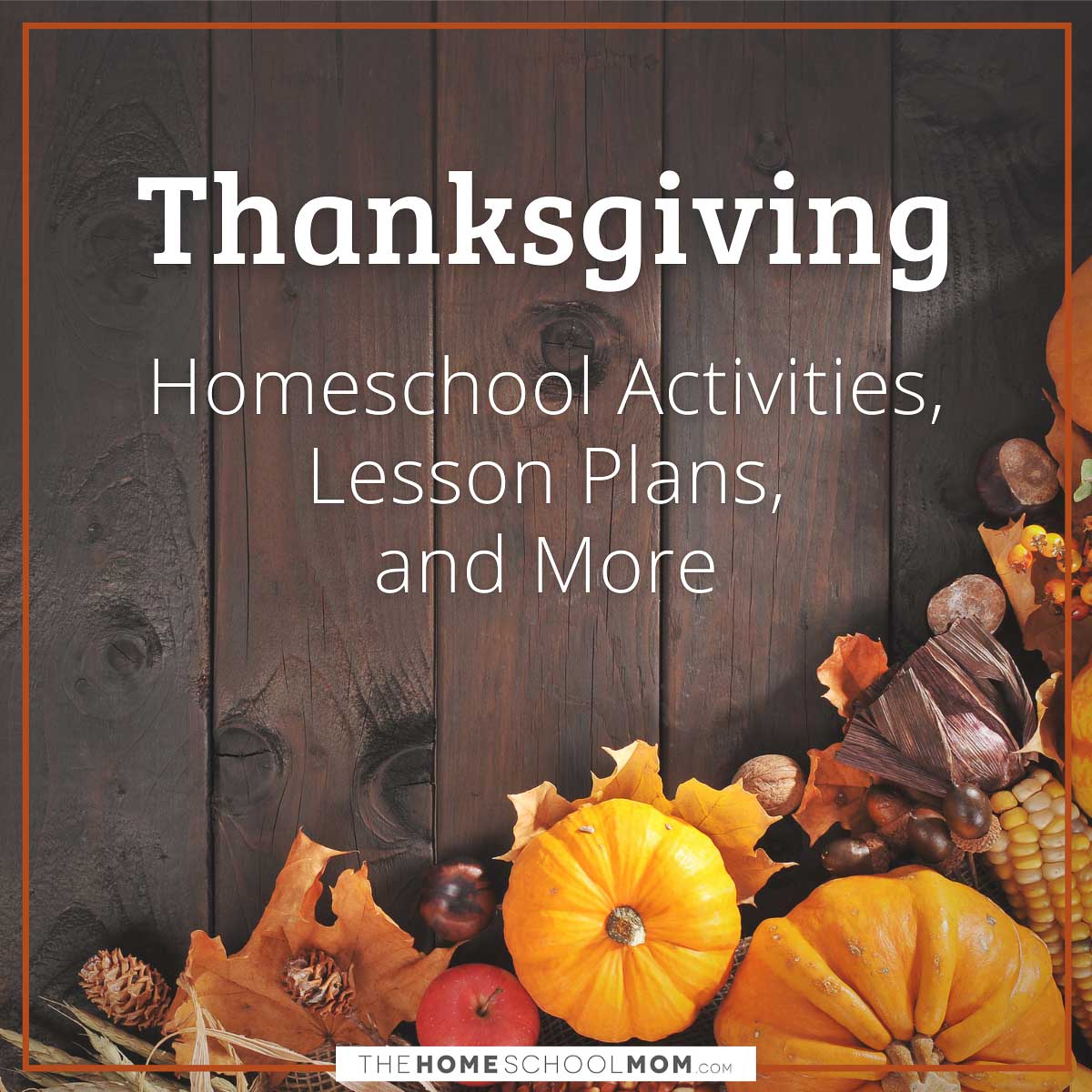 Culturally Sensitive Lesson Plans for All Ages  (Y, M, O, T)
These lesson plans from the Native American perspective challenge students to consider the cultural and historical implications of the first Thanksgiving and contain age-appropriate activities for younger, middle, and older students, including crafts, reading, writing, and discussion exercises. From the National Education Association.
The Smithsonian Thanksgiving Collection  (O, T)
A collection of primary sources from the Smithsonian Institute that includes historical art and artifacts. The collection is accompanied by a Thanksgiving playlist.
The Year We Had Two Thanksgivings  (M, O)
Thanksgiving hasn't always been on the fourth Thursday of November. Learn about how Thanksgiving the date came to be from this brief history lesson and collection of primary sources.
A Collection of Artifacts from the Mayflower  (M, O)
What did the English bring with them on their Mayflower voyage? Explore this online collection of artifacts from the Pilgrim Hall Museum.
Books, Writings, and Records from Mayflower Passengers  (O)
Get an first-hand look at life on the Mayflower and at Plymouth by reading the writings and records from those who lived there. A collection of primary sources that includes books, letters, records, and documents from MayflowerHistory.com.
Thanksgiving-Themed Activities and Worksheets  (Y)
These Thanksgiving-themed printable activity pages and worksheets cover an array of subjects and thinking skills. From EnchantedLearning.com.
Plimoth Plantation Online Learning  (Y, M, O, T)
The Plimoth Plantation offers a multitude of online learning opportunities, including historical and topical information, historical recipes and games, virtual programs and workshops, and a podcast. Visit their events calendar at https://www.plimoth.org/calendar for live programs.
How to Support Indigenous People on Thanksgiving  (T)
A list of ways to focus on indigenous people while celebrating Thanksgiving; not geared toward children but includes some ideas that could be implemented with children.
Thanksgiving Entertainment and Activities  (Y, M, O, T)
Learn about Thanksgiving traditions and potentially start your own with these articles, games, and activities for children and the whole family. From FamilyEducation.com
15 Activities to for the Kids' Table this Thanksgiving  (Y, M)
Kids will have a blast (and a friendly competition) with these fun Thanksgiving activities. From Highlights.com
Thanksgiving Traditions  (Y,M)
Some of the common traditions associated with "Turkey Day." from National Geographic Kids.com
Ways to Give Thanks  (Y,M)
From Kids of Integrity; Tools for growing Godly character. Make a scarecrow, bake "manna" wafers, and hear how God provided for the Israelites when they were "pilgrims" journeying to a new land. You can use this lesson in connection with Thanksgiving, or at any time of year.
Thanksgiving Interactive: You are the Historian  (Y,M,O,T)
What really happened at the First Thanksgiving? Become a history detective and find out! From Plimouth Plantation
The Truth about The First Thanksgiving by James W. Loewen  (O, T)
Reproduced from Loewen's book "Lies My Teacher Told Me," this excerpt describes the original non-native settlers of what is now the United States and the impact they had on the natives.
Thanksgiving Ideas for the Classroom  (Y)
Disney Family's array of Thanksgiving recipes, printables, party ideas and crafts for kids.
Thanksgiving Games  (Y)
These printable placemats and activity pages feature puzzles, games, and coloring pages. From Disney Family
DLTK's Custom Dominos  (Y)
Great tool for any holiday or unit study theme. Pick a theme for your dominoes and then choose color or black and white before printing.
Thanksgiving History Quiz  (Y)
"Travel back in time and find out what the Pilgrims were really up to at their first Thanksgiving."
Thanksgiving Scavenger Hunt  (Y)
A themed scavenger hunt to get you off the couch on turkay day.
Thanksgiving Activites for Kids and Teachers  (Y,T)
Thanksgiving activities, crafts, stories, and more from KiddyHouse.com.
Thanksgiving Day Crossword Puzzle  (Y)
Test your Thanksgiving trivia knowledge with this crossword from SunnieBunniezz.com
Thanksgiving Fun and Games  (Y)
Thanksgiving activities, games, puzzles, and more from Apples4theTeacher.com
First Thanksgiving  (Y)
This brief history lesson from NationalGeographic.com explores the story of the first Thanksgiving, including the facts, the myths, and the modern day version.
Thanksgiving Printables  (Y)
Thanksgiving place mats, place cards, and paper centerpieces. From Parents magazine.
Thanksgiving Crafts for Kids  (Y)
Kid-friendly crafts that cover a variety of Thanksgiving themes from AllKidsNetwork.com.
Happy Thanksgiving  (Y)
From Lil' Fingers.com, a computer storybook, game, activity and coloring site.
Mrs. Turner's Pumpkin Pie   (Y,M)
A story for Thanksgiving from Judy's Neighborhood:A collection of short stories and poems by Judy Solomon.
Plimoth Plantation  (Y,M)
Plimoth Plantation offers primary living history exhibits, the 1627 Pilgrim Village, Wampanoag homesite and Mayflower II Exhibits. Visitors can experience what it was like that first Thanksgiving. Website offers a virtual tour.
DLTK's Crafts for Kids  (Y,M,O,T)
My kids love to decorate and plan activities for Thanksgiving. If yours are the same way, you will appreciate the coloring pages, crafts, games, puzzles, songs, recipes, and other printables from DLTK for the upcoming holiday.
Lincoln's Proclamation Establishing Thanksgiving Day  (Y,M,O,T)
A primary source dating October 3, 1863 from the collected works of Abraham Lincoln,
An Old-Fashioned Thanksgiving by Louisa May Alcott, 1881  (Y,M,O,T)
Return to the perspective of giving thanks from a time before television, telephones, and the internet to keep us connected with the rest of the world
You are the Historian: Investigating the First Thanksgiving  (Y,M,O,T)
Plimoth Plantation's interactive, online learning center offers students insight into 'The First Thanksgiving.'
George Washington's Thanksgiving Day Proclamation  (Y,M,O,T)
A primary source dating 3 October 1789
Suggested Reading About Thanksgiving