This post is contributed by Oak Meadow, the sponsor of our Living Education series.
by Alan Fortescue, PhD, Oak Meadow High School Director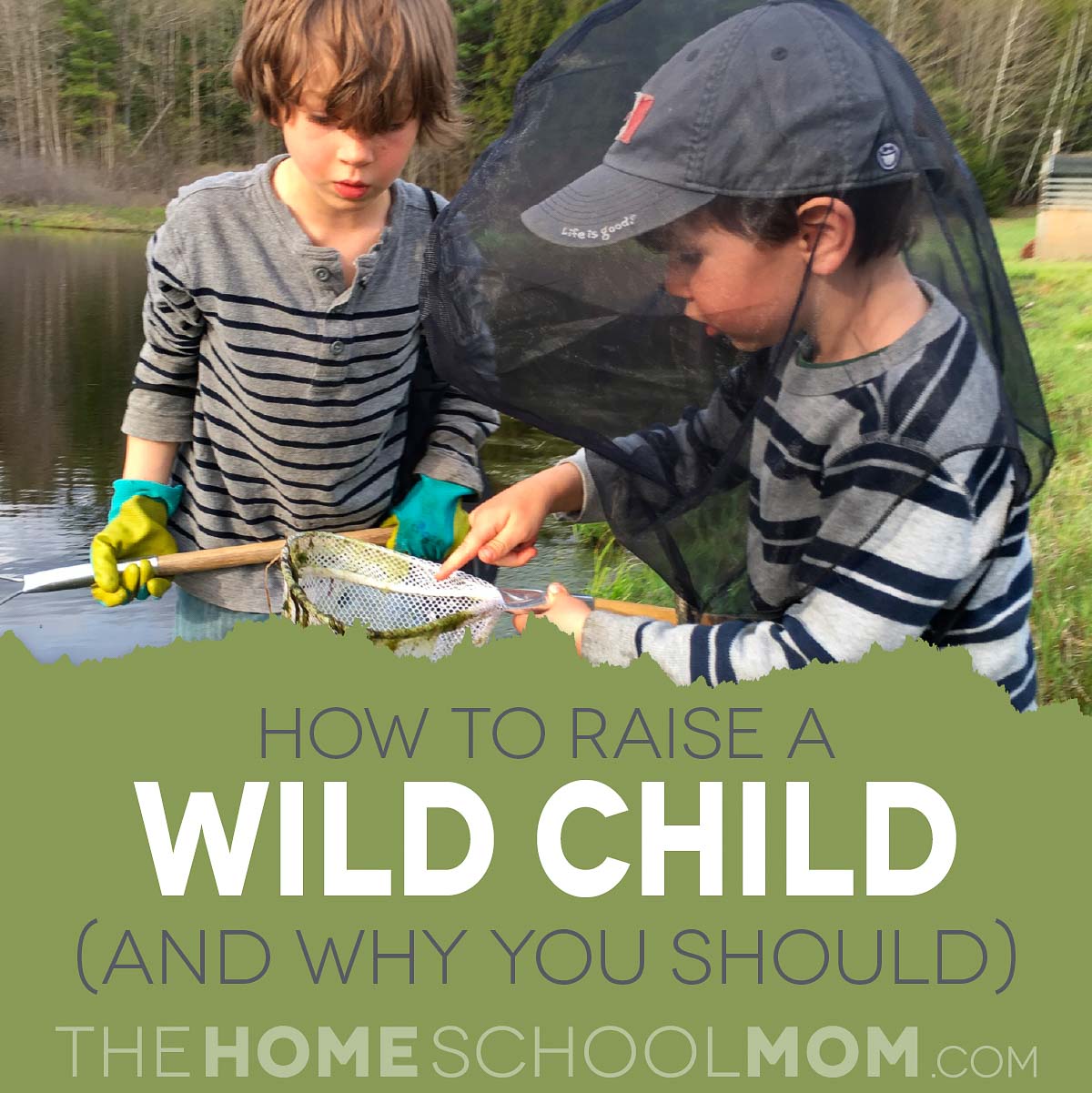 Jump to:
Intro
Research has shown that the simple act of getting children outside is the most effective way to foster environmental consciousness. As prominent environmental educator David Sobel eloquently stated, "one transcendent experience in nature is worth a thousand nature facts."
It turns out that children who have an immersive experience in nature develop a deep love of the environment that they carry with them their entire lives.
Aside from significantly increasing the likelihood that they will actively work to preserve the important life-giving aspects of the environment as adults, an engagement with nature has other positive cognitive impacts, from an improved performance in school to a greater involvement and concern for community well-being.
A study of 300 of the world's most innovative thinkers and leaders showed clear links between childhood immersion in nature and an out-of-the-box creativity and tireless commitment to society.
Here are some ways you can (safely) launch your child into the wild.
Let go of fear
One of the hardest things to overcome if you are not used to being outdoors in the wild yourself, or if your children are not, is a fear of what may be lurking there.
Fear may lead you to try to overcontrol the situation to prevent any harm from happening to your child. This may ultimately have the opposite effect on your child, confirming unreal conceptions about nature that may make them fear it rather than love it.
To be sure there are things that bite (mostly mosquitoes) and stuff that may sting or burn (like poison ivy), but these are easily mitigated, and in many ways are part of the beauty of the experience. The natural world is not Disneyland. Encountering and mastering its challenges while enjoying its beauty and wildness builds confidence, practical skills, and a profound sense of connection.
Start small
If you are a novice to the outdoors, start by finding a place that you and your child can feel safe exploring, or that you could feel safe letting your child explore with little supervision.
You might start by planting a garden. You could talk to your kids about how plants grow and then go to the farmers market and buy seedlings that you plant and harvest together. You might try taking a walk in the city park, or town common, or the local nature reserve.
From there, your adventures can grow along with your wilderness comfort zone.
Let your kids play
In a world where childhood time is highly structured and controlled, children often do not get the chance to explore on their own, in their own way and time. Being able to make sense of their world is crucial for the development of critical thinking skills.
The goal is not to show nature to children as another thing to check off the list, but to give them the time to see it for themselves. Let your kids set the pace, maybe even choose the place. Let them decide what to explore, and to follow their curiosity when one discovery leads to another.
Try not to be over-protective, try not to be directive. When my son was two years old, I would take him to the middle of a local forest and just let him wander, at his own pace and in his own direction.
It was an incredible bonding experience as I wandered with him, watching him pick things up and try to figure out what they were, splash in a stream, or dig in the mud. For hours we wandered, rarely talking, just experiencing.
Don't be scared of the dark
Camping is an amazing way to explore the natural world because you are immersed in it not only during the daylight but all through the night.
From setting a tent up in your yard to hiking miles into the forest and roasting marshmallows over a fire, spending a significant time outdoors will change your child's life. The experience of sitting around a campfire is elemental, and will be remembered throughout life.
Be a role model
While children can and will develop a love of nature when allowed to explore it on their own, your behavior in nature can also be a powerful influence.
For younger children, you can demonstrate curiosity by stopping to look at things you see. You could bring a magnifying glass, for example, and stop to look at how varied the colors of leaves on trees. You could ponder out loud, "Wow! I never knew there was such a difference between leaves, did you?"
The "did you?" question is an important part of nature explorations with children. Asking for their opinions or ideas in this inclusive way allows them to feel an important part of the discovery.
You might ask, "I wonder what we should look at next?", which naturally invites your child to engage in the wonder of being out in the wild.
Prepare for all opportunities
The first step is to dress appropriately, with sturdy clothing and footwear that fits the weather and terrain. Sunhat, sunscreen, raincoat, mittens—think about what will help everyone be comfortable spending time outside.
Bring water and a small snack in case you lose track of the time. Carrying a simple first-aid kit can let you take care of a simple splinter or scrape without having to cut the adventure short.
Engage the reluctant
Until their get their feet wet, perhaps literally, kids who have spent most of their lives inside may show little interest in a nature walk, much less camping. In these cases, it will take some careful planning and baby steps to bring them into the wild. One way I like to get kids engaged is by introducing the idea of a challenge related to their imagination.
For kids who are into video games, for example, I might inspire them to tell me what kind of fort we would need to defend ourselves from some character in the video world.
Once I get the description, I would then say, "Yeah, but, looking at the forest, where would we put such a fort if we had to build it here?" Then I would set the challenge of making the fort together.
Nature treasure hunts are also a lot of fun (and this is the beauty of exploring nature—it is instructional and fun at the same time).
For example, I might tie different colored ribbons around trees or hide them beside rocks, and direct the kids to find the ribbons in a certain order. Or, for older kids, I might tell them I really need help counting the number maple saplings in a certain space (say a 100 yard square).
After showing them what maple saplings look like, I ask them to let me know if they see any interesting bugs or animals on or near the saplings they find. Giving them a task or focus can help them let go of their timidity or boredom and tune in to their surroundings.
You might visit the library beforehand and find out about the local birds or plants, and then go on a treasure hunt for these. You can have students create a checklist, using pictures or drawings, and then mark off how many plant and animal species they see. Once they are engaged they will begin to notice much more around them.
To sum it up:
Remember to let your child explore. Give children the freedom to make their own discoveries and observations.
Let your child's imagination run wild. Let the time be about your child. Make it about curiosity and discovery, not learning facts.
Let your children get their hands dirty and explore just like a child would.
Allow your child to bring home a collection of nature treasures: rocks, sticks, leaves, feathers.
Try to play like a child yourself. Get wild together!
Talk to your kids about the experience afterwards. Help them learn to see that nature is a system of which they are a part.
Alan Fortescue is Oak Meadow's High School Program Director. He's also an avid mountain climber and hiker who can usually be found outdoors, regardless of the weather. This article is adapted from a piece originally written for PBSParents in 2009 (see here  for the original article).