This post is from our contributing sponsor Time4Learning.
Summer is drawing to a close and the upcoming school year will be here before you know it. You've probably been thinking about it but now's the time for action. After all, organization and preparation always play a key role for the successful homeschooler, regardless of their experience level.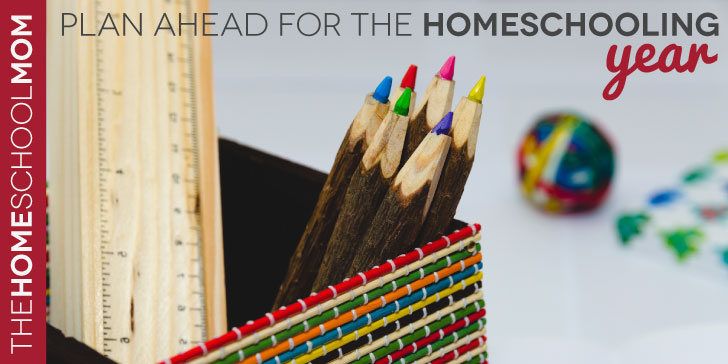 As most veteran homeschoolers know, things change from year to year. Aside from your student's evolving needs, new curriculum is made available, laws get updated, and improved tools in schedule and record keeping flow from various sources. With that in mind, here's how to start organizing and preparing for the upcoming year.
Setting up your homeschool classroom
Many homeschoolers prefer having one main space for their homeschooling. That certainly doesn't mean they're confined to that space, but it's where their children work mainly on their core subjects. You could set up shop in the kitchen, a den, the dining room, or even convert your garage or basement. But you should make the space inspirational and functional. You'll require plenty of shelf space, boxes or plastic containers, maybe a closet or cubbies for your children's materials and supplies, and a spot for you -- some homeschoolers call it their command station.
You can color code your children's supplies so they know what belongs to them. This is especially helpful with children in different grades. It also helps you remember! Stick labels on the plastic containers with the name of each subject -- this way your children will easily locate their subject matter materials. Don't forget, an organized classroom is an effective classroom.
Choosing your curriculum
Children learn in many different ways. And as a homeschooler, you're free to investigate how your children learn best. Some prefer textbooks, others like a more dynamic approach found in web-based curriculum. For example, many providers offer computer-based learning programs that interact with the children and allow them to learn at their own pace. After all, this is homeschooling so you don't have to set a rigid schedule like conventional schools. You should always allow for some flexibility.
Your homeschool schedule
This should be the fun part. You are now in command of the homeschooling schedule. But some parents, especially those with children who have gone to conventional schools for a few years or more, don't realize they have the flexibility and freedom to set their own unconventional schedule -- if they choose to. Now, some children thrive on a more strict schedule but others may enjoy a spontaneous and various alternative. Find out what your children like. Maybe it's a combination. Just remember, allow for some fun and make some incredible memories together!
Planning activities
Don't tie yourself to the idea that lessons must be done at home in your defined space. There's a whole wide world you and your children can discover. And the best part? You can merge these new discoveries into your homeschooling lessons. Use these ideas:
Bake a cake: Baking and cooking offer children lessons in math (measuring, dividing) and time management among other things. And they get a sweet treat once the lesson is complete!
Take a nature walk: Nature provides the opportunity for children to discover many different bird and plant species. You can have your children jot down the different species they observed -- and even make drawings of them. You'll have a great time and get some exercise, too.
Discover your town: All towns have some historical value. Uncover the past and share it with your children. It's a fun way for them to learn about history and take pride in the place where they live.
Plan a playdate: Get together with other homeschooling parents and their children. It builds social skills and gives you some time to chat with other adults about their homeschooling methods. It also provides a break from the busy school schedule.
These are just a few ideas. Discover more on your own and have some fun -- and learn, too!
Keeping records and a portfolio
Homeschool requirements vary from state to state. If you're a beginning homeschooler make certain you fully understand the rules and requirements of your state. Some states want comprehensive information on your child's work and progress. Other states are not as stringent.
Either way, many parents keep records and portfolios as mementos. While you search for the best curriculum programs for your children, inquire whether the program keeps detailed records and progress reports automatically for your files. That perk makes life as a homeschooling parent much easier and less stressful.
Remember, organization and preparation make the homeschool year go smoother. Preparing early gives you the opportunity to start your school year in an efficient and focused manner. Your children will thank you for it -- and you'll certainly appreciate this proactive approach.