This post was originally published as the introduction to an issue of TheHomeSchoolMom newsletter. Sign up here and get access to subscriber exclusive resources.
I'm no holiday goddess, and I've never even minded who knows it. My husband has usually been the force behind getting the Christmas tree and even decorating it. He has always done a lot of our gift shopping, especially during the years we hoped to surprise our kids with the one hard-to-find item they hoped for.
Meanwhile, I try to keep the poinsettia alive until the New Year after my sister brings one to me at Thanksgiving.
But somehow? I have always ended up making Christmas cookies with the kids every year. We enjoy making spritz cookies, which we call our "cookie press cookies," turning the handle of the cookie press to squeeze the dough into a basic shape on the cookie sheet. (You can find the recipe we use here or in the Better Homes & Gardens Cookbook; affiliate link.)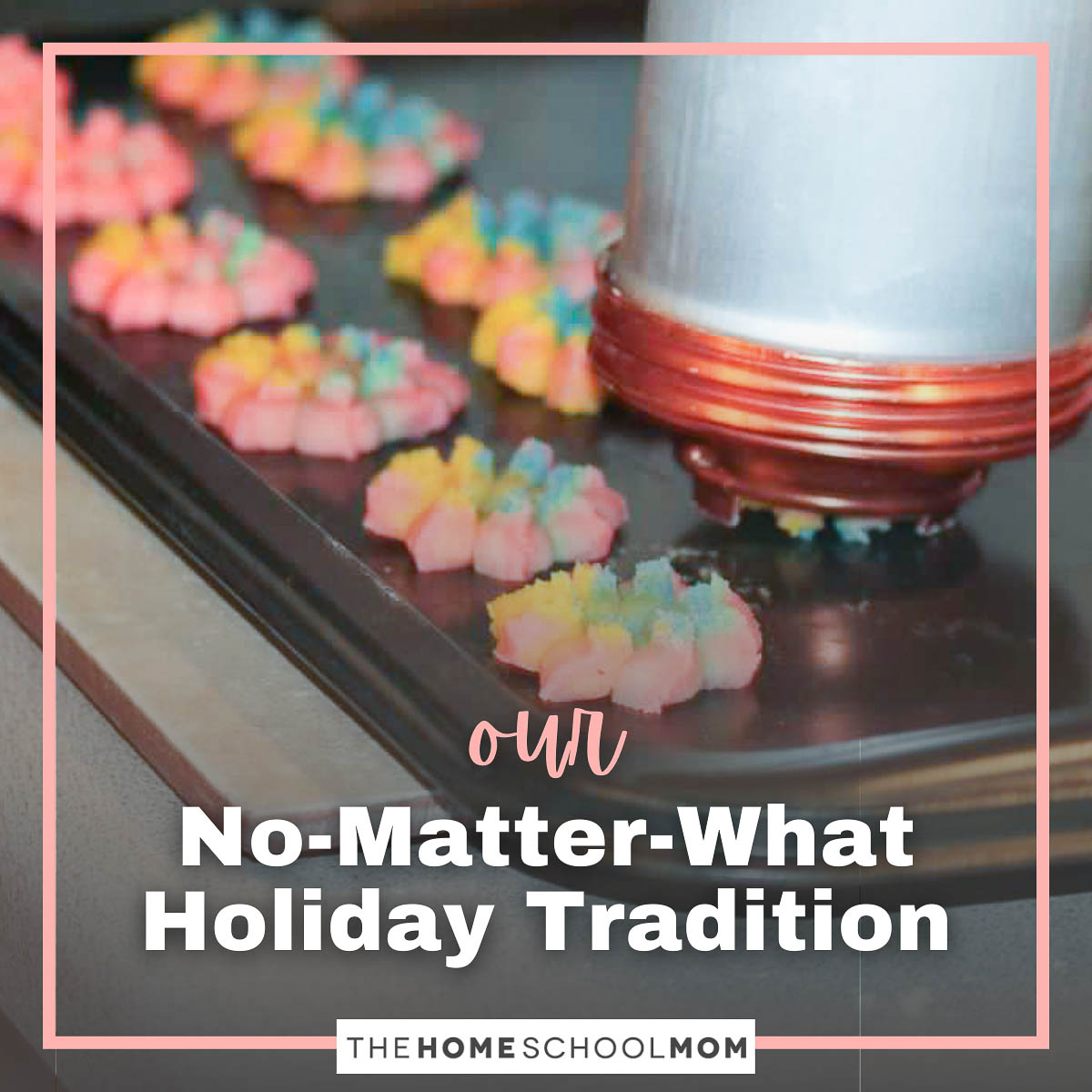 The kids loved coloring the dough and choosing the disks for the cookie press, marveling that their weird designs produced camels and dogs and Christmas trees and stars that were actually recognizable.
One of their favorite moments each year was remembering that some of the delicious dough with its hint of almond flavoring "builds up" in the bottom of the cookie press, so just when you think you've made all the cookies, there is a messy secret stash of dough, and you can pump out more cookies after all.
In that moment, the kids inevitably chose the disk for the cookie press that "makes bacon." It's actually a disk meant for something else—probably cake decorating—but obviously I don't have the domestic or baking chops to recognize its actual intended use. But, I do know that when all the colors of dough have gotten mixed into a bit of a muddy mess, the "bacon" disk is a good choice.
Each son would take a turn with the cookie press, creating his own long stripe of bacon-shaped dough on the cookie sheet while laughing and concentrating. It's not that easy!
The cookie press cookies are our no-matter-what.
I managed them with the older boys when we had a newborn, and I wasn't even doing my own laundry at that point. Years later, we brought our exchange student from Ecuador into the tradition, delighted to surprise him with the bonus cookie dough hiding in the cookie press, laughing with him at his first attempts to "make bacon."
Now, with young adult sons who have completed their homeschooling and have independent lives, I manage to have the ingredients on hand when they visit for the holidays. I pull out the cookie press, and we make the cookies, calling up memories of neighbor children who made cookies with us in our long ago neighborhoods.
I remind them that these are the cookies that my mother, their Granny, made with our family when they were little, and that my Grandmother Potts made these cookies with me when I was a little girl.
Grandmother's kitchen table of formica and chrome comes into clear focus when I think of the cookie sheets arranged there so we could work the cookie press—fifty years ago.
No matter what holidays you celebrate, I hope for you the emergence of at least one no-matter-what tradition.
May your no-matter-what tradition supersede the un-done things, the too-many things, the left-behind-in-the-old-neighborhood things.
May it supersede the passing of people you love, who love you, who love your children.
For those who are breaking a cycle of abuse, may your no-matter-what tradition mark your family's new way forward.
May your no-matter-what tradition bring your kids together for more years than you can imagine.