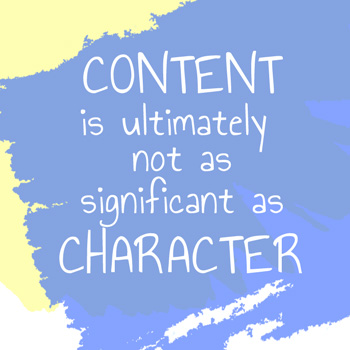 I tend to be a hyper-responsible, perfectionistic, stressed-most-of-the-time-about-something, uber disciplined homeschool mom. Yes, one of those. The ones for whom field trip days aren't looked forward to as exciting opportunities for real world learning and fun bonding, but are dreaded as deviations from the schedule that must be accommodated so that in a few years our kids don't feel like they've graduated from military school.
OK, maybe I'm not quite that bad. But...close.
Suffice it to say, this homeschool mom spends a lot of time worrying about what needs to be done, what hasn't gotten done, and planning for what will be done in the future. And she has been known to unleash the "Forget it. Let's just put them in public school" bomb to her husband over the fact that memorization of math facts isn't going as planned or that the child will never just read the instructions before beginning the page!
It's interesting how the death of a baby can change your homeschool priorities.
Having only not quite four days with your child, hardly enough time for your children to even get to know their baby brother, kind of makes the small things seem…well, small.
Why did I stress that she tested "average" on her Math standardized test? Why did I raise my voice in impatience for the fact that she completely skipped 3 problems on her English page? Why haven't I spent more time reading and less time drilling? Why am I stressed about things that just don't really matter in the long run?
Education is important. Of course, I want my kids to get a good education. But losing a baby has re-prioritized for me what I want out of this homeschooling thing. And I know that it's not about the facts they know. Or the scores they get on the tests. Or even their ability to think critically. Instead, it's about the kind of people my children become. It doesn't matter to me at all if my children are the brightest, scientifically-geniused, history-buffest prodigies that ever existed, if they are not persons of exemplary character who know who they are, and that they are loved.
I realized that I've been running my homeschool as if I have all the time in the world with my kids. As if I can be impatient when they don't listen effectively, or have the luxury of focusing on the facts they've "gotten" or not gotten, because we've got plenty of time. Time to re-do, time to focus more effectively, time to get all of the details right. When suddenly you don't - when your time is cut short - all of those details lose their importance. When you have such little time, only few precious moments, you realize that what truly matters in your homeschool is not what you do with your children, but who you are to them. And that what is important is not the things they know, but the persons they become.
So, some things have changed. I've got some new homeschool rules for our house, and I hope that they keep me on track. Help me not go back to the stressed-over-things-that-don't-ultimately-matter kind of gal:
My own frustrations with my children's behavior or knowledge acquisition should always be overshadowed by my gratitude for the opportunity to be able to teach them.
What we get covered is not nearly as important as the way my kids feel about themselves.
Virtues such as love, kindness, care, patience, dependability, responsibility, compassion, humility, forgiveness, discernment, respect, and gratitude make a bigger difference in the long run than any academic knowledge. I cannot let any efforts to secure academic knowledge in my children override how well my children can learn these virtues from me, by seeing them in me.
Content is ultimately not as significant as character.
I will choose to focus on the things my children do well, rather than perseverate on their faults or failures, and will patiently guide them in addressing the things they need to improve.
It is more important to enjoy the journey than it is to get to the finish line.
I will take the time to answer questions, and stop to just listen to my children, rather than plowing forward with my planned agenda.
If I had to choose, more than my children saying, "My Mom taught me well" at the end of our homeschooling, I would like them say, "My Mom loved me well".
I will recognize that my children are not mine, but are a gift. Consequently, I will not seek to control them, but to guide them to be who God made them to be.
No matter how many times I've had to address messes the kids have left out - messes mean I have kids. So I will respond out of love for the kids I have rather than out of anger at the messes they've made.
I won't assume that my children will be here forever. I will be thankful for the time I have with them, and will teach them with a humble awareness that what we've done today could be the last we get to do.
In those not-quite-four-days we had with him, that very brief period of time - we didn't play Baby Mozart. Or start singing the ABC's to give him a leg up. We held him. And told him how much we loved him. We played with his hair, and we smelled his neck. We made sure he knew who we were, and that we loved him and wanted him very much. And then, when he was gone, we held each other. And told each other how much we loved each other. I want that urgency of time, that re-prioritization of what is truly significant, to permeate our homeschool from now on. We aren't guaranteed the future. Make your homeschool count today.
Because, in my homeschool now, I would give anything to be able to clean up baby messes.