While arithmetic may seem simple to children with left-brain characteristics, right-brain oriented learners often struggle with basic math in traditional classroom settings, which are more geared toward left-brained learners. Previous articles "Right Brained Learners" and "Is Your Child Right-Brain Oriented?" describe the characteristics of these children, and provide ways to determine whether your child has right-brained characteristics. Fortunately, math does not have to be difficult for right-brain learners! Homeschoolers can use curricula, techniques, and strategies that can help the right-brained child learn math effectively. Read "Right-Brained Math Curriculum" for some of these ideas, and also consider the options below.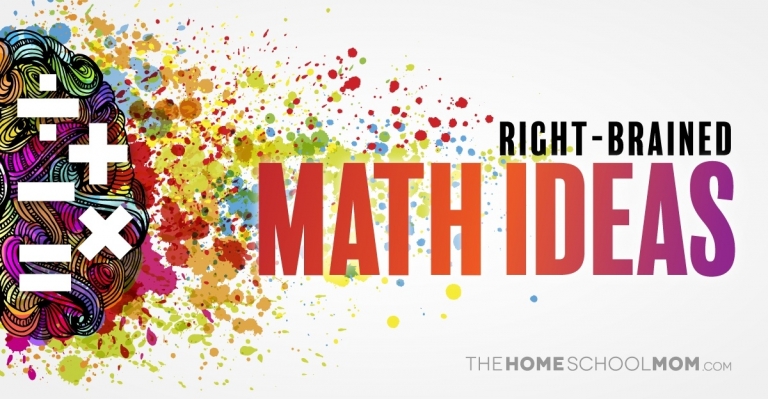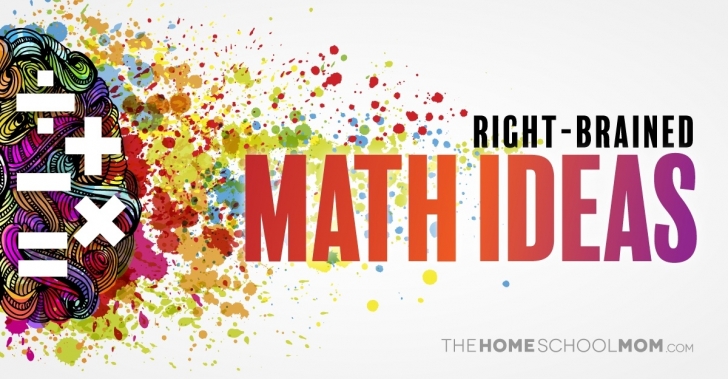 Help children understand why learning math matters. Right-brained learners need to understand why what they are learning is important to them. One great way of doing this is by incorporating math into everyday life: teach measurement while cooking, adding while picking up toys, and money when purchasing items. Help children calculate the price of items per unit at the grocery store, and figure out how many hours or minutes must pass until an anticipated activity occurs. Right-brained children will pick up math more effectively if it is used in context of life application.
Teach the "why" behind math concepts, rather than focusing on memorizing steps. Math programs which emphasize the reasons behind the math processes (such as Math-U-See or RightStart Mathematics) are more effective for right-brained children that those which focus primarily on steps or processes for solving.

For an interesting article on why math is important, read "Why Study Math".
For those interested in the biblical background for teaching math, consider Beyond Numbers: A Practical Guide to Teaching Math Biblically, by Katherine Loop.

Utilize math curricula and resources that are geared toward right-brained learners. These programs tend to be more visual and hands-on in approach, and often focus on learning math processes holistically rather than sequentially. The following are math materials which utilize right-brain learner techniques:

Use computer-based programs and games to reinforce learning. Right-brained children often enjoy the visual and tactile input of computer programs, although they do not want to be left alone for long periods of time to work independently in front of a screen (such as with online courses). Computer-based learning works best for right-brained students as a supplement to more interaction-based curricula, with things like games, web-based stories, and interactive websites. Free online math options to consider:

Have the child teach the concept back to you. This not only ensures that the child has gained mastery of the concept, but it appeals to the right-brained learner's need for discussion and interaction. The kinesthetic process of speaking is one way to help move information from working memory into long- term memory. When the child can teach the concept, he or she has mastered it!
Play games to reinforce math learning. Games meet the right-brained learner's need for kinesthetic stimuli, and also often put math into context for the student. Rainbow Resource offers a tremendous variety of math games for purchase, including favorites like Sum Swamp (K-2) , 1-2-3 Oy! (ages 5 and up; affiliate link) and Math Magic (grades 6-12). Also consider the following free online resources for printable math games:

Use movement and physical activity. Rather than expecting right-brained students to sit still at a desk, use movement as a tool for learning! Using choreography and dance helps people learn abstract math concepts. Consider these ideas:

Allow your child to squeeze a ball or some putty while doing math.
Toss a bean bag or have the child jump rope while she skip counts.
Go to the park and ask your child a math problem each time before he goes down the slide.
Write math problems on the different colored sections of a beach ball. Have siblings toss the ball to each other, with each person having to solve the problem his/her hand touches before throwing it again.
Use chalk to write numerical answers on the driveway. Call out math problems and have children jump to the correct answer. (See photos of this at King Alfred Academy).
Play math songs (such as Audio Memory songs) and have the child dance to the songs while she says her math facts.
More right-brained learning resources »
Sources:
http://painting.about.com/library/blpaint/blrightbraintable.htm
http://www.diannecraft.org/article-007.htm
http://www.leapingfromthebox.com/art/kmg/learningstyles2.html
http://hslda.org/strugglinglearner/sn_checklists.asp
http://www.hslda.org/strugglinglearner/CraftDocs/Math.asp
http://www.diannecraft.org/tutor4.htm
http://www.homeschoolmath.net/curriculum_reviews/
http://www.successful-homeschooling.com/homeschool-math-curriculum.html
http://www.livestrong.com/article/151712-right-brain-learning-methods/
http://www.mathpower.com/brain.htm
http://teach.valdosta.edu/whuitt/papers/4matonweb.html
http://www.essortment.com/homeschool-combining-math-lessons-phys-ed-40593.html
http://www.ehow.com/info_8314574_creative-math-lessons-kids.html
http://www.homeschool-by-design.com/homeschool-math-curriculum.html
http://www.interactivemathgames.org/eleven-marvelous-math-games-to-supplement-your-homeschool-classroom
Boyles, Carlita. "The Brain, Memory and Learning". Workshop presented June, 2011 at the Virginia Homeschool Convention in Richmond.