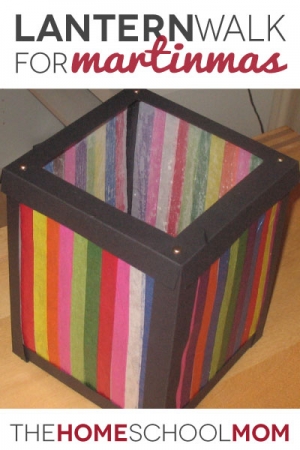 The Festival of Martinmas is observed by many Waldorf schools and Waldorf-inspired homeschoolers on November 11 each year, and you might enjoy creating a little festival to celebrate with your family or a group of homeschooling friends. Anything that involves children carrying their homemade lanterns is sure to be charming to adults and children alike.
Martinmas originated in France in honor of St. Martin, who was, as Wikipedia describes, "known as friend of the children and patron of the poor" in the fourth century. Legend has it that he shared his cloak with a beggar by cutting it in half, so the beggar would be saved from the cold night.
The festival spread from France through Germany, the rest of Europe, and Scandinavia, and it is somewhat like American Thanksgiving -- a feast of sharing and gratefulness. Because it is held in November, in this part of the world it occurs as autumn is ending and winter is coming on, marking a time of full barns and completed harvest in preparation for winter.
There are many feasts and festivals held during dark winter days, and one of the traditions of Martinmas is most endearing -- that of children carrying lanterns in the dark while singing to keep light and music in the world.
When our homeschool group (where only a handful of families were actually truly Waldorf-inspired homeschoolers) celebrated Martinmas, each child worked ahead of time at home to create a homemade lantern to carry on the annual lantern walk around a local lake. Every kind of lantern was created from every kind of material. There were delicate paper lanterns, industrial aluminum can lanterns, and, what one friend of ours called, "candle-on-a-stick." Our own kids put candles in large mason jars they painted, and they added handles that they could use to carry their lanterns outstretched in front of them.
When we gathered as a group, the children oohed and ah-ed over one another's lanterns and asked questions about flame-worthiness, which was, admittedly, an interesting point. We shared a meal, heard the story of the Legend of St. Martin, and waited for darkness to settle, and then the families began their lantern walk -- with concerned adults sprinkled among the children, who were enjoying their swaying lanterns while singing songs about light in the world. As we strung out around the perimeter of the lake, the children saw the reflection of the lanterns in the water, and the effect was magical and memorable.
Once back at our shelter, we also participated in another tradition at many Martinmas celebrations, which is a coat exchange. We brought coats that did not fit anyone in our family for the coming year, and we were able to look through the coats that others brought to see if we could find ones to fit.  Extra coats were gathered in to be donated to needy families who did not have coats for the coming dark, cold winter.
Marking the end of the autumn season and the beginning of the dark winter, Martinmas is a signal that there will still be light, warmth, and sharing in the coming months.
You can learn more about festivals that are common to Waldorf-inspired homeschooling from the books Festivals Together: Guide to Multi-Cultural Celebration and All Year Round: Christian Calendar of Celebrations. Clean, the blog of Rachel Wolf, features an instructional post about making paper lanterns. TheHomeSchoolMom features an Introduction to Waldorf Homeschooling if you'd like to know more about this approach to home education.