This post was originally published as the introduction to an issue of TheHomeSchoolMom newsletter. Sign up here and get access to subscriber exclusive printables.
Winter is for the Birds!
Winter is the perfect time to begin a bird study. If you're in a winter climate, the leafless trees, snow, and dormant vegetation provide a crisp backdrop for spotting birds. In moderate climates, your locale may be the recipient of migratory birds, providing an ideal opportunity to spot species that aren't around during other times of the year.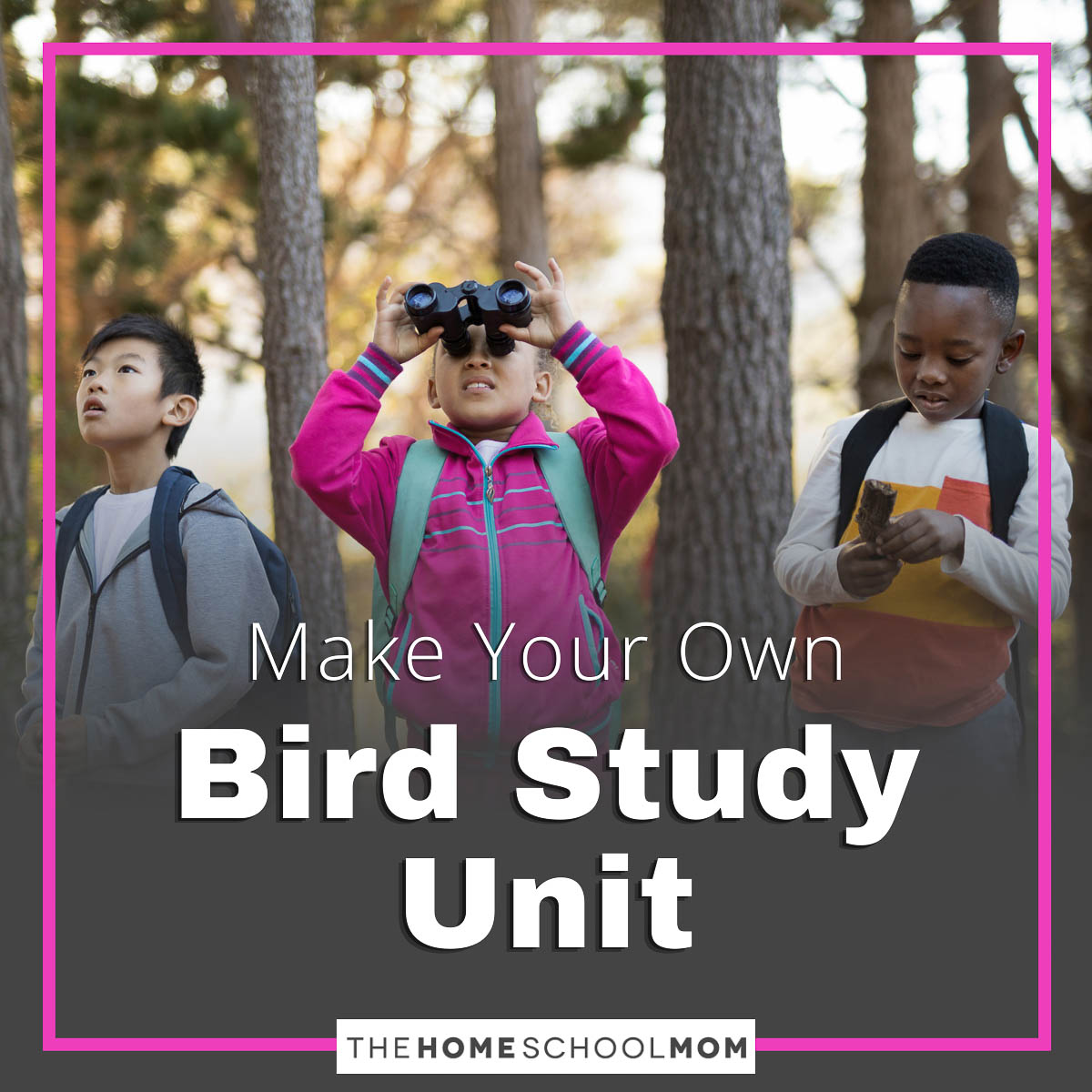 Also? During shutdowns and a time of governmental tension in the U.S., birds can provide you and your kids with a wild distraction, a connection to the natural world, and a chance to be grounded in an off-screen reality. I want this for you!
You'll jumpstart your birding experience if you can set up a bird feeder. Backyard feeders work well in many places, but you can also attract birds to apartment balconies. You can order bird feeders online or find them at home stores, discount stores, farm supply stores, and hardware stores. Black oil sunflower seed is a good first bird seed to try in a store bought feeder, but you can expand to millet, thistle, and other seeds to try to attract other bird species. 
If you're counting pennies or want to try a craft, you and the kids could make and hang bird seed ornaments and simple bird feeder crafts.
If you want to see the birds from inside your home, be sure to put the bird feeder in a place where your kids can see the birds through a window. Providing fresh water outside will also attract birds.
In addition to getting the birds to come to you, you and your kids can head out for a bird walk to try to sight birds in a park, along a farm fence line, or along a creek or river.
Enhance your birding opportunities with:
Binoculars
A sketchbook and colored pencils
A phone camera or camera
A few tips for birding with kids:
Help your kids start their own birding life lists. Start or add to your own!
Join in sketching birds or nature journaling with your kids.
Post their sketches, lists, and photos on your walls, near your bird watching window if you can!
Put snacks and water for the kids in the bird walking backpack!
Try some citizen science with a two-day bird count.
Let go of pushing through homeschool work that isn't working and start a joyful "birdy journey" with great resources from the Audubon birding website for kids.
Brighten your January with birding!