Boomerang Magazine: Classic Audio for Kids
Those of us who have been homeschooling a while know that sometimes the best resources aren't the newest or flashiest. That's the case with Boomerang Audio Magazine for kids. I have a stack of these on cassette (have you heard of cassette tapes?) and another stack on CD, and I simply can't bear to part with them, even though they are long outgrown at our house.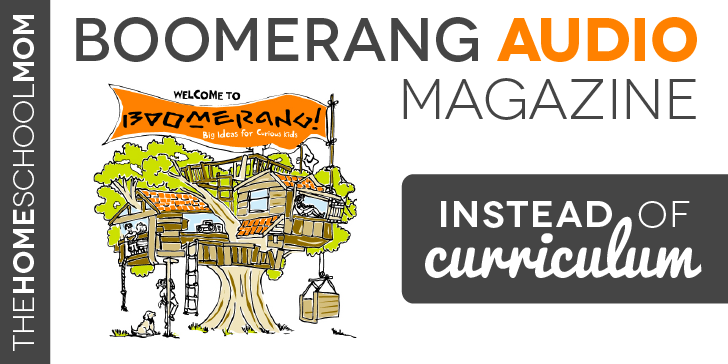 Boomerang Magazine: Engaging Content
My kids grew up listening to the stories, the history, the humor, the science, the culture, and the wisdom found on Boomerang magazine, most of which was told in kids' voices. We heard engaging "interviews" with historical figures like Marco Polo, Rosa Parks, and Vincent Van Gogh. We heard interesting vocabulary in the "Weird Words" segment. We heard science ideas from "Widget and Whack," who brought us such topics as properties of the screw, how gasoline is made, and laws of physics. We heard about books, current events, money and economics, ancient history, social challenges, kids' lives -- with a kid detective story thrown in!
There was plenty on Boomerang magazine to feed the brains of my boys as they were growing up, but there was also more. The heart of most episodes was the Dave Schmave segment, storytelling that was touching and creative, never condescending to the kids that make up Boomerang's audience.
Today, classic Boomerang audio magazine episodes are available for purchase, making them easier than ever to access from any device that can handle MP3s. You and your kids can listen to a free sample of each of the featured Boomerang segments to get a feel for the Boomerang audio magazine to see if you want to buy, or just because -- they're free and wonderful!
Boomerang Magazine: Personal Customer Service
The customer service is personal and quirky. When I wrote to David to make sure they were still in business, he remembered my name from long ago mailing lists. He also explained that he no longer uses an online storefront, deciding to go a less technological route to thwart hackers he has tired of dealing with.
In addition to listening to the free samples on the website, if you email David with a classic episode you'd like to access, he'll make that available to you for free as a trial episode.
Then, if you want to order a bundle of nine episodes, you email him with the nine you want, he'll make them available to you, and then you mail him a check for $49. 
I know. Quaint but effective.
And let me tell you: worth it.
Boomerang audio magazine is one of those educational resources you can use instead of curriculum or in addition to your curriculum. Listening to this audio magazine creates all kinds of questions and rabbit trails to follow -- a great introduction to inquiry-based learning. This is similar to our kids' experience with Jim Weiss stories -- another great audio resource our children grew up with.
A big benefit of these audio resources is that kids can be busy doing other things with their hands or bodies while listening -- making art, building their craft projects, driving their little cars and trucks through the sandbox. For some kids, this actually enhances learning, because they're not focused on having to keep still, which can take a lot of energy.
And of course, for those with lots of time in the car -- audio resources are a great way to both pass time and have a collective experience, since the whole family can listen to the same thing at the same time.
The topics that Boomerang touched on often became topics of conversation around the dinner table at our house, catalysts for checking out books at the library, and stimulation for internet research. This can be particularly helpful for children who are later readers or who develop fluency later, because by listening to Boomerang, they can continue to learn a lot in other subject areas -- something I call building content during a skills lag.
David tells me that while he's not producing new episodes of Boomerang, most of the classic shows are "evergreen," meaning, they're generally not outdated. I think you'll find that to be the case.
I'm so convinced the learning and memories evoked by Boomerang are evergreen that last night I sent the "listen now" links to my oldest kids (now young adults who are through college and working full-time). I bet hearing just a few snippets from the free samples will take them right back to when they listened and learned about the Black Plague, the pyramids, the First Amendment, nanotechnology, the power of gears, Emily Dickinson, and the wonders of raindrops -- all while flying down the road in Mom's minivan or lying in bed under a familiar quilt.
Two thumbs up for Boomerang audio magazine.