What if you asked, "What does my child need right now?" and immediately began working on it, with little to no red tape?
Welcome to Homeschooling's Power of Now. Homeschooling allows the choice to prioritize what your child needs today, whether that's refuge from bullies, time to make art, help for a learning difference, treatment for mental or physical illness, advanced learning opportunities, or more time to play outside.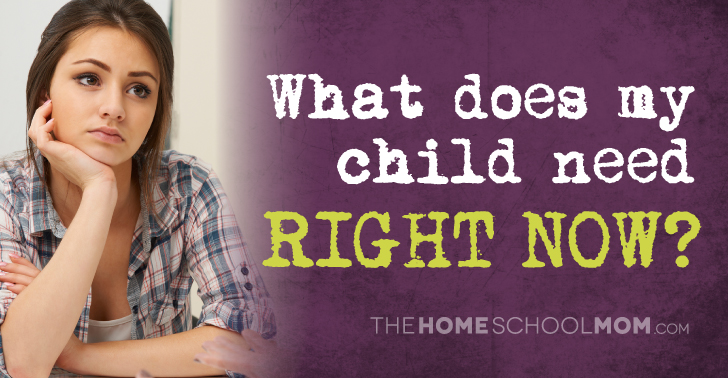 (Homeschool laws vary by state in the U.S.)
While it sounds like a good thing, one of the problems of public education is that it can be too much about preparing kids for "the future."
In some schools, concentrating on the distant future at the expense of the present can lead to problems like:
Grade-based minimum standards, focused on curriculum and testing rather than children and their development, individual readiness, or potential
Lessons that are not relevant to children's lives or interests
Checking boxes to "indicate" learning rather than facilitating authentic intellectual development
Eliminating recess and outdoor play in favor of more academic "seat time"
High stress for kids as children are moved through grade-sequenced curriculum to meet graduation or college entrance standards - again, sometimes ignoring children's preparedness or needs
Ignoring health problems (mental, emotional, and physical) because the pace and sequence of earning credits is inflexible
Lack of attention to children's social issues in an atmosphere that prioritizes a specific pace and emphasis on academics
Prioritizing "head work" (academics) over "heart work" (service) and "hand work" (physical and vocational work), when maturing kids benefit from developing their head, heart, and hands
Unreasonable and stressful amounts of homework, sometimes of questionable value or relevance
Cutting out art, music, and enrichment classes in favor of core academics, further reducing relevancy for some kids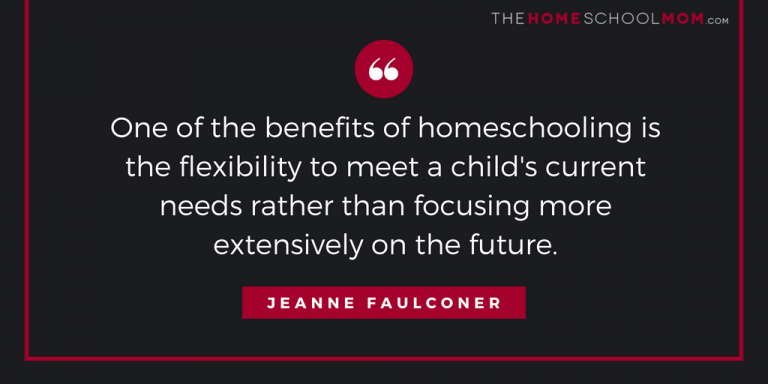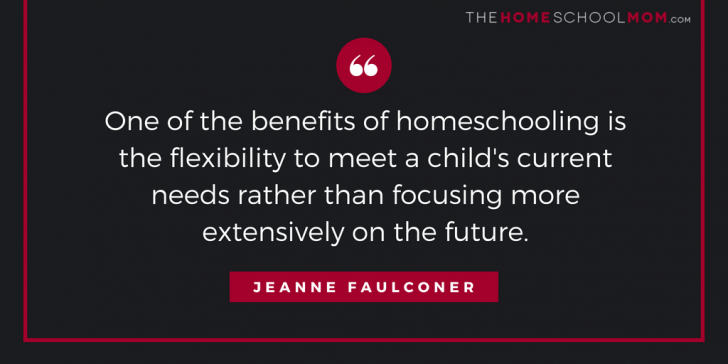 One of the benefits of homeschooling is the flexibility to meet a child's current needs rather than focusing more extensively on the future. And a funny thing happens along the way: children whose current needs are met can turn out to be well-prepared for the future.
That said, even homeschoolers are sometimes caught up in the school model, and they don't see--or are reluctant to use--the flexibility of homeschooling to meet their children's current needs.
Homeschooling parents, too, get focused on "college and career prep" too early or too adamantly, sometimes even when a child is clearly exhibiting a current need that should be prioritized.
I'd like to see homeschooling parents use the Power of Now. Don't just ask what does my child need for her future, but what does she need now?
Homeschooling's Power of Now means
Using the Power of Now helps kids develop, make connections, and learn authentically. And sometimes it's a rescue.
Memorizing just enough to pass a test for graduation credits in most cases does not lead to the same intellectual development as problem-solving to solve a mechanical, technical, scientific or artistic challenge that interests a kid. Ignoring health needs in favor of cramming for a high stakes test or meeting attendance requirements does not lead to healthy decision-making about how to manage life - and leads to more health problems.
Insisting a child "must" do this or that because the school requires it, when it's clearly arbitrary, is a set-up for encouraging kids to disrespect "education" and authorities.
Homeschooling parents have a unique opportunity to harness the Power of Now. They can recognize that young people don't come with a Sell By date of 18, with a lockstep march through curriculum and classes at the same institutional pace.
Nope! Homeschooled kids can have the time to graduate earlier or later, or learn about different things, or volunteer more, or start a business, or deal with chronic illness, or work on (or around) learning differences. They and their parents can prioritize mental health, or time with aging grandparents, or learning the family business, or traveling, or math, or athletics, or artistic endeavors.
Does this mean putting your head in the sand about preparing for the future? Of course not. With homeschooling, you can still look at prep for work or college admission--it's possible to keep an eye on the future without sacrificing the present. There's a sweet spot!
That's a balance public school struggles to provide because of its focus on compulsory attendance, required credits, high stakes testing, absentee and truancy policies, and lack of resources for individualized learning. (And by the way, this doesn't mean all homeschoolers hate public schools).
Parents can ask, "How can I help my child thrive right now?" and then do it through homeschooling. It's the Power of Now.