Homeschooling is regulated at the state level, so connecting with local homeschoolers is an important step to start homeschooling in South Dakota. Find the South Dakota homeschool groups closest to you and get connected with your local homeschooling community, learn about the homeschool requirements in South Dakota, and discover the co-ops, classes, sports and arts opportunities, and social get-togethers in your area.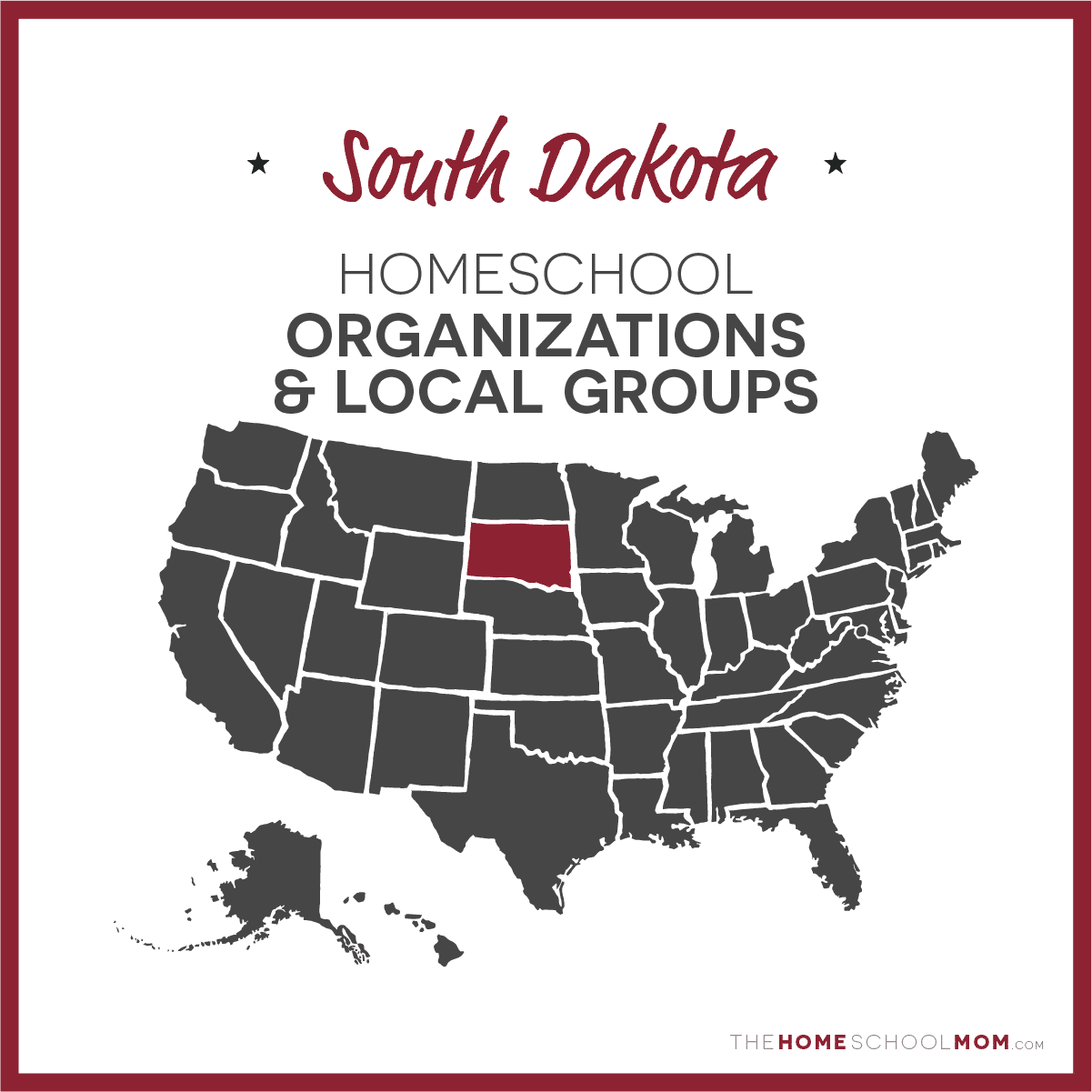 Submit a Local Resource
Jump to: State Organizations | Local Groups
Our listing of South Dakota state organizations and local homeschool groups is ordered alphabetically by city, with statewide organizations listed first. If you would like to submit a group, you may do so using the red button above.
South Dakota Homeschool Organizations (Statewide)
South Dakota Christian Home Educations

South Dakota Statewide

South Dakota's Homeschool State Organization
South Dakota Christian Home Educators (SDCHE)

Statewide in South Dakota

South Dakota Christian Home Educators is a Christian non-profit organization dedicated to promoting private Christian home education as an outstanding educational opportunity and to protecting the God-given rights of parents to direct the education and training of their children.  We are committed to fostering an accurate and favorable image of home education to the general public and to providing Christ centered events, information, resources, support, training and leadership to all member families involved in home-centered education throughout the state of South Dakota.
South Dakota Local Homeschool Groups
Oahe Area Home Educators (OAHE)

Mobridge

OAHE is a group offering monthly field trips in the local area for home schoolers. There is no fee to join.
West River Christian Homeschoolers

Rapid City

WRCH is a FREE, non profit, South Dakota Interdenominational Christian homeschool support group that serves Rapid City and the surrounding West River area.
Christian Home Educators Encompassing Rapid City

Rapid City
Our Way of Learning Homeschool Collective

Sioux Falls

An inclusive, nonprofit homeschool group serving the greater Sioux Falls area. This group is secular in nature, and is non-discriminatory on the basis of race, religion, ethnic background, political orientation, or family composition. Theur primary purpose is to give homeschooling families the opportunity to share activities with each other; doing fun and interesting things together gives us all more opportunities to establish meaningful connections, support each other, and build community.​ This is a member-driven group, and aim to serve as a resource for new and seasoned homeschool families as well.
Saint Margaret's Fellowship

Sioux Falls

Saint Margaret's Fellowship exists to support the efforts and protect the rights of those providing home education according to the magisterial teachings of the Catholic faith. A Catholic Homeschool Group serving the greater Sioux Falls, SD area
The Education Alliance of Christian Homeschoolers in South Dakota (TEACHSD)

Sioux Falls and surrounding communities

The Education Alliance of Christian Homeschoolers in South Dakota (TEACHSD), the organization formerly known as SECHE, was founded in 2002 by like-minded home educators who desired a group where their belief and acknowledgement of God was an integral part of the organization. Originally organized to support home educating families through educational and social activities, the organization is continually adapting to the needs of the members it serves. The present focus is to sponsor the annual Christian Home Education Conference of South Dakota and monitor legislative actions, advocating as required, to secure and advance home education rights in South Dakota. SECHE is an official member of the Home School Legal Defense Association and members receive a discounted HSLDA membership.

The Education Alliance of Christian Homeschoolers in South Dakota (TEACHSD) details
Coteau Area Christian Home Educators (CACHE)

Watertown

We are a group of like-minded Christian families encouraging, uplifting, and supporting each other in our educational endeavors.