Moving can bring wonderful opportunities -- new jobs, new friends, and new possibilities -- but it's also stressful. Our homeschooling family has moved to new homes in new states a few times, and I've realized homeschooling through a move has some positives, some negatives, and some things to think about.
On the positive side, when homeschoolers move, the kids don't have to change schools. While they change neighborhoods and perhaps move further from grandparents and other relatives, their approach to learning will largely stay the same. Younger kids don't have to adjust to new teachers, classrooms, or courses. They can continue using familiar books and even stay somewhat on the same learning paths, even though they are in new surroundings.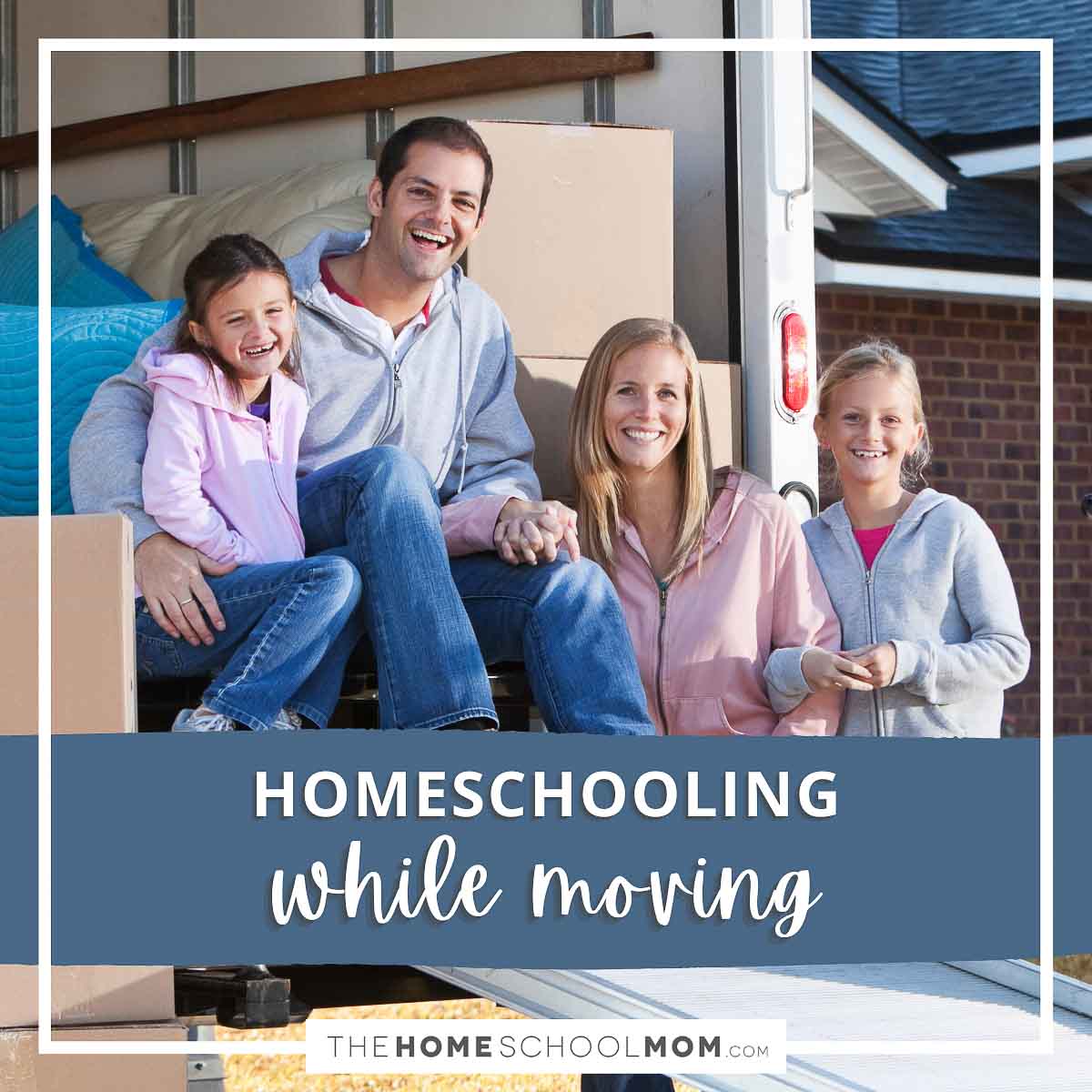 Of course, homeschooled kids who take outside classes or extracurricular activities in the community do have to find new places to play soccer, take art classes, or study music. Just as for anyone else who is moving, this can be good or bad, depending on the resources in your new community.
It can be tough for kids to adjust to a new team with a different coach who doesn't know all the background. It can be disappointing to find that your new town does not have a Boy Scout Troop or the kind of martial arts your child has been studying. Children and teens will be sad to leave behind favored teachers and mentors. These are the ups and downs of a move for any family. At least for homeschoolers, especially those with younger children, the heart of homeschooling stays the same, since the parents continue to be the adults who are guiding the process, even as other activities inevitably change.
A few things for homeschooling parents to consider when homeschooling and moving:
Homeschooling Laws - Find out the homeschooling laws in your destination state or country. Remember that sometimes state laws can be confusing or sound cumbersome; find homeschoolers in the state who know how compliance with the laws actually works. If you've been in a state where you do not have to notify anyone that you're homeschooling, and you do not have to show evidence of progress, you may be surprised that these are requirements in your new community.
Local Homeschooling Groups - Determine if there are active local homeschooling groups, and whether you are likely to be welcomed. Some groups may require a statement of faith or specific homeschooling style for membership. Consider starting a homeschool group if there is not one that fits -- or drive over the county or state line to find one that fits better.
 State Homeschool Organizations - Find out about state homeschooling organizations, and plan to attend their conference or convention to get a feel for things.
Homeschool Classes & Co-ops - If you and your children are accustomed to taking homeschool classes through a homeschool co-op or homeschool resource center, look into their availability in your potential new community before you decide to move there. Keep in mind that successful co-ops sometimes have waiting lists and aren't able to add new families easily, or they may have religious beliefs, policies, or fees that don't fit your family. Be aware that the "co-op atmosphere" varies widely from state-to-state and community-to-community.
Homeschool Email Lists - Join a homeschool email list, such as a yahoo group, in your destination area. Ask questions about homeschool co-ops, local groups, park days, and field trips.
Not Back to School Events - Look for a Not Back to School event in your new community in late August or September. These are among the best attended activities because they kick off a new year of homeschooling -- a great time to meet homeschooling families with kids of all ages. I know it sounds bold, but if there doesn't seem to be such an event in your community, go ahead and organize a Not Back to School event. 
Vaccinations - Think about vaccinations. Homeschooling is an "alternative" form of education, and many homeschoolers are comfortable with other alternative choices as well. If you are someone who does immunize your children (not to get into the debate here), you may want to make sure your children's immunizations are up to date before moving, since some homeschooling communities you may be moving into may be more relaxed about immunizations, or some homeschoolers there may consciously choose to delay or avoid vaccinating their children. If you are among those who hold alternative viewpoints, you may want to look for friends in your new locale who share your viewpoints.
Local Libraries - Visit the library on your house-hunting trip. Look for signs of homeschool-friendly policies and personnel. Ask the staff about homeschooling activities and other homeschooling families. If there is no library in the immediate area, find out the distance to a good library. Our family has literally chosen homes based on library accessibility and quality.
Part-time Enrollment & Sports/Arts Access - If you're interested, explore whether public or private schools in the area offer part-time enrollment or allow homeschoolers to participate in sports or extracurricular activities.
Internet Availability - Some otherwise great places to live still do not have high speed internet, and homeschooling families who have come to depend on online resources may be shocked to find they do not have sufficient bandwidth/speed for online courses, games, and educational videos.
Updating Your Address - Change your address for your homeschooling magazines and catalogs. It's comforting to get something familiar and homeschool-friendly in your new mailbox.
Smart Packing - When you pack, prioritize making the kids' favorite books and learning materials well labeled and easily available while traveling and immediately upon arrival in your new home.  This means these boxes are "last on" and "first off" the truck. When packing the computer, make sure the modem, router, and cables are packed together for easy set-up. Have backpacks for the car that will help the kids pass the travel time reading, imagining, drawing, or playing games.
Learning Your New Area - Make learning about your new area a unit study. You might even be able to show the locals a thing or two. When we moved to the Memphis area, we visited Graceland, Sun Studios, Beale Street, the Mississippi River, the Peabody Hotel, and other landmarks, breathing in the music and the barbecue. I arranged discount tours for homeschoolers, and we met some homeschoolers who had long been established in the area but who had not yet visited some well-known destinations in their own back yard.
Dual Enrollment - If you have kids who are likely to become teenagers while you live in your new destination, find out if there are community colleges nearby and what their dual enrollment policies are for homeschoolers. It can be worth choosing a home in a different neighborhood to be in a place where your teen can conveniently drive to a couple of community college courses when the time comes.
Moving is a big deal. Homeschooling means that kids may have smoother transitions in some ways, but it's up to the parents to re-make all the details of that homeschooling life in a new community, rather than depending on the "big box of school" to provide friends, teachers, extracurriculars, academics, a library, music, and sports in one package.
There is no doubt that homeschooling parents' resourcefulness gets a workout when planning and making a move, but moving also provides an opportunity to rethink how you customize your children's education through homeschooling. A fresh start is coming your way.