Are you a homeschooled adult without access to records of your homeschooling and graduation?
Were you homeschooled during your teen years but don't have documentation of your learning?
You are not alone.
As homeschooling has become more popular, some graduates are finding themselves without the transcript or diploma they need to pursue an educational or employment opportunity. These important documents have gotten lost, were never created, or were never handed over to the young homeschooled high school graduates. Now, homeschooling parents may be deceased or unable to assist their adult kids with the needed records.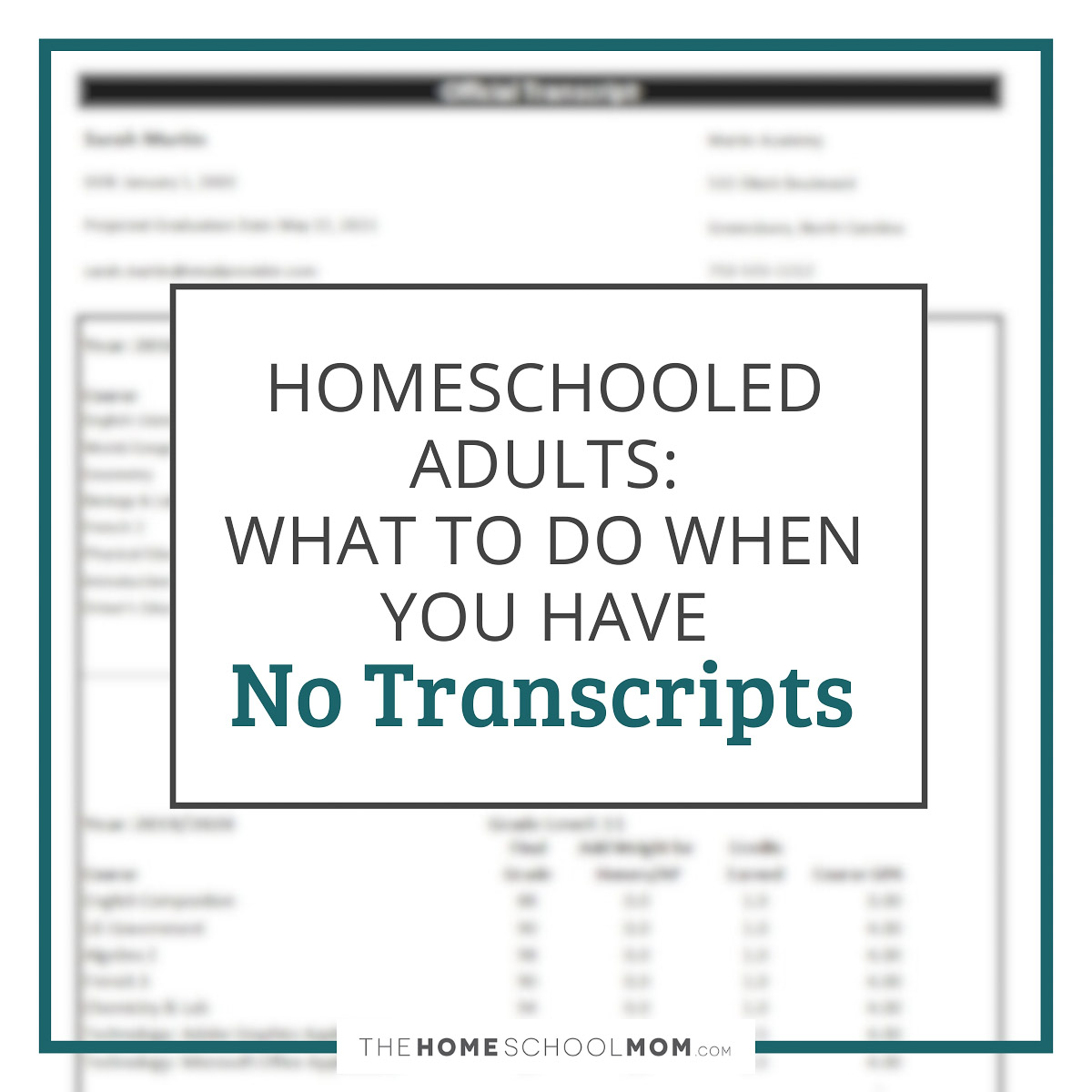 Jump to:
Most parents are proactive in creating documents such as diplomas and homeschool transcripts, and most do a good job of providing their teens with hard copies and digital copies they can access any time in the future. These parent-generated documents are accepted by most colleges and employers, and along with outside evidence that a student is well-prepared, they reflect high school learning well.
We do remind parents to take responsibility for helping homeschool grads have permanent access to their permanent records.  We even provide a free template for creating a homeschool transcript, and we explain all the ins and outs.
But sometimes there are glitches. Your apartment floods and ruins your homeschool paperwork; a hard drive isn't backed up when the computer dies; a parent becomes ill before creating your transcript.
Where you might find your transcript
If you are a homeschool graduate who can't find your transcript, there may not be an easy way to find it. That said, we have some suggestions that may help:
Search your email in case your parent emailed a digital version of your transcript to you at some point. You may have also emailed your transcript to someone else years ago, like when applying for a job or signing up for a class.
Look for a digital version of your transcript on your Google Drive, iCloud, Dropbox or a hard drive or backup you may have of your parent's computer.
Look among important paper documents (such as birth certificates) that your parent may have kept in a bank safe deposit box or fire safe.
Check with your parents' friends to see if they may have a copy. It's a long shot, but parents do sometimes share documents as examples for each other.
Ask at your co-op or church. If you homeschooled through a co-op, umbrella school, online school, or other organization, find out if they are still in existence and whether anyone might have a copy of your transcript. If an organization was associated with a church, check to see if the church might have a file with your transcript.
Check with Parchment to see if they may have your transcript. Individual homeschooling parents can't upload documents to Parchment, but your parent may have used a transcript preparation service or cover school of some kind, and that organization may have a Parchment account that saves documents.
Check with your state homeschool organization. Some of these organizations provide transcript preparation services for pay, and they may have retained a copy of your transcript if your parent used their service.
Ask education officials. Most states and localities do not receive or keep graduation records for homeschoolers, but a few do. Check with the state homeschool org in the state where you were homeschooled to see if your state department or education or local school division might have records due to unique requirements there.
Check with institutions. Did you ever apply to college or for a job where you had to submit your transcript? Check with the institution to see if they may have a copy of your transcript on file. If you ever planned to take classes at community college, you or your parent might have submitted your transcript, even if you never actually enrolled in classes.
Create your own transcript
Keep in mind that at its most basic, a transcript is a record of your studies, the story of your high school learning. If you are not able to find a copy of your transcript, or your parent never gave you a transcript, you can explore whether a self-made transcript might be accepted or helpful for your particular circumstance.
If you do create your own transcript, be honest and forthright about the document being self/student-generated, leaving blank anything you don't remember. You may not know any of your grades, or you may remember them. A partial transcript may be better for you than no transcript at all—or, unfortunately, your self-made transcript may not work at all for the purposes you need it for.
If you prepare the transcript yourself and your parent is still alive, perhaps they have notes and memories about your learning and can collaborate with you on completing an accurate transcript. At the least, you can ask them to edit for accuracy and sign the document you create. This would create an official high school transcript for you.
Instead of a high school transcript
Many community colleges are open admission but require a high school diploma or the equivalent to enroll.
While a GED is not usually needed by homeschool grads who have a diploma and transcripts in hand, getting your GED or HiSET credential may be another angle to pursue. These credentials can help you gain admission to community college and some other colleges. Then you can begin building a college transcript.
You may be able to get an authentic learning review and transcript generation from an alternative private high school. Wes Beach of Beach High School in California provided this kind of service until his retirement.
You may be able to find something similar, although this is a pretty niche service and may not be available in all states. You want to be careful not to use a diploma mill that provides false documents without review of your learning.
Depending on where you live, you may find helpful information by searching adult high schools, credit recovery programs for adults, prior learning assessments, adult portfolio assessments, and alternative high schools.
Some colleges may allow you to enroll in one class at a time for a limited time as a non-degree seeking student. If you do well in the class, you may be able to transition to a degree-seeking student based on your performance. Read the fine print carefully.
If your records were lost, inquire further with the prospective employer or institution about what kind of documentation may be acceptable for their use. Whatever agency needs the document may have a policy about acceptable alternatives if important documents have been lost or destroyed, which does happen from time to time.
If you manage to find your records
If you manage to come up with your diploma or transcript, take steps now to secure them for the next time you may need them.
Scan and save to your photos or files on your phone, tablet, and computer.
Email the documents to yourself.
Save in the cloud and share with siblings and or a friend. (It's like giving someone the spare key to your apartment in case of a lockout).
Print copies and place them with your social security card and birth certificate.
Whether you lost your homeschool graduation documents or they were never given to you, being without them is a burden. We understand the challenges this creates and will continue our campaign to get every homeschooling parent with teens to create and secure their graduates' permanent records—permanently.