This post is contributed by Oak Meadow, the sponsor of our Living Education series.
By Amanda Witman
Holidays offer such a wonderful opportunity for crafting and creating. Thoughtfully handmade decorations and gifts always seem to have a willing recipient or admirer, and there is something special about creating something that will be seen and enjoyed by others.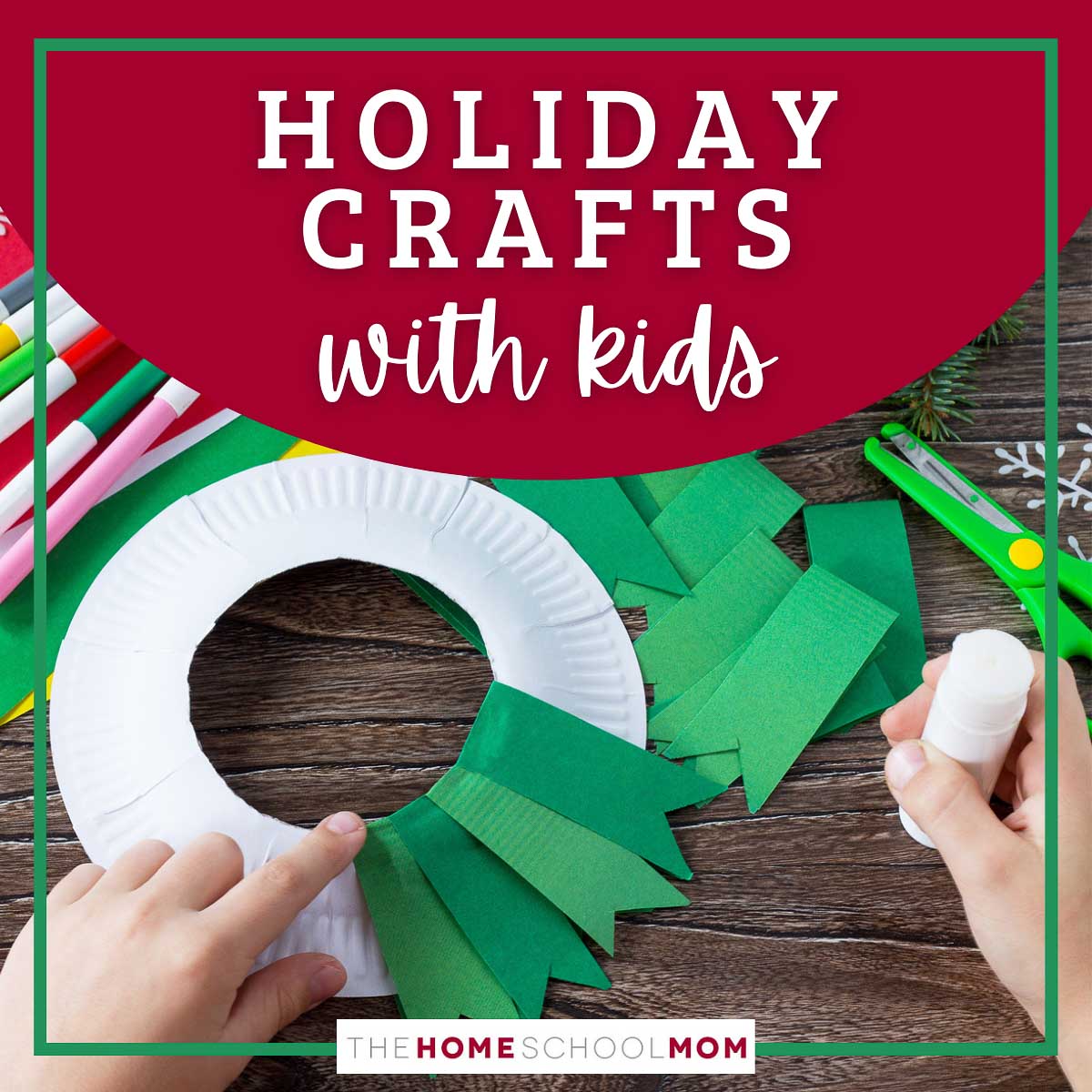 Whether you are someone for whom crafting comes naturally or someone who wants to find a way to make more creative opportunities for your children, there are many ways to weave holiday crafts with kids into the season.
Some of us are naturally inclined to such projects and craft with our children as easily as we read to them or engage them in other daily tasks, but some of us have a harder time with it. No matter which type of parent you are, these ideas will inspire young crafters.
Jump to:
✂️ Materials
Start by amassing some basic craft supplies in seasonally appropriate colors.
If you are decorating for Christmas, you might choose red and green.
If you celebrate Hanukkah, blue and white might be more appropriate.
Or maybe you love the idea of pastel snowflakes for winter.
For Halloween, orange and black.
Valentine's Day, pink and red.
Silver and gold add a nice sparkle to any holiday.
Whatever the holiday might be, a general color theme helps to unify even the most wildly divergent pieces of homemade art.
Provide open-ended craft supplies in the best quality you can afford:
Offer construction paper and cardstock, beeswax crayons, colored pencils, and paints.
Keep scissors, tape, and glue or paste handy. You might find it helpful to make a straightedge and a hole punch available.
Other interesting things to offer could be collections of buttons, bits of ribbon and yarn, magnets to be reused, scraps for collages, googly eyes, beads, pipe cleaners, or glitter.
Don't forget things found in nature, such as feathers, pine cones, shells, nuts, acorns, twigs, etc.
Fabric scraps in various colors and patterns, pieces of ribbon, and other colorful "bits and bobs" can be good seeds for creativity.
A plastic tablecloth or some newspaper to keep the table safe from glue and paint is also a very helpful thing.
Lay out some piles of paper and some crayons or pencils in the color of the current season or holiday, and see what your child makes of it. Start out with just a small offering of supplies so as not to overwhelm anyone.
Be present to supervise and provide support when it is warranted. "Mom, do we have any glue?" "I need some scissors!" "Can I stick buttons on this?" "I can't cut this by myself!"
You will know what they need because they will ask for it.
You might be surprised at how creative your children can be when they're given free rein with materials that feel good in the hands and are attractive to the eye.
If they ask you, "What should I make," turn it back to them with, "That's your job to figure out. What do you think would be good to make with these things?" If they need a little help getting started, sit down with them and start sifting through the materials. Once they get going, they may not even notice when you quietly leave the table.
🎄 Decorations
How do you decorate your home for the holidays? Do you have flexibility built into your expectations of how your house should look?
With homeschoolers in the house and perhaps younger children at home as well, the reality probably looks nothing like minimalist magazine photos and Pinterest pins. Don't let that bother you! Let your home reflect the people who live there.
Start your child off with some appealing materials in seasonally appropriate colors.
Take some time to review holiday themes and concepts.
Give them your approval to create whatever they feel moved to create in honor of the season.
It doesn't have to be complicated: Providing young children with strips of colored paper, tape or a stapler, and some instruction can easily result in the longest paper chain imaginable. It can also help develop fine-motor skills and bring a lasting sense of pride when the project is done and hung up for all to see.
Now comes the fun part — deck(orate) the halls!
Get some removable double-sided tape or adhesive putty and . . .
If your children are happy to help, ask them what should go where.
If their art is somewhat difficult to interpret, let them help you make labels so you can explain each piece to others.
If you are faced with a mile-long paper chain, decide together where to drape and stick it, and consider dividing it into smaller lengths if the maker is willing.
Invite some friends over to your "gallery" and enjoy the festive atmosphere.
💌 Cards
Another wonderful way to encourage and showcase children's creativity at the holidays is to have them create handmade cards that can be sent to friends and relatives. Some children enjoy mass-producing holiday-themed art, and what better way to honor it than to give it to others who will appreciate it? Make sure you have the artist's permission first.
Start with plain cardstock, either whole or cut in half lengthwise, and fold it in half. For children who often tend to "mess up and start again," you could cut pieces of regular paper and give them a stack of these to create their artwork on; the ones that meet their approval can later be pasted onto the fronts of the folded cardstock cards.
You can purchase rubber stamps with a variety of holiday greetings to add a polished touch to the inside of the card or encourage your child to practice writing a holiday-appropriate greeting or a short poem.
Have them put their name or initials on the back of each card along with the year.
Consider including a photo and a personal note.
Recipients often will treasure handmade cards for many years.
🎁 Gifts
Homemade gifts do not have to be complicated. What could we make with the things we have at hand? Invite your children to invent some possible ideas for gifts. They could even create a made-up "invention" for each recipient and write or dictate a story to go along with it.
Talk also about what each person on your list might like to receive that your child could make. You might find, as I have, that one or more of your children has a flair for crafting that far surpasses your own. Among other treasures, I have received (at various times) an embroidered pillow, a full-length skirt, a walnut shell baby, and a sleep mask from an enterprising child who had a clever idea and some materials at hand.
If you or your child need an outside source of ideas, Oak Meadow's Pinterest boards contain links to ideas and instructions for many fun, wholesome crafts. You might find that just looking through some of these possibilities gives rise to a new creative craft that you can make with materials you have at hand.
You might be impressed with what your children create when given materials and encouragement! But at the end of the day, if all you end up with is a collage of paper scraps and bits, don't fret. Just smile, hang it up on the wall, and enjoy the way it authentically reflects your child's creativity. Happy holidays!
Amanda Witman is a lifelong learner and an enthusiastic homeschooling mother of four. She enjoys writing, playing fiddle, tending her garden, organizing community events, learning new things, having family adventures, and connecting with other homeschoolers.