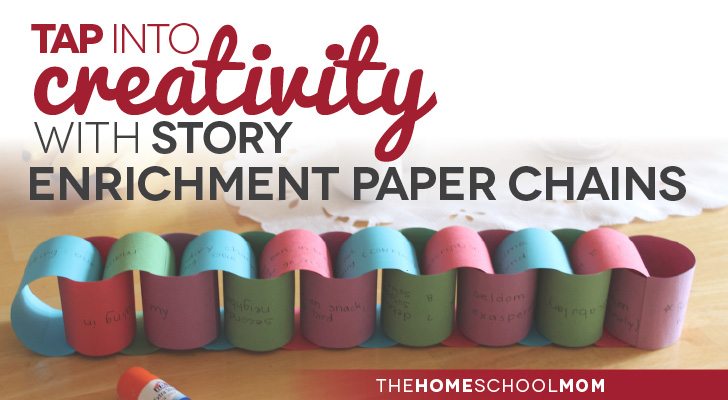 Children's minds are bubbling over with stories -- funny stories, anecdotes about life going on around them, recaps of play dates with friends, and tall tales that grow taller by the minute. As a long-time homeschool mom, it was my job to tap into those bubbles of creativity and help my children put words to those amazing stories.  That's not as easy as it sounds.
Enter the creative writing story enrichment paper chain. The basic idea is to make creative writing easier by creating a paper chain from different colored construction paper strips like you'd use to decorate your Christmas tree. Each paper link will contain an idea, a specific item, or a brief instruction for your child to include in her story.
Supplies
a variety of colorful construction paper
a glue stick (regular or repositionable)
a pencil
fine point Sharpie™ markers
scissors
Preparations
I recommend using 2 1/2 -3 inch wide paper strips because they are large enough to print on, but not too cumbersome to handle.
A great way to demonstrate how to make and use the story enrichment paper chain is to use it to tell a familiar story. Make a paper chain for an all-time favorite picture book or a chapter from one of your child's chapter books. Read the items or instructions on each link with your child, then rewrite the story together.
Explain that you will be creating a new paper chain for him that will act as a hands-on outline for the story writing process; each paper link will contain an idea, a vocabulary word, a story element, or a piece of the story just like the demonstration model.
Involve your child in the creation process. Let them choose the paper colors, measure and mark the paper with a ruler, and cut the strips.
Create Your Story Enrichment Paper Chain
Brainstorm great story ideas with your child. Don't label this as creative writing, just choose an interesting yet simple story idea to get a good feel for the process. You and your child can always revisit your story ideas and craft a more complex story at a later date.
Work together to come up with items to put onto your paper chain links. Encourage your child to give as much input and add as much personality as possible. Does your child keep a writing notebook? Excellent. This is a perfect time to dig out that list of interesting words and add one or two. How about adding a bit of real life? Make the dog a character, designate an older brother as the hero, or better yet, dub him the crafty villain. Declare the treehouse to be the scene of the crime.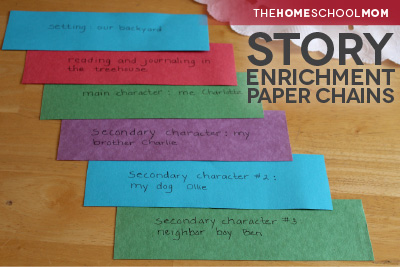 Do you need a little inspiration? Story elements such as setting, characters, plot (simple notes or short sentences spread out onto several links can act as a plot timeline) obstacles or conflicts, and resolution will really help guide your child through the story writing process. Add other items such as:
Vocabulary Words
Homonyms, homographs, and homophones
Transitional words
Descriptive words (strong adjectives and adverbs, action verbs, and interesting nouns)
Paper link "clues" can be general reminders or more specific instructions. Take a peek at some of these examples for more inspiration:
Setting: Cook's Creek underneath Knect's Mill Covered Bridge (This is actually a real place near our house. I bet you have some great places nearby that would make interesting settings for stories!)
Main character: brother or Will, a sixteen year old boy who's as tall as a giraffe
Medieval vocabulary: alms, bushel, belfry, castle, fodder, knight, joust, and livery
Add 2 interesting words from your list
Action verbs: dabble, lollygag, retrieve, and shove
Homophones: where/wear and knot/not
Add 2 -ly words: reluctantly and bravely
Fill in the paper links with as little or as much information as your child needs, connect them together to form a chain, and let the writing begin!
More experienced writers or teens may enjoy working independently. If necessary, you can provide a list of suggestions. Writers just need to add a heaping dose of imagination.
Use the Paper Chain to Write a Story
As your child writes, ask him to gently tear off each link after he's added it to his story. Instruct him to set the links aside or drop them into a basket. It helps to keep them nearby, so you can check for their inclusion later.
You can also number the paper links in pencil and connect them in order. Numbering will guide your child through a specific sequence of events or from story setting through resolution.
Helpful Tips and Suggested Uses
The beauty of this idea is its versatility. I've come up with a variety of ways to put it to work:
Add unending flexibility to your story enrichment paper chain by attaching paper links with a repositionable glue stick. This gives you and/or your child the freedom to add or take out links at any time.
This hands-on story writing activity is a great tool for tactile or kinesthetic learners.
Color coordinate the paper links depending on the theme of the story. Consider using red, white, and blue links for a patriotic story, red and green for a Christmas story, varying shades of blue for an ocean escapade, or all white for a snowy day tale.
Are you studying the medieval era? Young princesses can wear lovely necklaces, and gallant gentlemen can don chains of office. Everybody loves a good medieval tale. Huzzah!
How about challenging your writers with a mixed up story chain? Connect the paper links in random order. Writers will need to rearrange the links so that the story makes sense before writing.
Label more than enough paper links and let your child choose what to include in their story enrichment paper chain.
Can you think of a unique use for the Story Enrichment Paper Chain? I'd love to hear it! Please share your ideas in the comment section.