The celebration of Christmas offers a world of fun activities and lesson opportunities for homeschoolers. From recipes and crafts to discussing the historical and cultural background of Christmas traditions, opportunities for learning are endless.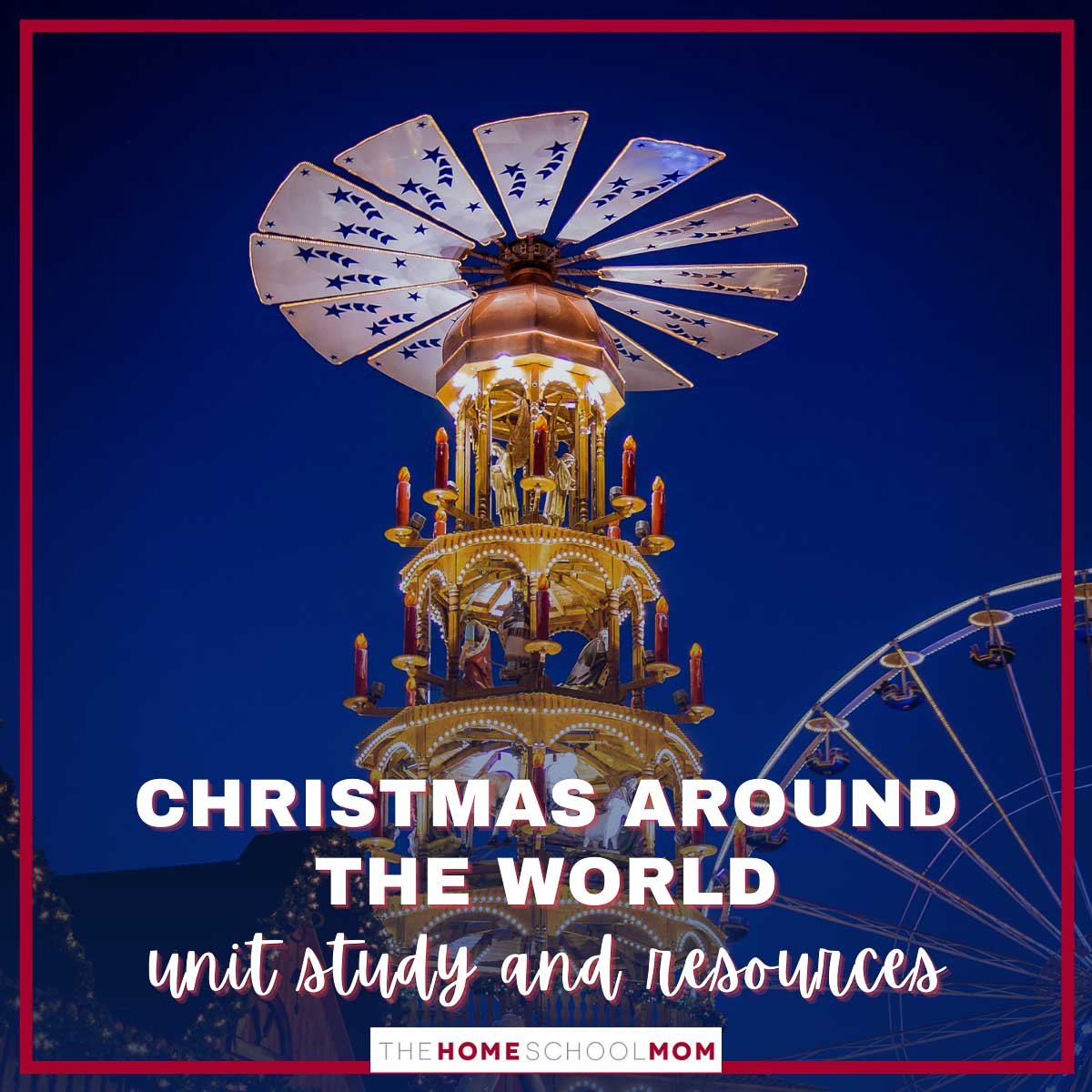 Jump to:
🕯️  "Christmas Around the World" PDF

Choose a country and do a Christmas unit study for that country. Use our "Christmas Around the World" printable along with these ideas and the resources in this post:
Draw a map of the country with major geographic features and the capitol city labeled
Find a book about Christmas in that country and read it aloud
Do a simple holiday craft based on traditions in that country (see ideas below)
Make a simple holiday recipe from the country (see ideas below)
Learn about a typical holiday meal in the country and compare it to your family meal
Learn how people wish each other Merry Christmas in the country you chose
Listen to a Christmas carol in the language of the country you chose
Newsletter subscribers can get the printable here »
🌍  Christmas traditions by country
Here is a small sampling of countries around the world and how they celebrate Christmas. Celebrate the 12 days of Christmas by learning about Christmas celebrations from these 14 countries.
🇦🇺  Australia
Australia is located in the Southern Hemisphere, so Christmas lands in the middle of the hot Australian summer. Instead of hot cocoa or cider, Australians are more likely to celebrate Christmas on the beach or with a seafood barbecue.
People in Australia say 'Merry Christmas' just like people in the United States.
🇨🇴  Columbia
In Columbia, Christmas is celebrated almost all month long in December. On December 7, Día de las Velitas (Day of the Little Candles) kicks off the celebrations. The streets are filled with candles, lanterns, and lights.
According to Catholic tradition in Columbia, December 7 marks the vigil of the Immaculate Conception of the Virgin Mary. Columbians consider this a time to reflect and give thanks with family and friends.
How people in Colombia say 'Merry Christmas': Feliz Navidad or Nochebuena for 'Holy Night'
🇩🇪  Germany
Christmas is, without a doubt, the biggest holiday in Germany. We can thank Germany for many of our own Christmas traditions. Christmas trees (with lit candles!), carols, gingerbread houses, Advent calendars, glühwein (hot mulled wine), and Christmas markets are German traditions.
Germans celebrate the holiday for three days straight – from December 24 to December 26 – but the celebrations begin much sooner. On St. Nicholas Day (December 6), children leave their shoes outside before they go to sleep. The next morning they awake to find them filled with treats and gifts.
How people in Germany say 'Merry Christmas': Frohe Weihnachten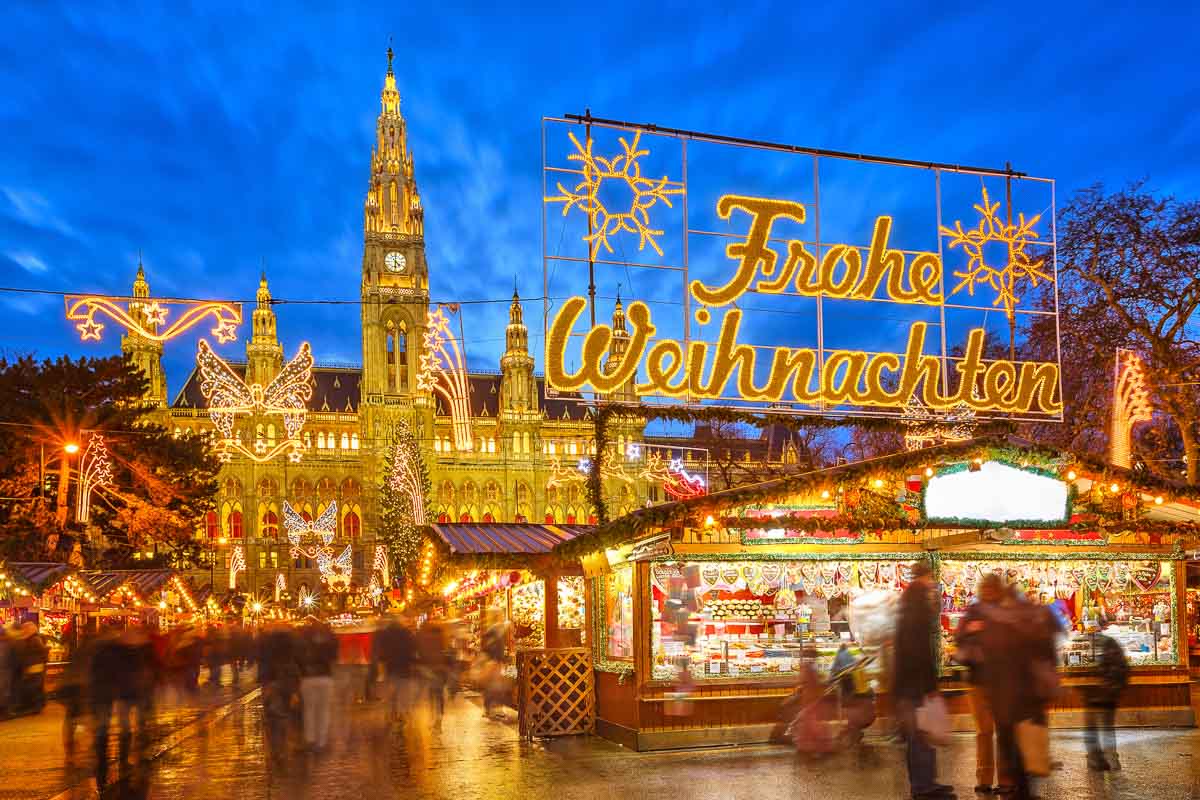 🇬🇭  Ghana
Christmas celebrations in Ghana are similar to those in the US, except they occur during summer. The holiday is a time to spend with family and attend church services. Festivals, known as masquerades, are common on holidays in Ghana, and Christmas is no different.
Masquerade festivals are colorful parades that involve costumes, masks, music, and dance. In Ghana, Santa Claus goes by the name Papa Bronya, or Father Christmas, and instead of toys, leaves treats for children.
How people in Ghana say 'Merry Christmas': Afishapa
🇮🇸  Iceland
In Iceland, a common Christmas tradition includes the Jólasveinarnir or Yule Lads. The Yule Lads are magical mischievous trolls who come down from the Icelandic mountains to play tricks and leave gifts. Children in Iceland leave their shoes on the windowsills for the Yule Lads.
If the children have been good, their shoes will be filled with presents the next morning. If they've been bad, they may receive potatoes instead.
How people in Iceland say 'Merry Christmas': Gleðileg jól
🇮🇳  India
Though not incredibly widespread in India, Christmas is still celebrated by many Christians there, particularly in the state of Goa. Christmas festivities typically include lights, fireworks, and a midnight mass.
Christmas dinner usually involves traditional Indian dishes like curry. Instead of an evergreen Christmas tree, Indian families may decorate a banana or mango tree.
How people in India say 'Merry Christmas': Śubh Krisamas
🇮🇹  Italy
In Italy, Christmas celebrations are a month-long occasion. They begin December 8 with the Day of the Immaculate Conception of Mary and lasting until January 6, Epiphany. Babbo Natale, or Father Christmas, visits children on Christmas Eve, but Epiphany is traditionally the main gift-giving day in Italy. An old woman on a broom named Befana delivers the gifts.
How people in Italy say 'Merry Christmas': Buon Natale
🇯🇵  Japan
Christmas in Japan is not a national holiday, nor is it necessarily religious. Many western Christmas traditions are common there, however. Cities in Japan can be seen with Christmas lights, trees, and markets. Most stores and shops are open on Christmas Day, and most of the celebrating is done on Christmas Eve.
In Japan, Christmas is commonly seen as a romantic holiday similar to Valentine's day. Many couples will have a romantic night at a restaurant, while singles often gather at karaoke parties to "find a match." One of the most popular Christmas dinners is fried chicken, with KFC even taking pre-orders for the occasion.
How people in Japan say 'Merry Christmas': Meri Kurisumasu
🇱🇧  Lebanon
Christians make up over 30% of the Lebanese population, and their Christmas traditions come from Catholic roots. Christmas trees, lights, and Baba Noël (Father Christmas) are common traditions. The most important Christmas symbol is the nativity scene, called a Nativity crib.
The Nativity crib is frequently decorated with seeds such as chickpeas, broad beans, lentils, oats, and wheat. The seeds sprout and grow over the Christmas season.
People in Lebanon say Eid Milad Majid, which means 'Glorious Birth Feast,' as a Christmas greeting.
🇲🇽  Mexico
Christmas celebrations called La Posada, or The Inn, begin nine days before Christmas in Mexico. La Posada is a procession, usually led by children, to a nativity scene at church. It symbolizes the nine-day journey of Mary and Joseph to Bethlehem, where they looked for shelter.
Besides La Posada, families in Mexico frequently celebrate Christmas with piñatas and a traditional Mexican dish of tamales.
How people in Mexico say 'Merry Christmas': Feliz Navidad
🇷🇺  Russia
Christmas in Russia is primarily celebrated on January 7, after the New Year. This is because the Russian Orthodox Church follows the Julian Calendar, which is 13 days behind the Gregorian Calendar. Because of this, most celebrations last from December 31 to January 10.
On New Year's Eve, children are visited by Ded Moroz, or Grandfather Frost, who comes bearing gifts. Instead of a sleigh, Ded Moroz travels by troika, a vehicle led by three horses.
How people in Russia say 'Merry Christmas': С Рождеством Христовым (pronounced: s razhdystVOM khrisTOvym)
🇸🇾  Syria
Syrian Christians celebrate Christmas much like we do in the US. Christmas trees, lights, church, and a family meal are all important parts of the celebration.
In Syria though, the primary gift-bringer is a camel who was said to carry the Three Wise Men to Bethlehem. Syrian children leave the camel hay and water outside their houses.
How people in Syria say 'Merry Christmas': Eid Milad Majid
🇺🇦  Ukraine
Ukraine celebrates Christmas over several days. Similar to Russian tradition, Christmas Day is on January 7, but St. Nicholas, called Svyatyi Mykolai, visits children on December 19.
Common Christmas decorations include wheat and hay, which represent the winter harvest. Sometimes artificial spiders and spider webs, based on the legend of the Christmas Spider, are used in decorations.
How people in Ukraine say 'Merry Christmas': Веселого Різдва (pronounced veseloho rizdva)
🇻🇪 Venezuela
In Venezuela, the main Christmas celebration occurs on Christmas Eve, or Noche Buena. Families gather to eat traditional holiday meals, including dishes like hallacas, pan de jamón, and dulce de lechoza.
Gifts are thought to be left by baby Jesus or sometimes three wise men. In the capital city of Caracas, it is common to roller skate to Christmas mass. This is such a populate tradition that the city roads are closed to traffic so that people can safely skate.
How people in Venezuela say 'Merry Christmas': Feliz Navidad
📣 How to say 'Merry Christmas' in other languages
📕 Christmas around the world books
What better way to celebrate Christmas with the little ones than with a good Christmas story? Use one or all of the following books to incorporate into your Christmas around the world lesson plans.
(All book links are affiliate links)
Celebrate Christmas Around the World by Beth Stevens
This book is great for kids and teachers too. Author Beth Stevens takes you on a tour of Christmas celebrations from 20 countries and provides suggested activities for each one.
Joy to the World: Christmas Stories from Around the Globe by Saviour Pirotta
So much of our traditions are based on legends and folklore. This book by Saviour Pirotta takes a look at five Christmas folk tales from around the globe.
A World of Cookies for Santa: Follow Santa's Tasty Trip Around the World by M. E. Furman
A World of Cookies for Santa is a fun way for students to experience other cultures. This book by M.E. Furman details the treats children leave for Santa around the world, as well as includes several recipes to try yourself.
The Legend of Old Befana by Tomie dePaola
Learn more about the Italian legend of Befana with this illustrated book. Read-aloud versions can be found for free on YouTube.
A Christmas Spiders' Miracle by Trinka Hakes Noble
The tradition of using tinsel to decorate the Christmas tree comes from the Christmas spider legend. The Christmas spider legend originated somewhere in Germany, Poland, or Ukraine. In this heartwarming modern rendition, a spider surprises an impoverished mother by decorating her tree.
The Tomten by Astrid Lindgren
This book tells a modern adaptation of the legend of the Tomtes. Tomtes are gnome-like men from Swedish folklore who live on farms and look after the home and animals over winter.
The Legend of the Poinsettia by Tomie dePaola
In Mexico, the Poinsettia is a prominent Christmas symbol called 'flor de la Nochebuena,' or flower of the Holy Night. This retelling of the Mexican folktale is a story of unselfish giving, authenticity, and a Christmas miracle.
Carl the Christmas Carp by Ian Krykorka
In Prague, carp is a common holiday dish. Sometimes families will even buy carp live, keeping them in the bathtub until dinner. This story is an engaging way to introduce students to a different Christmas tradition.
The Stone: A Persian Legend of the Magi by Dianne Hofmeyr
Sometimes they're called the three wise men; sometimes, the three kings. In Persia (Iran), it is three magi, or astronomers, who were responsible for locating baby Jesus and bringing him gifts. This is a modern version of an ancient legend that was told to Marco Polo.
🎅🏼  Christmas celebrations from around the world
Find out what public events and celebrations the country you chose holds for Christmas. Due to time differences, you may not be able to tune in live, but you can likely find coverage after the event or for previous years. Some ideas to try out:
✂️  Christmas crafts from around the world
Here are some decorations, ornaments, and crafts ideas:
Mexico:
Philippines:
Ukraine:
Denmark:
Russia:
Italy:
La Befana's broom (excellent paired with The Legend of Old Befana by Tomie dePaola linked above)
Sweden:
🗃️  Christmas recipes from around the world
As part of your unit, find out what foods are commonly served at Christmas in your country. Did you choose one of these countries? Try one of these recipes:
South Africa: Malva Pudding (Caramelized Bread Pudding)
Colombia: Natilla (Milk Pudding)
Iceland: Marens-Kornflexkökur (Chocolate-Cornflake Cookies)
Denmark: Risalamande (Almond Rice Pudding)
Austria: Sachertorte (Chocolate Torte)
Mexico: Rosca de Reyes (Three Kings Bread)
Greece: Melomakarona (Christmas Honey Cookies)
Germany: Kinderpunsch (alcohol-free version of Glühwein, or hot mulled wine)
🎁  Christmas traditions in your family
Use your own Christmas traditions as a learning experience. Ask your child which traditions are their favorite and where they think the traditions originated.
Tell them about Christmas traditions from when you were a child. What's different? What's the same? You can use the topic to discuss how traditions are passed down and change through generations.
⛪  Christmas services from a different community
Consider attending a Christmas service from a different country or culture either in person or online.
If you live near a large city, you're likely to find churches from various international communities. Are they holding Christmas services? If so, visit virtually or in person.
Many areas of the country have organizations that honor the traditions of immigrant populations who settled there in years past. These are often a wonderful source of information about how Christmas was celebrated in "the old country."
Use these ideas and locations as a starting point for homeschooling Christmas around the world. The opportunities for learning and engagement are endless, so get creative! The month of December is a wonderful time to learn about other countries and cultures. You may even find new traditions you will continue to use in your family.