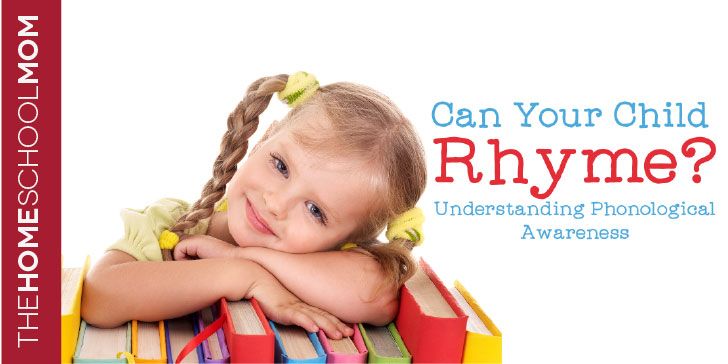 What is Phonological Awareness?
Phonological awareness is an important skill in learning how to read. Simply put it is the ability to distinguish sounds within words when heard in spoken language. For example, a child who has developed phonological awareness skills will be able to rhyme, distinguish individual sounds within a word, beginning sounds and ending sounds, and how one word can be changed to create a new word.
The Importance of Rhyming in Developing Phonological Awareness Skills
Let's focus on rhyming since it is not only an important phonological awareness skill, but one of the first manifestations of such skills. Rhyming requires a child to be able to hear if ending sounds are the same or different. A child who is unable to make that determination may require more help to develop this skill.
First, let's clear one matter up. A child who is not rhyming does not necessarily have a hearing or reading disability. Rhyming is a developmental skill that will unfold over time. However, if you suspect there is a deeper problem then your first step is to make an appointment for a hearing test. Based on those results, you will know if you need to consider a reading disability or not.
There is a clear connection between reading ability and phonological awareness as noted. Since rhyming is an important to developing phonological awareness it is wise to help your child develop the skill.
Ways to Help Develop Rhyming Skills
Read nursery rhymes and other materials such as Dr. Seuss which are heavily influenced with rhyme during daily reading time.
Read rhyming books with toddlers and emphasize the rhymes with your voice and perhaps by clapping.
See if your child can anticipate the next rhyming word from the book. As your child progresses, ask her if she can come up with other words to rhyme with those in the book.
Repetition is key to learning rhyming patterns so continue reading the same books over and over again. Practice rhyming words from the books consistently.
Once your child is comfortable with the words from her books you can play rhyming games. Ask your child if she can think of a word that rhymes with "cat". If she has difficulty then say, "cat—hat—sat" and see if she can now come up with a another "at" rhyming word. If so, then move on to another set of words.
It is important to move at your child's pace since, as noted, rhyming is a developmental skill. Most children demonstrate the ability to rhyme by the time they are ready for kindergarten. If a child continues to have difficulty after such point, then other steps should be taken as mentioned above. Reading rhyming books and playing rhyming games is fun and should always be done with plenty of giggles in a low stress environment.
Save