One of the many joys of homeschooling is being able to prepare children for an upcoming holiday, rather than simply being swept away by it.
November is the perfect time to take a break from regular studies, or add in some special activities by making Thanksgiving the central focus. With its focus on the character quality of gratitude, rich history, and wonderful family traditions, Thanksgiving lends itself perfectly to being a homeschool theme.
Spend some time this month and help children fully understand the history, meaning, and traditions of this holiday, and they will gain valuable information about the beginnings of our nation as well as the importance of being thankful. Homeschool parents get to kill two birds with one stone – teaching academics and character, while preparing kids to get the most out of the holiday at the same time!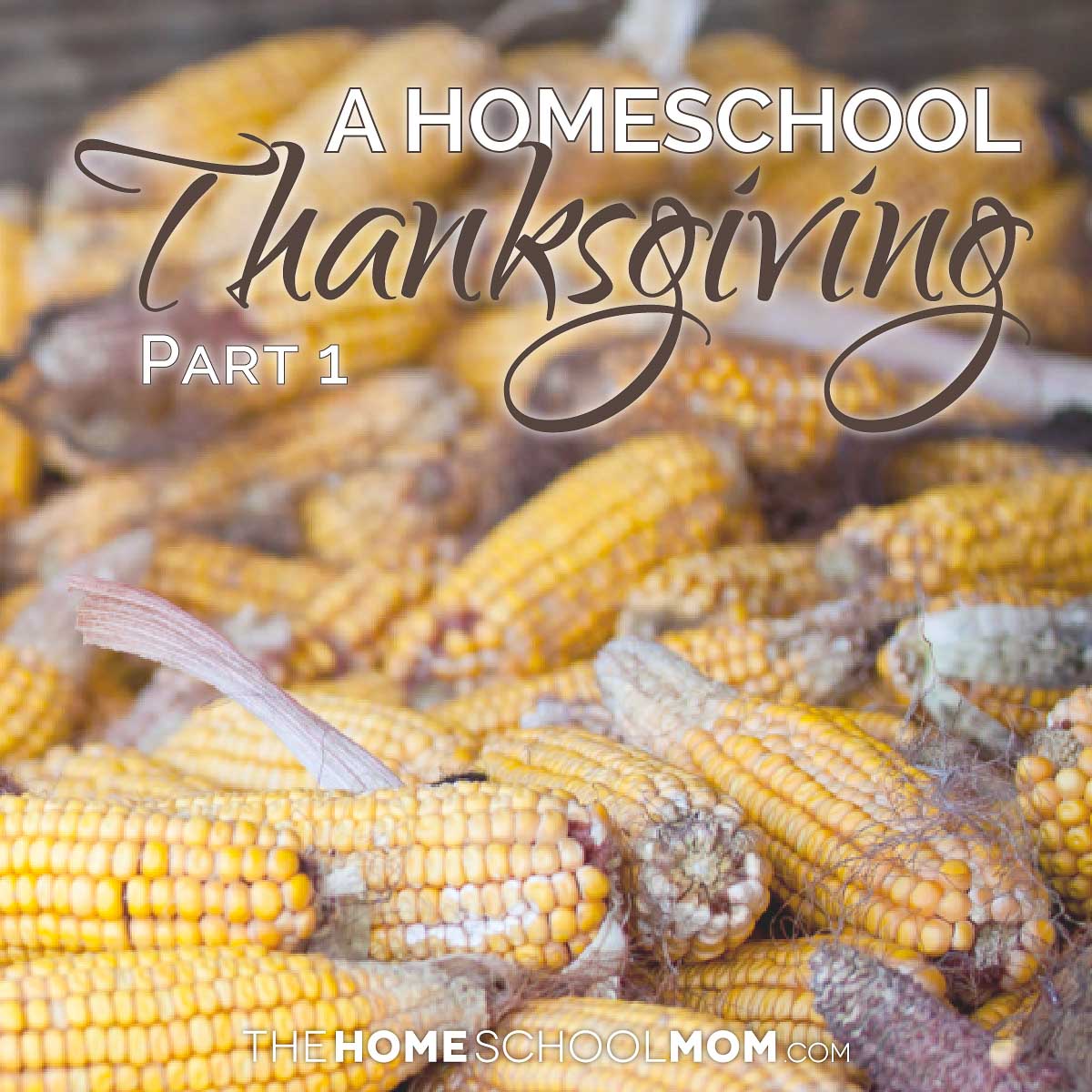 Jump to:
Consider these ideas for doing Thanksgiving "homeschool style."
🌽  Teach the history of Thanksgiving
There are many wonderful web resources for helping children understand the background of this holiday. Consider these options:
💻  Read some free online Thanksgiving stories
Stories of the Pilgrims, by Margaret B. Pumphrey. This book can be read online at The Baldwin Project.
Short stories, such as The First Thanksgiving, by Nora Smith, can be found at Apples 4 the Teacher.
📂  Make a Thanksgiving lapbook
Check out Amy Loves It for Thanksgiving lapbook ideas.
Get Productive Homeschooling's free Thanksgiving Lapbook pages (affiliate link)
🦃  Print out some Thanksgiving printable activities
🖍️ Use coloring pages to teach
Young children love to color. Having kids color is a great way to keep them engaged while you read a book about Thanksgiving, or teach information about the holiday. Find plenty of Thanksgiving-themed coloring pages at:
🧍  Make paper dolls to tell the Thanksgiving story
Print out the templates for these paper dolls, and use them to help reenact the Thanksgiving story.
Visit Making Friends for templates for Pilgrim man dolls or a Native American paper doll
Try Bry-backmanor.org for a Pilgrim woman doll
⛵ Make some Thanksgiving crafts
Thanksgiving recipe book - Create a book in which you put Thanksgiving family recipes. Include a photo of each recipe. Children can copy the recipes, create the book, and decorate it, in order to preserve family recipe traditions, as well as help children understand what goes in to making the Thanksgiving meal.
Turkey Crafts – Danielle's Place offers a variety of turkey and Thanksgiving-themed crafts, using household items.
Native American dice. In addition to playing a fun game similar to pick up sticks, this activity by mountainpulse.blogspot.com provides some teaching opportunities about the traditional playthings of Native Americans.
Pilgrim People place cards – Clay flower pots make cute Pilgrim place cards for your Thanksgiving table.
Mayflower craft – Use a milk carton to make a mini Mayflower. This is a great craft to accompany the story of the Pilgrims' journey to America.