Dear Books,
I love you all. You've been my close friends since forever. I take you everywhere with me. I prefer you in hardcover or paperback but I am slowly learning to love you in digital form. Your smell, your words, your images, and the way you feel in my hands. I cannot get enough. Thank you, books! You're all the best!
XO,
Vanessa, a lifelong book lover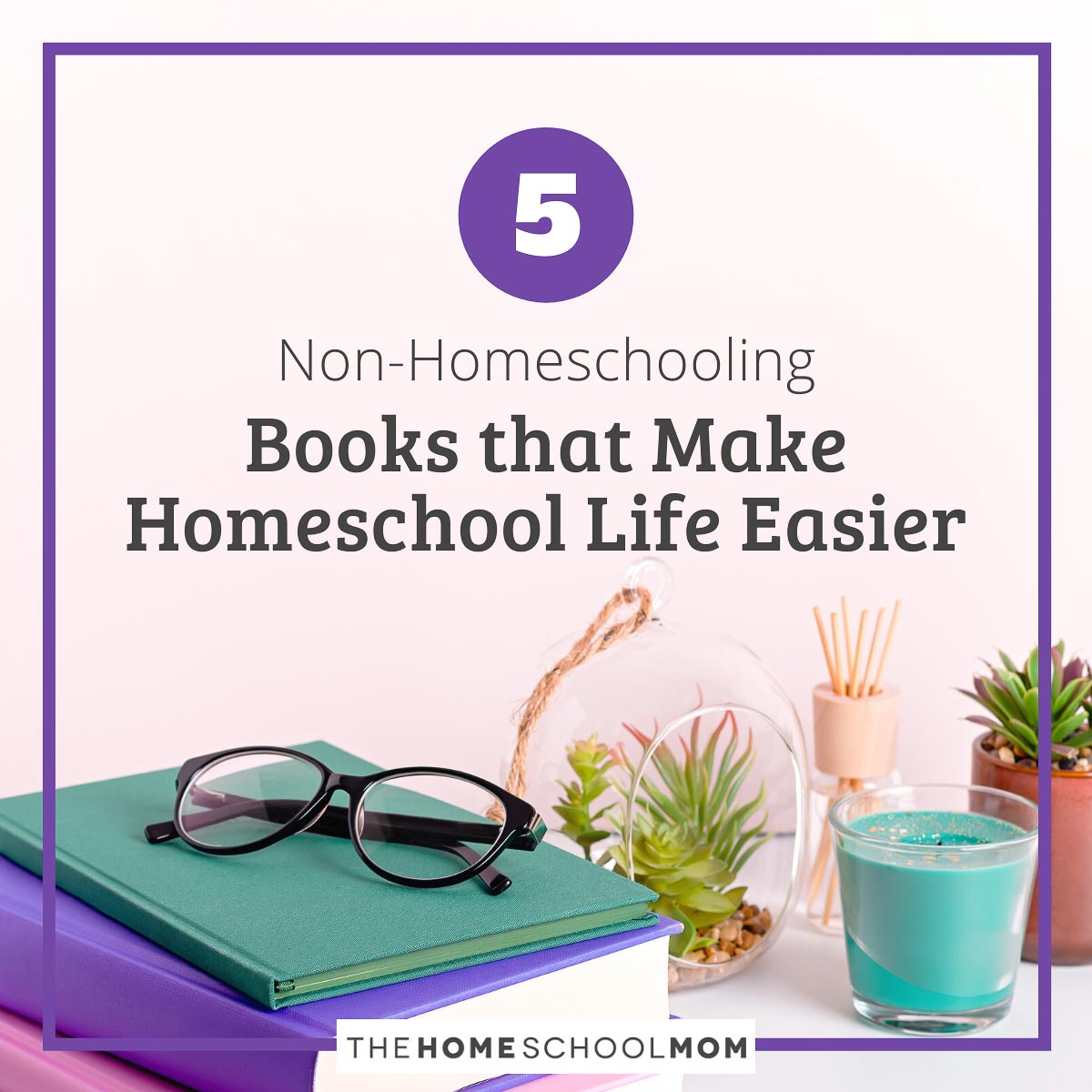 These Books Make Homeschool Life Easier and More Joyful
(all Amazon links are affiliate links)
Do you love books? Don't answer that. I'll assume it's a yes.
I previously wrote about my favorite homeschool-related books, which I encourage you to check out if you haven't already. I gather so much goodness and inspiration from these titles and their authors. Homeschooling is a marathon, not a sprint, and reading encouraging words is something I rely on year after year.
As an avid reader and book lover, I've also curated a list of five non-homeschooling books that are making a difference in our current homeschooling journey and our day-to-day lives. Homeschooling is about more than teaching subjects and cultivating a love of learning in our kids. I've selected a book from each of the following areas:
Parenting
Home Decorating
Health and Wellness
Cooking/Meal Planning
Self-help/Spiritual Guidance
Ready? Grab your tea or coffee and let's dive in!
Parenting:
How many parenting books have I read? Too many. I've recently rid my shelves of many books (to make room for new books), and I had so many parenting ones. Also, lots of parenting books feel hard for me or not "right" for me or my kids in this tween/teen stage.
I came across Neil Brown on a Tilt Parenting podcast and I liked his no-nonsense approach. I appreciated how he used straightforward language. I ordered his book immediately (as I do) and read it from cover to cover in two days.
He addresses issues that are applicable to teens and their growth, their brains, and how this time in their lives is one of immense change.
I wrote about homeschooling a child who's your polar opposite and I've shared some of our struggles as well. This book gave me space to reflect on how I want to approach boundaries and choices with our kids. It gave me permission to speak directly about expectations. It made this highly-sensitive mama see that I don't have to fight everything and that all parties involved need to be heard.
Do I always remember his advice and tips? Nope. But, I refer back to the book and his podcast often. I'm always learning too!
Home Decorating:
You will not find our home in an HGTV magazine spread. I am not one for decorating. I tend to be pretty functional. Also, homeschooling is messy. Not necessarily in a bad way (well, except glitte—glitter is THE WORST) but most days it looks like a small but mighty tornado has ripped through the Wright casa. Also, dishes. Always. Dishes. And laundry. You know how it is.
Last year, I came across Myquillin Smith on Instagram (find her over @thenester) and she's also the older sister of one of my favorite authors, Emily P. Freeman (see below). I loved everything she posted. I loved how she was encouraging and real. I pre-ordered her book (are we seeing a pattern here with me and books?), and when it arrived, I made myself a hot bath and a cup of tea and started reading. I was immediately inspired.
Her cozy-minimalist approach was exactly what I needed.
Her book helped me declutter and focus on small spaces in our home. I decided I could have pockets of simple, seasonal beauty right alongside homeschooling. In fact, it's exactly what had been missing from our home.
I started buying myself fresh flowers and using simple mason jars as vases.
I streamlined our bookshelves.
I lit candles.
I got rid of holiday decorating items that just didn't fit the vibe I was going for and were just taking up space in storage containers.
And you know what? I really appreciate being in our imperfect space these days. I enjoy the strategic areas of warmth and cozy, and my kids noticed too. Cozy-minimalism for the win!
Health and Wellness:
Do Less  by Kate Northrup
Do you too much? Are you carrying all.the.things for everyone all.the.time? Do you want to lean into your feminine energy and embrace the natural cycles that are all around us?
From the book's website:
"What if you stopped rushing, healed your addiction to busyness, and knew beyond a shadow of a doubt that you're enough, no matter what you do?"
Sounds good, right?
Before you skip to the next book, hear me out.
Kate (we're on a first-name basis) has 14 simple experiments to help you DO LESS. Take two weeks or four—it doesn't matter! I personally love the research and references to how our bodies play a huge part in our day-to-day lives and that if we slow down, pay attention, and listen, we can let go of what is weighing us down.
Some experiments include:
Discover What Really Matters to You
Receive Help
Simplify
Become a Time Bender
Streamline Your To-Do List
As homeschooling parents, we are responsible for so many things. While most of us have chosen this path, it doesn't mean that it's easy or that we must lay our entire selves on the line in the name of home education. Your health and your joy and peace matters, friend. If you're doing too much perhaps give this book a read and try doing less.
Cooking/Meal Planning:
Do your kids keep asking to eat dinner each night? We educate them and apparently we have to feed them too.
My kids have appetites to rival professional football players. We are also in a busy season of life right now, and as a result we are not always sitting down to eat dinner altogether each night.
Between sports and volunteering and other commitments, I found that I needed to be better at planning.
Here's a secret: planning isn't my strong suit. I enjoy cooking but I tend to be a grab-some-of-this-and-add-some-of-that kind of cook. What if I don't want Taco Tuesday (wait, that would never, ever happen) and I want turkey sandwiches instead? Also, we're gluten-free and some of us are dairy-free and some of us are picky. I won't point fingers.
I was thrilled when I came across Cook Once Eat All Week. The recipes were easy (score), affordable (yes, please), and didn't require complicated ingredients (phew!). Cassy Joy Garcia and her team did all the legwork to create bulk cooking meal plans that don't take a ton of time to prep and plan and that tastes amazing.
My kids have enjoyed everything we've cooked and we've repeated several recipes over and over because they've been a huge hit.
If you're looking to simplify your meal prep process, this book is fantastic. My daughter loves cooking and enjoys helping me prep the food. I can quickly assemble the meals on nights when time is of the essence. Also, is there anything better than having yummy leftovers in your fridge when you don't feel like cooking? Even if you don't have any dietary restrictions, this cookbook will still be a great addition to your meal prep rotation.
Self-help/Spiritual Guidance:
This book is my favorite book in 2019—so much so that I've read it twice this year already. If you follow me on Instagram, you'll recall my love of this book.
My friend turned me onto Emily P. Freeman's podcast which is also called The Next Right Thing. I quickly flew through as many episodes as I could. Emily's soothing voice and simple, clear commentary were what I needed on a soul-level.
When she announced that she was publishing a book with the same name, I joined her launch team and pre-ordered. (I am an enthusiastic participator. It's what I do.)
Emily's book is all about clearing the clutter and stress around decision making. As a work-from-home-homeschooling mama, I make so many decisions. I get decision fatigue easily. My sensitive self can get quickly overwhelmed by simple tasks.
Emily walks you through the process of doing the next right thing. It seems too simple. It seems like we should be pulling apart and over-analyzing everything all the time. But the truth is that we don't have to, and when we do it makes things harder than needed. I loved the prayers and journaling prompts at the end of each chapter and they really helped me see things differently. I've been able to put her practices into action. Truly a gift.
If you need a breather, this book won't disappoint. (Please note that this book is written from a Christian perspective.)
Scan Your Bookshelves and Be Inspired!
These are books that I go back to again and again--these are not one-time reads. The pages are dog-eared, the cookbook pages stick together from spills and use, and paragraphs are underlined. Do you have non-homeschooling books that are helping you on your journey? I'd love to know so please comment below.