Do your kids enjoy watching TV? 
There's nothing better than snuggling up on the couch with snacks and blankets and turning on a good movie with your family — even better when you can count it as a school lesson.
When you watch a show that promotes STEM learning — science, technology, engineering, and math — you can most definitely count that time towards school hours (if you're in a state that requires you to keep track of that information). 
That's a win all around!
Why Watch STEM Shows With Your Kids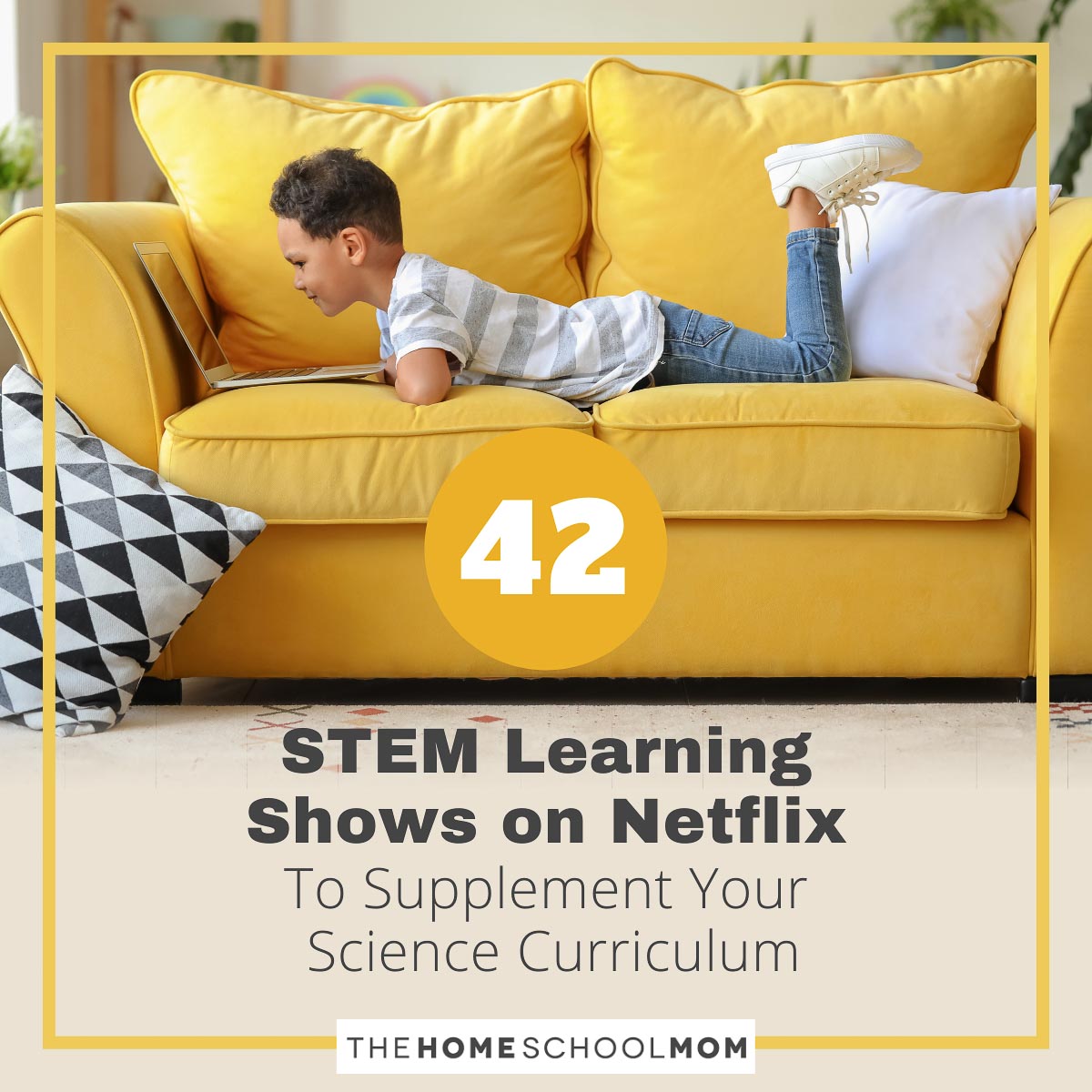 When you sit down to watch TV in the evenings, you may scoff at the idea of turning on something educational. After all, didn't you spend all day homeschooling your kids?
Here's the deal. School doesn't need to happen between the hours of 8am and 4pm. Your child doesn't need to sit behind a desk. And you definitely don't need to limit your learning to textbooks and worksheets.
Learning happens all the time. If you open your mind to the possibility that screen time can be more than recreational, you'll see that technology is an incredible teaching tool.
Luckily, there are so many streaming services available now that you can pull up a show on any topic with just a few taps on your remote or smart device. 
Netflix has a variety of shows you and your kids can watch together and learn about STEM topics. 
The best part is that they've got something for every age — from preschoolers to elementary-age to tweens and teens. 
Check out our list of 42 STEM shows on Netflix below.
42 STEM Shows On Netflix For Curious Kids Of Every Age
Emily's Wonder Lab

Ada Twist, Scientist

Brainchild

The Magic School Bus

The Magic School Bus Rides Again

The Magic School Bus Rides Again: Kids In Space

The Magic School Bus Rides Again: In The Zone

Ask the Storybots

A Storybots Space Adventure

Our Planet

Our Planet: Behind The Scenes

Number Blocks

Absurd Planet

Life In Color With David Attenborough

A Life On Our Planet

Tiny Creatures

Izzy's Koala World

Growing Up Wild

Night On Earth

Night On Earth: Shot In The Dark

Project MC²

You Vs. Wild

You Vs. Wild: Out Cold

Animals on the Loose: A You Vs. Wild Movie

My Octopus Teacher

The Inbestigators

The Cat In The Hat Knows A Lot About That

Down To Earth With Zac Efron

Penguin Town

72 Cutest Animals

Disney Nature: Ghost Of The Mountains

Disney Nature: Expedition China

Octonauts

If I Were An Animal...

The Universe: Ancient Mysteries Solved

Untamed Romania

The Speed Cubers

Osmosis Jones

Baking Impossible

Dancing With The Birds

Our Great National Parks

Puff: Wonders Of The Reef
You don't need to pay a premium for cable to get quality entertainment and educational content anymore. Streaming services cost only a fraction of what traditional cable companies charge, and with so many choices available, you'll never run out of new shows to watch. 
Netflix pioneered the streaming trend and, as you can see from the round-up of STEM shows shared above, they're still bringing their A-game. Bookmark this list and refer back to it when you need some ideas for what to watch with the kids. 
What's your favorite streaming service? Sound off in the comments below!