Disney+ was all the rage in 2020.
When the world shut down in March and Disney+ decided to premiere Frozen 2 on the platform earlier than planned, parents everywhere rejoiced.
My kids watched Frozen 2 over and over (and over and over and over!) when it first came out. We were Disney+ subscribers already, but the timing of that particular movie release sealed the deal for me.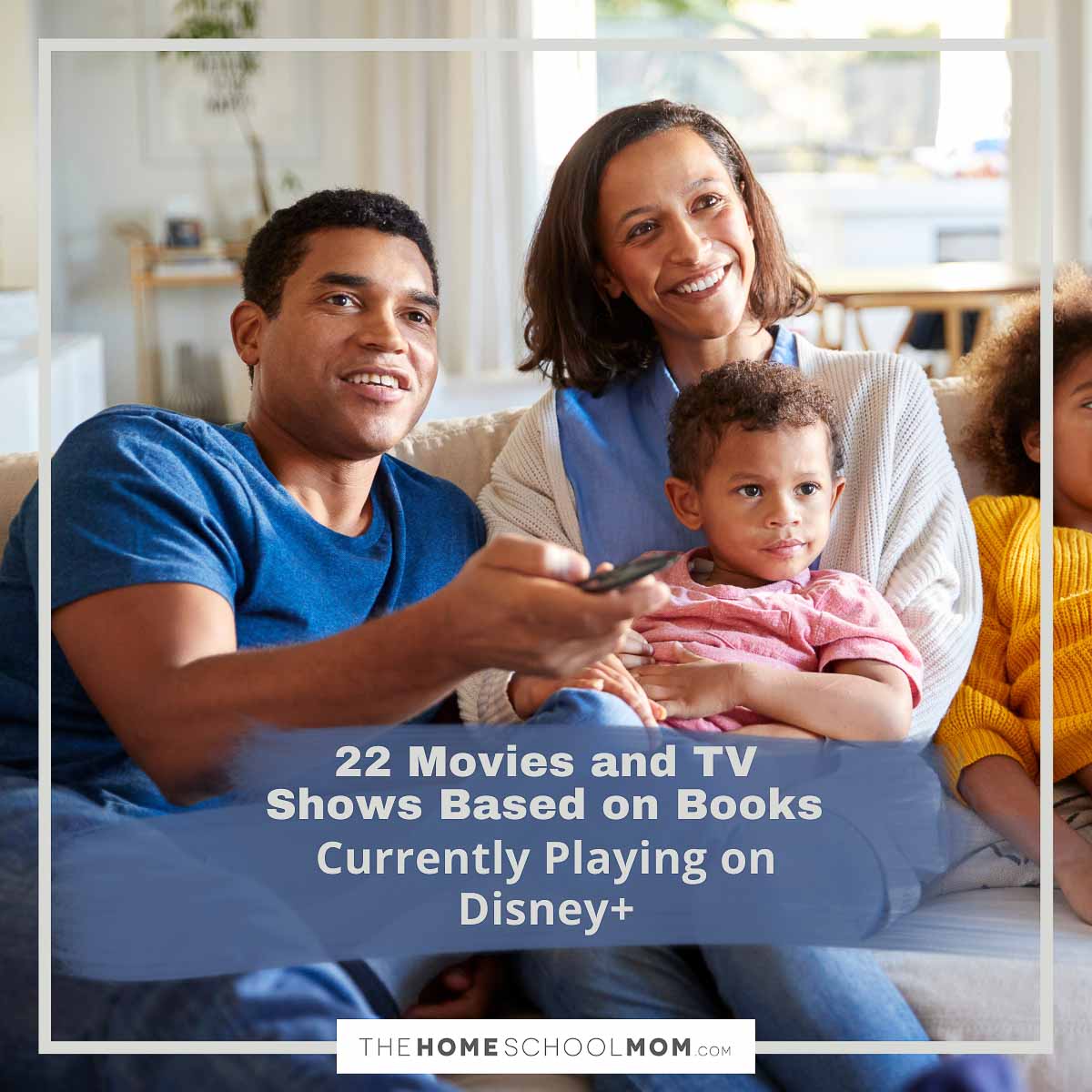 It gave my kids a reason to get excited when everything around us seemed bleak.
Disney+ knows what their subscribers want — and they give it to us in spades.
The thing is, if your Disney+ subscription has been used solely for family entertainment, you're majorly missing out. There's a goldmine of educational content on the app too!
For the cost of a cup of coffee each month, you've got another awesome resource to add to your homeschool classroom.
Bring Books To Life: Disney+ Movies Based on Popular Books
There is plenty of content on the Disney+ platform that I would consider educational, but for the purpose of this blog post, I'll be focusing on Disney+ movies that are based on books.
Why is that the topic of today's conversation?
The answer is simple.
With so many devices competing for our kids' attention at any given moment, books are getting the shaft.
Plus, my kids happen to be on a Disney+ kick lately, and we write what we know…amirite?
If you search other streaming apps, you'll find much of the same. Many have a nice selection of movies based on books. Some, like Netflix, even offer this as a category you can search by on their platform.
In the summer of 2022, Disney+ is on point with their growing library of movies and shows — many inspired by books we love!
Make Family Movie Night Part Of Your Weekly Homeschool Routine
We often think of family movie night as a way to unwind and spend quality time with our kids after a busy week.
And it is.
Family movie night is a cherished time in our home. My kids and I make pizza and watch a movie together every Friday night.
We started this tradition at the height of social distancing and it's something we enjoyed so much that we never stopped.
But it can be a literary educational experience too.
Did you know that family movie night can count as school?
Because it can!
Pick a book from this list — or any book with a companion movie —  and snag it from Amazon or your local library.
Pro tip: the Libby app is perfect if you want to check out the free audiobook or e-book from your library!
Then, snuggle up on the couch and enjoy the book with your kids. You can make it part of your morning routine or read a chapter each night to wind down before bedtime.
Another option, if you're always on the go, is to keep the book handy and read a chapter here and there as you can (or listen to the audio version in the car!).
When you finish your chosen book, plan a movie night to celebrate.
As you watch the movie together, pause occasionally to discuss — this helps get everyone's wheels turning.
Ask your kids whether they prefer the book or the movie and why. Point out story elements you see brought to life on screen. Compare and contrast, but be sure to evaluate each version on its own merits.
This can all happen very organically through casual conversation. It doesn't need to be "schoolish" in order for kids to learn.
Below, I'm sharing 22 Disney+ movies and series based on books to watch with your kids in 2022. Be sure to bookmark this post so you can find it easily later!
22 Movies and TV Shows You'll Find on the Disney+ Platform Based on Children's Books
The Chronicles of Narnia: The Lion, the Witch, and the Wardrobe (2005), The Chronicles of Narnia: Prince Caspian (2008), The Chronicles of Narnia: The Voyage of the Dawn Treader (2010)
Percy Jackson and the Olympians: The Lightning Thief (2010)
Alice in Wonderland (2010)
Mary Poppins (1964), Mary Poppins Returns (2018)
Because of Winn Dixie (2005)
Flora & Ulysses (2021)
Holes (2003)
The Princess Bride (1987)
Alexander and the Terrible, Horrible, No Good, Very Bad Day (2014)
A Wrinkle in Time (2018)
Artemis Fowl (2020)
Upside Down Magic (2020)
The One and Only Ivan (2020)
The Mysterious Benedict Society (2021)
Fantastic Mr. Fox (2009)
James and the Giant Peach (1996)
Old Yeller (1957)
Tuck Everlasting (2002)
Jungle Book (1967 and 2016)
Oliver and Company (1988)
White Fang (1991)
Just Beyond (2021)
The compilation of movies and series above is a tiny sampling of the book-based content on the Disney+ platform (and that doesn't even include any other streaming apps!).
Of course, it's not a comprehensive list, but it is enough to get you started. Liven up language arts with Disney+ and watch your kids jump for joy.
What's your favorite show or movie based on a book? Share in the comments below!