Veterans Day is coming up on November 11, and it is a great time for homeschoolers to teach children about the sacrifice of those who have fought or currently fight for America and who serve out of the love for their country.
Not to be confused with Memorial Day, which honors American soldiers who died in their service to the nation, Veterans Day is intended to honor all veterans, with a particular focus on those who are still living.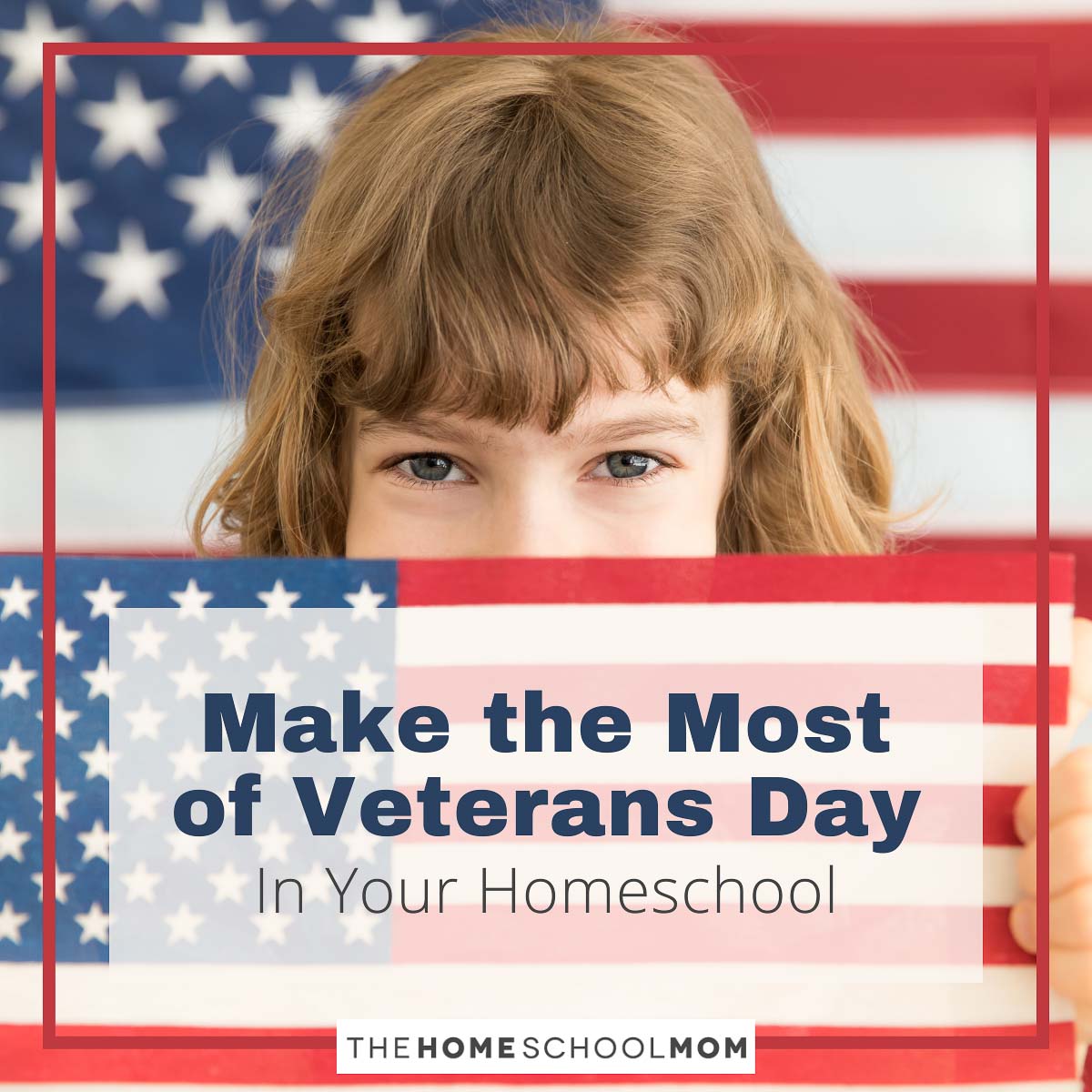 November 11 became a federal holiday in 1938, when it was known as "Armistice Day", to honor the cessation of World War I. Legislation in June of 1954 under President Eisenhower broadened the focus of the date to honor all veterans, and changed the name of the holiday to "Veterans Day".
In spite of the holiday being switched to October 25 for a few years in the 1970s, November 11th became the official national holiday for Veterans Day when President Ford signed Public Law 94-97 in 1975. Veterans Day has continued to be observed on November 11th since 1978. More information on the history of Veterans Day can be found in this short video from History.com.
There are many ways to help children understand the significance of Veterans Day and the importance of those who have fought and died for America, as well as those who currently serve to protect our nation.
Try out some of these ideas to make this Veterans Day a meaningful and educational experience for your children:
1. Make the day educational.
High school & middle school

The Greatest Sacrifice is a Veterans Day lesson plan for grades 6-12 from PBS learning Media.
Infoplease.com lists the last living veterans from many of America's wars.
The Department of Defense offers a post with 5 Facts to Know about Veterans Day along with a Veterans Day quiz.
Have students create their own newspaper of events detailing information about each of America's wars. Click here for more info.
Do a VETERAN acrostic poem.
Have the student investigate the history of veterans within his/her own family. Put this information, along with photos of each veteran, into a family tree. Click here for a variety of family tree forms, including family timelines, family research logs and more! Ancestry.com offers some free family tree charts and templates.
Learn about the Veterans Day ceremony at Arlington National Cemetery. Includes a teachers guide and poster printable.
Participate in the Veterans History Project. This project, developed in 2000 by the Library of Congress, seeks to preserve the experiences and stories of American war veterans for future generations. Students in the 10th grade and above are eligible to participate in the project by interviewing a veteran and sending the collected information to the Library of Congress.
Watch interviews from Old Guys and Their Airplanes, John Mollison's series of interviews with military pilots.
Watch an interview with a veteran who was present during the attack on Pearl Harbor.
Have students learn vocabulary related to Veterans Day. Click here for vocabulary words and definitions, or find Veterans Day vocabulary words in this word search. After the student learns the vocabulary terms, have him complete an online quiz using the Veterans Day words.

Elementary School
2. Make the day a service to others.
3. Make the day fun.
High School & middle school
Elementary school