[Note: This post refers to specific legal requirements in Virginia at the time that Shay's Notice of Intent was filed. While we suggest that you apply the principle of the "Show Me" letter to the legal requirements in your state, it is your responsibility to determine the exact legal requirements in your locality.]
When I filed my first Notice of Intent to homeschool in 1995, I was extremely nervous. I was without the benefit of gaining information and support from the Internet, and some of the stories I had read in homeschooling books were frightening. I knew very few other homeschoolers, and they all filed under a different option. As I wrote the "description of the program of study" and other required material to mail to the superintendent's office, I felt like I was about to enter a dangerous landscape. I was afraid that "they" would "come after me."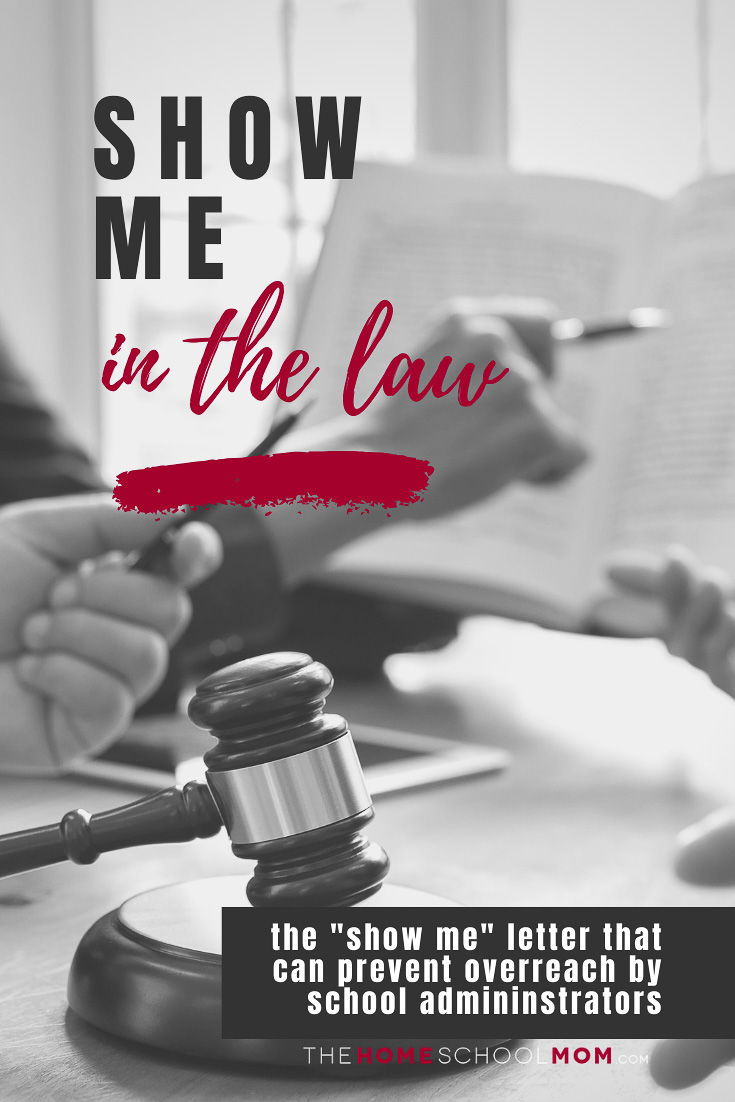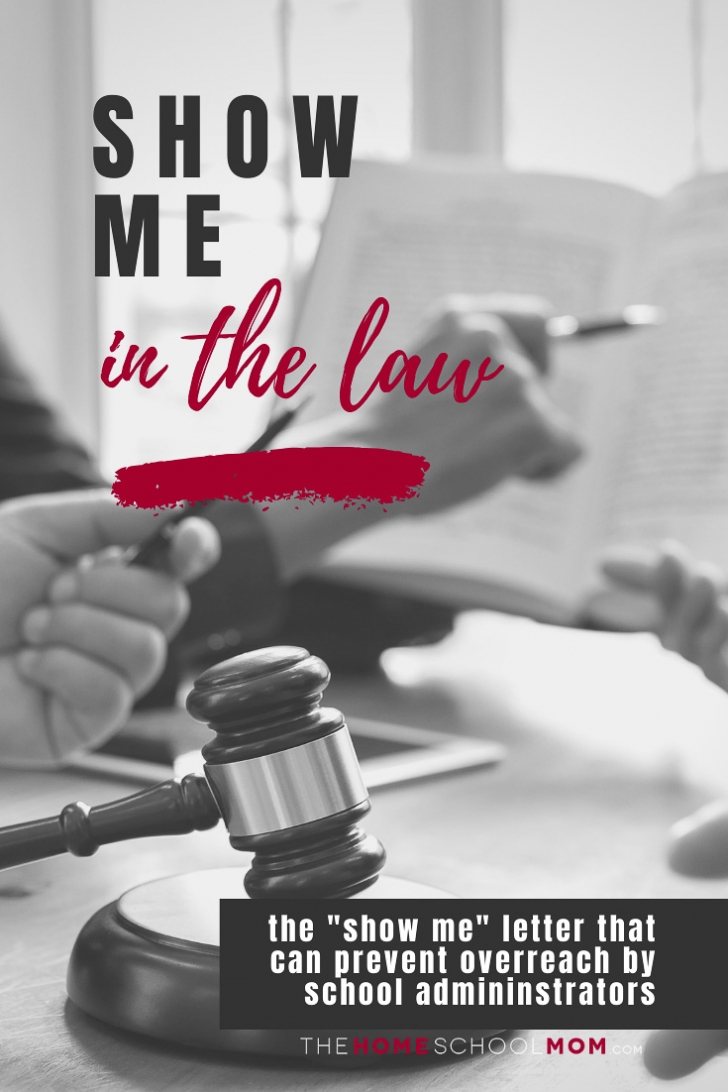 The word "they" represented a nebulous threat, a vague composition of all the "school people" who might "come after me," try to interfere with the educational choice I was making for my children. I attempted to ward off the lot of them by submitting a 12-page thinly veiled legal brief. It cited court cases and state law, included a program of study defined the state's Standards of Learning for math and language arts, and was heavy on "educationese." Even though my hopes were pinned on this pre-emptive strike, I waited nervously for a response from the county school division.
In subsequent years, I gradually cut my verbiage until it became the single page I now submit. These 15 years later, I laugh at my first year's Notice of Intent. My ridiculous over-documentation probably had the school division staffers passing my papers around the office, laughing as they exclaimed, "What the heck is this?!"
Despite my anxiety, even with being one to file under a less common option, I had no real trouble with the school division in a decade and a half. The only "problem" was very minor, a few years into my homeschooling adventures. This happened when a new administrator, unfamiliar with the finer points of the homeschool law, asked for more than the legal requirement. She called to tell me she wanted a list of the books I would be using. Being an unschooler, I couldn't guess what books would grab my kids' interest. Even if I could guess, this was beyond the law. However, I felt this phone conversation was not the time to say so. "OK," I told the staffer.
My first action after hanging up the phone was to post about the call on my statewide homeschool discussion list, VaEclectic. Some suggested I seek legal counsel, but I wasn't about to pay a lawyer's fee for something this trivial. Others said I should "make up something and give them what they want," just to appease the powers that be. That would have been an easy enough task, but disingenuous. It would have left me with that lingering uneasy feeling that comes when I neglect to do the right thing—and the thing that frightens me is usually the right thing! So, I chose a slightly more difficult action: telling the school division to show me that "they" were right to ask for a list of books.
The hard part of the plan was moving forward despite a slight continued fear of "their" authority. However, coming up with the words was the easy part. I simply wrote a letter to the staffer, saying that I had read the Home Instruction statute, saw no provision in it for submitting a list of books, but if they could indicate the passage of the law that says I must, I would be happy to comply. A few days later, an envelope arrived from the school division. With some anxiety, I opened it, and found a letter stating that the staff had determined I had met the legal requirements to homeschool that year. There was no mention of a book list, and I never again received an extra-legal request from the school system.
Of course, I shared this news with my list mates right away. It was met with some surprise, and my fellow homeschoolers commended me for the display of courage. After that, whenever a homeschooler reported that a school staffer asked for too much, I told my little story and encouraged them to do similar. I also made sure to protect myself with a standard disclaimer, "I am not a lawyer and I cannot give legal advice. For legal advice, seek a licensed attorney." This, because a lawyer had threatened a friend of mine with a charge of "practicing law without a license," because my friend had dared to interpret the Commonwealth's homeschool law himself.
Gradually, the "show me" letter concept spread. Greater numbers of homeschoolers—in Virginia and across the country—tried this simple response when a school division over-stepped its authority. In most cases, it worked just as well as it did for me.
It has been years since I told the story or suggested that another homeschooler try this tack. This is because the advice became a solid component of the VaEclectic community. On the rare occasion when a Virginia homeschooler reports such an issue, she or he receives multiple responses that encourage the list member to calmly and politely ask the division to "show me where it says that in the law." I don't have to say a thing. Instead, I watch with amazement and delight as the information spreads.
Sticking up for oneself by offering calm and reasoned response to the school division is no longer a rare or difficult thing. Instead, through supporting each other in our own community, homeschoolers have empowered ourselves to feel confident in our homeschooling and to conquer our fear.