This post was originally published as the introduction to an issue of TheHomeSchoolMom newsletter. Sign up here and get access to subscriber exclusive resources.
In the world of education, we get "the blank slate feeling" twice a year: once when public schools start their academic year and again on January 1 when everyone feels it.
The Back to School Season in the fall often means Not Back to School for homeschoolers, some of whom may nonetheless follow the school year for some activities and classes, even if their kid is not enrolling in their local school division.
But here we are at the other blank slate moment, the New Year—which means co-op starts anew after a holiday break, new calendars are hung on the wall, new commitments to schedules and habits are made, art supplies are refreshed, and math and reading get new approaches.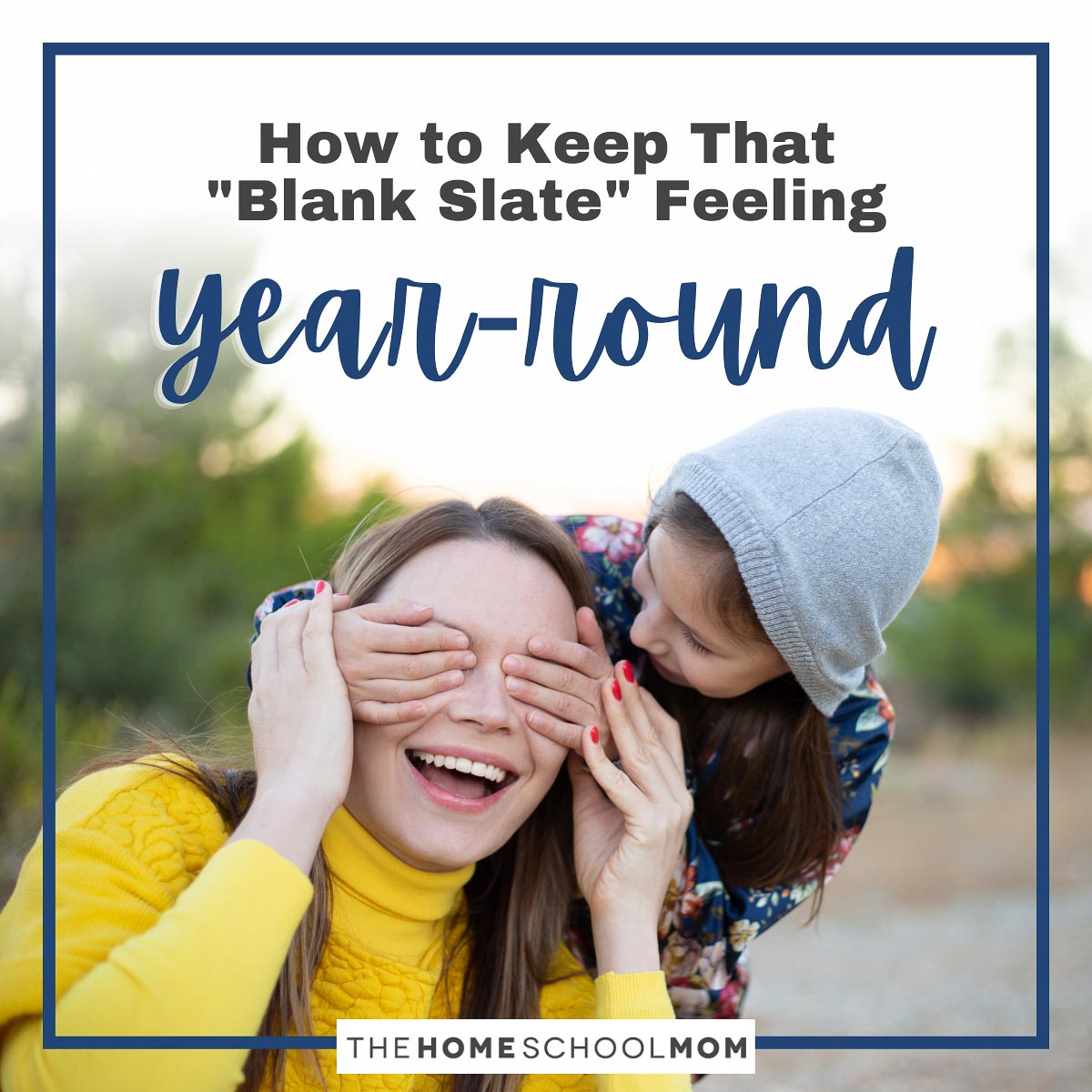 What if we could keep the blank slate feeling all the time? Each new month, indeed—each new week and new day—is an opportunity to begin helping our children learn in a fresh new way.
At any time, we can begin again.
We can stop the piano lessons that are making one child miserable, we can toss the math book everyone dreads, we can quit the co-op that is sucking all our energy with little benefit.
It's always the right time to try new things that might help!
Listening to music at lunch time
Visiting the library weekly
An online class for one of the kids
An every-other-week meetup with just one other family
Supporting your little guy's dog walking business idea
Trading your skill with crafts with another parent's skill in electronics
Reading aloud while kids are doing something else
Discussing movies instead of books
Apologizing when you make mistakes
Homeschooling at night on purpose!
A parents' book club - that you organize
Walking every day, no matter the weather
And so on.
My two rules of homeschooling, as you may know, are:
Do what works.
Stop doing what doesn't work.
Of course, the New Year is the perfect time to put my rules in play. Be bold! Throw out what hasn't been working. Start with new practices and new hope.
But what I really want you to think about is how, as homeschoolers, you don't need to wait for the New Year or a new school year to refresh and refine your homeschool. You can experiment, decide when a trial has been long enough, and change courses when consistency is not proving to convert to peace or progress.
There is no homeschool practice so universally fitting that you absolutely must do it with every child during every season.
In this crisp New Year, I wish for you a deep embodied memory of January's "blank slate feeling," the sense that you can always begin again.