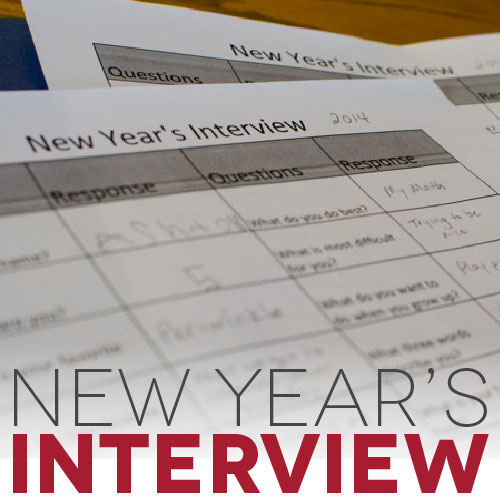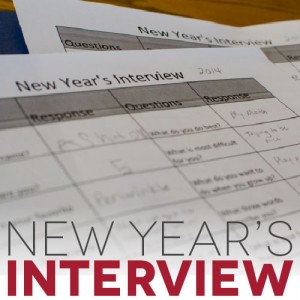 If there's one thing the new year does for me, it's remind me of how quickly time is passing.
You remember, when you were younger, how a year was an absolutely interminable amount of time? And then you grow up, and then you have kids. And then somewhere around the time your youngest gets to be the mostly-self-sufficient-age (5 or 6 ish), when you wake up from baby and toddler fog, you start wondering, "Where did the time go?" "How did my children get to be so old?" You find yourself saying things like, "How is it already the new year?" and "I feel like we just finished the summer. How is it time for snow again?"
Welcome to getting old.
This new year, I decided that I need to start capturing some of the unique things about where my kids are – before they're gone. Sure, I scrapbook faithfully, I drive my family crazy with photo ops, and I am a bit of a journal Nazi, but I realized that I don't capitalize on the little details…those special little things about my kids that are here today, but will be gone tomorrow. It's amazing how we can be with our kids all the time and still miss so much about them – what they're thinking, how they see the world, how they see themselves.
I've decided to remedy that with a little thing called the "New Year's Interview".
You might have seen it floating around on Facebook, and it's a pretty simple idea. Type out some questions for your children about themselves and have them write down their responses. Put the paper in a book or album and then give the same questionnaire next year at the same time. Over the years you can watch the transformation in your kids' responses – and see evidence of how they are growing and changing.
You don't have to do this right at New Year's – anytime in January would suffice, of course. The point is to have a set time, once a year, in which you "check in" with your kids about who they are, what matters to them, and how they view life. The questions can be adjusted according to the age or interests of your particular children – ask the things you really want to remember about them in the future! Here are the questions we used in our interview:
What is your name?
How old are you?
What is your favorite toy?
What do you love to learn about?
How do you like to spend your time?
Who is your best friend?
What is your favorite song?
What is your favorite book?
What is your favorite movie?
What is your favorite place to go?
What are you afraid of?
What do you do best?
What is most difficult for you?
What do you want to do when you grow up?
What three words describe you?
What is your favorite food?
What makes you happy?
What makes you sad?
What do you pray about most often?
What did you love most about last year?
What do you look forward to the most this year?
What are the blessings you are most thankful for this past year?
I wanted to tailor my questions to the specific things I wanted to know about my kids, so I simply put the questions on an Excel spreadsheet with boxes for their answers. You can get a PDF of my New Year's Interview questions, but there are also a variety of printable New Year's Interview questionnaires available on other sites if you are looking for other questions or formats.  Here are a few good ones:
Another option is to video your kids' responses. This way you not only get their answers, but get to see and hear your children as they are at this moment in time, each year. How Does She offers questions to ask and suggestions for videoing the New Year interview.
My kids loved this. My girls were quite excited to answer the questions, and kept asking, "Mom, why are we doing this?" I wrote in some of the responses for my 5-year-old, although I had her put down as many as she could, so that I'll have her handwriting on record as well. Both kids were thrilled to share their responses, and enjoyed comparing which of their answers were similar (I had them complete the questionnaires in different rooms so they couldn't be influenced by each other's answers). It was clear that they felt pretty important that Mom was making the effort to find out about them in such an official way!
My kids' responses brought a smile to my face and even tears to my eyes. I discovered that, out of the thousands of songs on their iPods, both my girls chose the same song – the Disney movie Frozen's "Let It Go" – as their favorite. I was proud to learn that my eldest daughter thinks of herself as "outgoing", "creative", and "funny", and touched that my youngest daughter said she best likes to spend her time "snuggling my mom". One of the most poignant responses was by my older child, who answered "What makes you happy?" with "My sister".
Without a doubt, the New Year's Interview will become a tradition in our family. In 10 minutes this questionnaire gave me a snapshot of my kids' lives that I will have forever, and an insight into their worlds that was enlightening – even for this mama who spends the large majority of the time with them. It was interesting, encouraging, touching, and reminded me of the incredible blessing I have been given in my kids.
And I think we can all do well to be reminded of that in this new year.