Dads: We love 'em, we need 'em, and it would be a whole lot harder to homeschool without 'em!
Father's Day gives us the chance to tell our dads just how important they are to us! Whether it's simple or involved, kids can do something special for Father's Day, and learn at the same time. Start with the history of the holiday, which can be found at History.com, and then have some fun putting together a special surprise for Dad!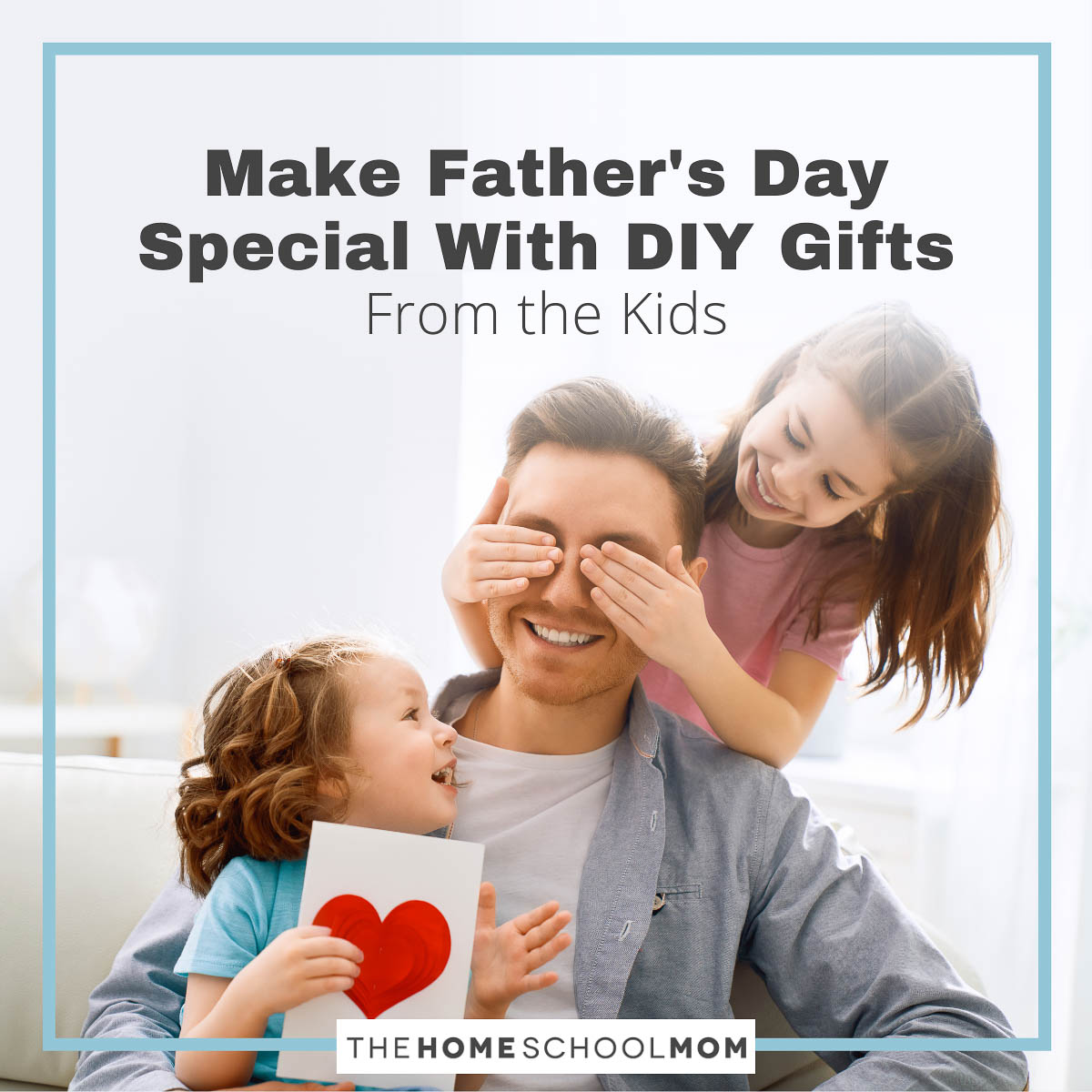 Check out these Father's Day ideas:
Dad's shirt cake – Kids will love making this sheet cake that looks just like Dad's collared shirt! This is a perfect way to teach measuring, and develop children's skills in baking and decorating, while giving Dad a little something sweet for his special day!
Father's Day wind chimes – These 8 homemade wind chime and garden ornament ideas are fun for kids to make and use items from around the house.
Desktop picture holder – 2x4's, paper, mod podge and photos make a wonderful photo holder for Dad's office.  This craft is a great way to help kids learn how to work with wood and a drill, while adding in some artistic flair!
Fill-in-the-blank letters: Instead of the typical card, give Dad a fill-in-the-blank letter. This works especially well with young children, if it is done over successive years, so answers can be compared. Create a letter such as "My Daddy is ______years old and ______feet tall. He likes to spend time doing ______.  Daddy does not like ______. It is really funny when he ______. The thing I like best about my Daddy is ______." Have the child fill in the blanks.
Masculine soap – Who says moms are the only ones who like special bath products? Check out these recipes for masculine soaps, including gardener's soap, cold process shaving soap, soap on a rope, and more – it's a science lesson and a gift all at the same time!
Goody bag – Leave a special goody bag for Dad in his car each morning when he goes to work. Put small items into the bag that Dad would like, such as gum, snacks, golf balls, a Starbucks gift certificate, etc. The bags can be simple plastic bags from the store, or ambitious children can sew their own drawstring bag, to make it even more special!
Origami money – Dads can always use a little extra cash for something special they want, but why not make it a little more creative? Kids can learn origami and spice up the "cash in the card" gift at the same time with this creative craft!
Father's Day trophy – Let Dad know he has won the title of "Best Dad" with this cute trophy project. Uses styrofoam cups, gold foil, gold pipe cleaners, and tape.
Homemade BBQ sauce – If Dad loves barbecue, make your own sauce for him complete with a personalized bottle and label! This is fun for the kids to make and fun for Dad to receive!
Shrink art key chain – Kids can decorate however they like, and give Dad a gift he will use every time he gets out his keys.
Special lunches – If Dad takes his lunch to work, why not make him some special lunches the week of Father's Day? Let the kids prepare the lunch menu, make the food, assemble everything into a lunch box, and include a special note along with the lunch. For some recipe ideas, consider sandwich wraps or grilled sandwiches, and some homemade cookies.
Personalized luggage tags – If Dad travels a lot, these luggage tags are the perfect Father's Day gift. Even toddlers can help make luggage tags that will remind Dad of the family while he is away.