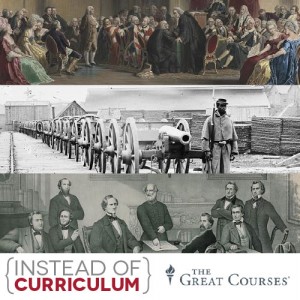 The Great Courses Review
Our family has greatly enjoyed using The Great Courses audio and video recorded classes.
The first of The Great Courses we used was The Story of Human Language, presented by leading linguist John McWhorter, who gives 36 lectures about the development of human language, why languages change or become extinct, dialects, how languages and their grammars affect thinking, and what the study of language can tell us about history and interconnectedness of early peoples.
We got this CD set from our local library and enjoyed 18 hours of listening-while-driving. This course, like the majority of those offered by The Great Courses, is considered college level, so some of the content probably went over the heads of my captive audience of three sons in a minivan, but I know they did take in a surprising amount, because they could talk about what they learned.
From there, we began listening to every Great Courses CD set the library had. They offer courses in science, math, fine arts, music, religion, philosophy, history, literature, living, language, business, and economics. But it's the course titles that are really intriguing -- such as Understanding the Universe: An Introduction to Astronomy, The Other Side of History: Daily Life in the Ancient World, Writing Creative Nonfiction, How to Listen to and Understand Opera, and nearly 400 more.
Listening in the car remained our number one venue, but the boys also listened in their bedrooms at night or as we were making art or working on projects together. Sometimes we listened to the same course all together, which created a nice joint experience; other times we were listening to different topics, anxious to tell one another what we were learning on our own.
The lectures are appealing, since the professors who design and present them are chosen based on their expertise and their communication and presentation ability. However, again, these are college professors, and they are basically geeking out on their favorite topics -- so it helps to be a little geeky on the receiving end, which I admit, we are.
Also, my kids were already well conditioned to listening to news radio, audiobooks, and recorded stories in the car and at home, so they were primed as an audience by the time they were in sixth or seventh grade. When the kids were younger, they simply played as the audio played, taking in what they could. Other children may have a different response especially before the mid-teen years, so I recommend using Great Courses from the library to see how it works.
While engaging, the presentations are fairly serious -- the emphasis is on information rather than entertainment -- so not every child or teen is going to go for these. I concede that I probably got more from some of the lectures than the children did at the earliest ages, but that made it a nice bit of professional development for me -- a time for my own learning, with the kids tagging along.
Over time, we exhausted the library titles of The Great Courses, and as my kids got older, we began using them to address specific learning goals. For example, as part of one son's study of high school government, he listened to two courses, The History of the Supreme Court and Civil Liberties and the Bill of Rights.  Another son requested Secrets of Mental Math.
When we sought these specific titles, we had to purchase them rather than obtaining them from the library. I found that The Great Courses has great sales -- it's worth following the website to find when you can purchase some of the titles at huge discounts off their list price. They are still pricey for many homeschool budgets, so there were also several times where I did a deal with a friend -- she purchased one Great Courses set on sale that she wanted to keep for her family, and I purchased one that I wanted to keep for our family, but we agreed to loan them to each other liberally, so we got more bang for our bucks.
When I began using The Great Courses, there were only a few courses designated as high school -- most were college level. Now there are 19 high school classes, including math, chemistry, American history, and world history. I haven't used these. If you have, I'd be interested to know your thoughts on the high school classes.
Purchasing from The Great Courses has been a pleasure in itself. They have stood by their lifetime promise to replace defective or damaged disks. Not only have they kept up with the times by offering you streaming video of each course that you purchase (even if you purchase it on CD or DVD), when I called to ask questions about this service, they told me that they would go through my order history and make this streaming video available to me for each course I have purchased over the years. (This service is understandably only available for courses which they already offer in a streaming format).
There is an iPhone/iPad app for The Great Courses, and the streaming will also work on Android devices from the website.
Since we first began using The Great Courses, they have shifted to producing many courses on DVD rather than CD and offering a video component for many courses. I have only used one of The Great Courses with the video, and I do want to say that the video is not going to be the same type that you would get from, say, The Discovery Channel or The History Channel.
In the one video course we have used, the video was largely of the lecturer and presentation-type "slides." While the video was informational and well-produced, these are still college professors, not celebrity performers, and the video presentation is more like that of an engaging college lecture series rather than a slickly produced television series that one of those big networks might produce on a science or history topic.
Because of my limited experience with The Great Courses video, I can't say whether this is typical, but I will say that I still feel the information is worth what I paid. As a former radio journalist myself, though, I recognize that I get an awful lot out of audio and may be bothered less by this than some people. Again, try the DVDs with video at the library first, or call The Great Courses people and ask about this if you think it will be a factor in your satisfaction.
Also, for those of you who may be a little mixed up about The Great Courses, yes, it's the same company that used to call themselves The Teaching Company "bringing you The Great Courses." They've dropped The Teaching Company name and now strictly go by The Great Courses. All their courses are presented in English, and they ship internationally. Customers in The United Kingdom are encouraged to go to TheGreatCourses.co.uk, and Australian customers should go to TheGreatCourses.com.au.
Listening to one of The Great Courses on a long trip is a wonderful way to pass the time. Using one of The Great Courses instead of curriculum is a wonderful way to expose your older children to top experts in their fields -- or to help meet a high school learning goal in a unique way.