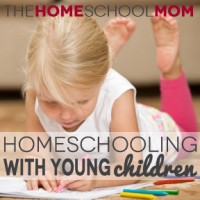 There's no doubt, homeschooling would be much easier if everyone were old enough to maintain attention, read independently, and stay on task. The reality? Many homeschooling families have multiple children under the age of 5, and have to figure out how to educate the older ones with a little extra, uh….help from the younger crew. Being able to actually accomplish academic instruction with the multiple needs, interruptions, problems and distractions of younger siblings can sometimes seem like an insurmountable task. Babies need to be nursed, preschoolers interrupt incessantly as they "listen", and toddlers inevitably find something in the child-proofed house with which they can potentially kill themselves. When young children are in the home, it is a full-time job just to get basic needs met, much less actually educate someone. So aside from shipping out the little ones until they are old enough to write on their own, what's a homeschool mom to do?
Options for homeschooling with little ones generally fall into four categories, two of which will be addressed in Part 2 of this series. The first two strategies are:
1. Arrange homeschooling schedules creatively.
Homeschool does not have to look like public school! The schedule should fit the needs of the family; the family should not be slaves to the schedule. When babies and toddlers are in the home, "school time" will often work best if it is scheduled around times the young ones are either asleep, in a good mood, or likely to be occupied happily on their own. Some specific suggestions include:
Do the most challenging work with older students (and the work that requires the most teaching on your part) during the little ones' naps.
Save some work for older children for when younger siblings go to bed for the night.
Prepare food for younger children and do some teaching with older kids while the younger ones are occupied with eating.
Do some school on the weekends or evenings when Dad is home to keep the young ones occupied.
Capitalize on nursing time as reading time or time to review.
Do subjects (such as devotion time, music, or science) in which young kids can participate during the times little ones are awake, and save tabletop work for times little ones are asleep.
Give toddlers one-on-one attention before you start school with older children, to help her get their needs met so they will more likely be happy when Mom has to work with older siblings.
2.     Include the little ones
As much as possible, let younger siblings join in school! Young children love to "do school", and enjoy being able to participate with older siblings in academics. It's the "if you can't beat 'em, join 'em" approach – only this time it's more about letting them join! Some subjects naturally lend themselves to being done effectively with multiple ages, and others can be adapted so that toddlers and preschoolers can feel like they are a part. Letting them participate as much as possible will help prepare young children for being able to do school on their own, will give them a positive perception about academic work, and will help them feel like an important part of the family. Some ideas:
Let toddlers and preschoolers help with science experiments, such as gathering materials, pouring items, stirring, and touching.
Use unit studies, which include activities and learning objectives for multiple ages.
Have young ones join in for reading time, or have older siblings read to the youngest ones while Mom reads to the middle children.
Have preschoolers color a picture of whatever you are teaching to older kids.
Make up hand motions to scripture verses or character qualities during family devotion time. This will keep little ones engaged, and help older children memorize them as well!
Let little hands play with math manipulatives as older kids learn math concepts.
Give simple work for preschoolers that corresponds to what older kids are learning. For example, let them practice making letters during an older sibling's English lesson, or count beads on an abacus during a Math lesson on addition.
Let little ones dress up in costumes that relate to the story or time period being discussed in History. Have them act out whatever is being taught.
Be sure to check out part 2 for more ideas on homeschooling with young children!