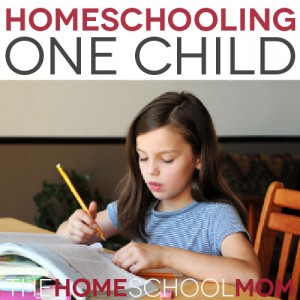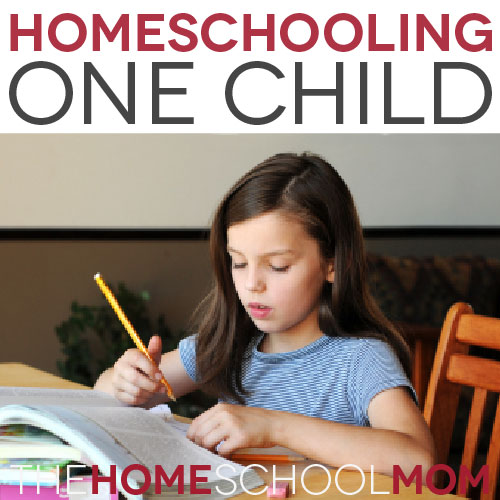 A common mental picture of a homeschooling family includes Mom, Dad, and multiple kids -- if not a whole bunch of kids. That picture may not be accurate for lots of reasons, but today I'll just take a look at the kids in the picture.
There are a lot of us who aren't homeschooling multiple kids, much less a bunch. Some of us are homeschooling just one child.
How does "homeschooling for one" come about? And what's it like?
1. You're homeschooling your youngest child. Older siblings have completed their homeschooling and moved out. In my case, I'm not yet an empty-nester, but most of my age peers are empty nesters. A few years ago, the kids on a little rec soccer team I was coaching were shocked to learn exactly which birthday I was having.
"You're older than my grandmother," one of them told me.
Yeah, well, it happens.
"And what soccer team is she coaching?" I asked.
But it's true, having energy for homeschooling is more of an issue than it once was. And, homeschooling a youngest child often means your family doesn't fit as well with other families in homeschool groups. Without younger siblings there -- and being accustomed to being around older kids -- the "last" homeschooled child in a family can often feel homeschool group activities are skewed really young, and there is less interest in attending. This means that a mom may not get her own needs met for social time and homeschool support, which was not a problem for her when she was hauling around a van full of kids.
2. You're homeschooling one child while your other kids are in school. This is a challenge because you can sometimes feel you have the worst of both worlds. You are still busy helping school kids who have to follow a strict school schedule of timely arrivals and homework submissions, but you're also in full charge of the education of the one who's not enrolled in school.
And, the chances are good that as the only child at home, he or she is at home for some special reason that takes more time than homeschooling typically might. There might be health issues, or academic issues, or special needs, gifts, or talents -- all of which take more time to navigate.
There can also be jealousy from the kids who are enrolled in school, who don't get the homeschool treatment of all that time with Mom and the cool field trips and the do-overs and the impulse to go pick strawberries instead of stewing over long division on a nice spring day. Even if the other kids don't want to be homeschooled, the situation sets up challenges that can be difficult.
Meanwhile, the child who is homeschooled, even though homeschooling may be his first choice, may have days of regret when the school kids in the family are enjoying something special at school.
3. You're homeschooling an only child. You only had one child, or, your family has experienced a dreadful loss, leaving only one child in your family, only one child to homeschool. My friends in this situation have said it's like having an only child -- except moreso.
Typically in our society, all children go to school, so "only children" have a lot of daytime stimulation from their schoolmates, and lots of school activities to choose from. Parents of "just one" who are homeschooling may actually struggle with "the s word" -- socializing -- since their children don't have built-in siblings or classmates. Some kids are absolutely fine with this, comfortable in the presence of adults and getting social needs met through Scouts and youth group and gymnastics and homeschool co-op. But others are truly lonely, and parents find themselves expending a lot of effort creating social opportunities.
Benefits of Homeschooling One
Despite these challenges, homeschooling one child can be rewarding. There may be more time to develop a relationship and give each other more undivided attention. There may be more opportunity to work on academic goals and challenges, with only one hungry brain to feed. There may even be more money for homeschooling (unless it's during the time you may be helping older children finance college or otherwise get a kickstart).
If you're an older parent down to homeschooling the last one, yes, you may find you have less energy than in the old days, but you are also not up in the middle of the night with a toddler nor facing the same number of household duties.
Homeschooling one, you may find a special intensity, but also a unique enjoyment of your days together.
A larger family may remain the stereotypical picture of homeschooling, but you can be assured there are other moms and dads out there working through the challenges and enjoying the rewards of homeschooling one.