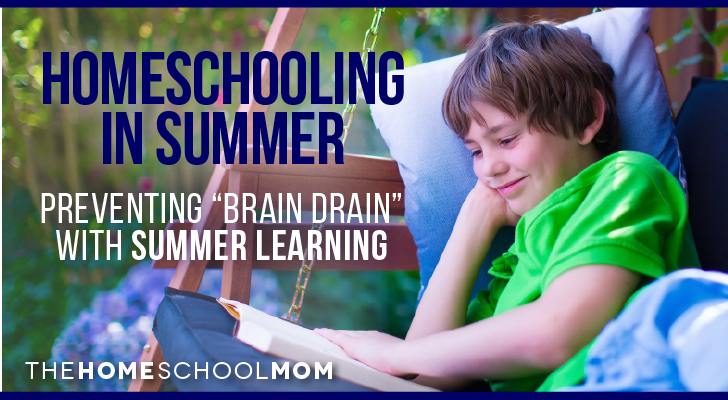 This post is by Katie, a homeschooling mother of two, and is from our contributing sponsor, Time4Learning.
Can you believe that spring has flown by and it's time to think about summer?  I know as a homeschool parent you're probably looking forward to the break as much as (if not more than) the kids. I know I am. But did you know a lot more than fun can happen over the summer? That's right, summer learning loss is real, and can put a big crimp in learning once you head back to school. It's tough to think about learning when there's so much fun to be had, and we understand! Below are five not-so-fun learning loss statistics along with summer learning suggestions to help your kids avoid the notorious "summer brain drain."
An equivalent of one month of overall learning is lost during the summer.
Solution: Pack your bags!
Fight learning loss with a vacation! Encourage your children to research the places you'll be visiting this summer and find out five new facts about each one. Find museums and state parks where you'll be headed and use their online resources to help get the kids thinking.
An average of two months of reading skills are lost during the summer.1
Solution: Got a library card?
This type of loss can easily be remedied by having your child choose four or five books from the library that are slightly challenging for them (even better if the books teach something). How easy is it to throw the book in a backpack and head off for an adventure at the beach or a park? Now that's fun summer learning!
An average of two and a half months of math skills are lost during the summertime.2
Solution: Interactive math!
Combat this summer learning loss by challenging your kids with authentic activities that involve math. Are you adding a flower bed in your yard? Use perimeter and area to figure out where to put it and how many plants to buy. Are they hungry? Hand your kids a recipe and let them use their math skills to make a delicious summer treat!
Summer Learning Outside
Two to three hours per week of brain challenging activity is needed to prevent summer learning loss.3
Solution: Head outside!
Are you surprised it is so little? That breaks down to 36 minutes a day. That's only a few chapters of reading or a few minutes on your favorite online learning site. Make the most of that small amount of time with physical activity. Statistics show that physical activity leads to increased concentration and better scores! So take a bike ride or an invigorating swim, and then put in your half hour of learning.
It can take up to two months from the first day of school for a child's brain development to get back on track.
Solution: Online learning!
Sadly, summer learning loss is real, but it can be easily avoided. Pull together a summer collection of your favorite online learning links that target your child's rough spots and voila! You've got a simple summertime unit study. Or, look for online curricula options that allow you to keep learning in core subjects even when you're on the go. The statistics don't lie; it's important. So, take a minute today to plan your child's summer learning.
1 15 Critical Facts Everyone Should Know About Summer Learning Loss, www.onlinecollege.org
2Ibid.
3Ibid.