Activities, Lesson Plans, and More
Age Range Key
Y—Young (PreK-3rd)
M—Middle (4th-6th)
O—Older (7th-12th)
T—Teacher Resources
Julianna Kunstler Comprehensive Art Curriculum  (M,O,T)
Julianna Kunstler is a high school art teacher who has generously made her curriculum available online for free. You can find tons and tons of lessons, slides, handouts, exercises, and step-by-step tutorials covering the Elements of Art and Design (line, shape, color, balance, contrast, perspective, etc.) - and skill building for specific art media (painting and drawing, digital art, ceramics, sculpture, digital photography, mixed media, and print making). Also included are a comprehensive Art History class, complete with worksheets and slides, and a Special Needs art class collection of resources. The courses are designed for multi-year study.
Google Arts & Culture  (Y,M,O,T)
Google Arts & Culture is collaboration of various museums, universities, and other cultural institutions. You can take virtual tours of museums around the world, find digital exhibitions on just about any topic, play games, take quizzes, find coloring pages, and tons more.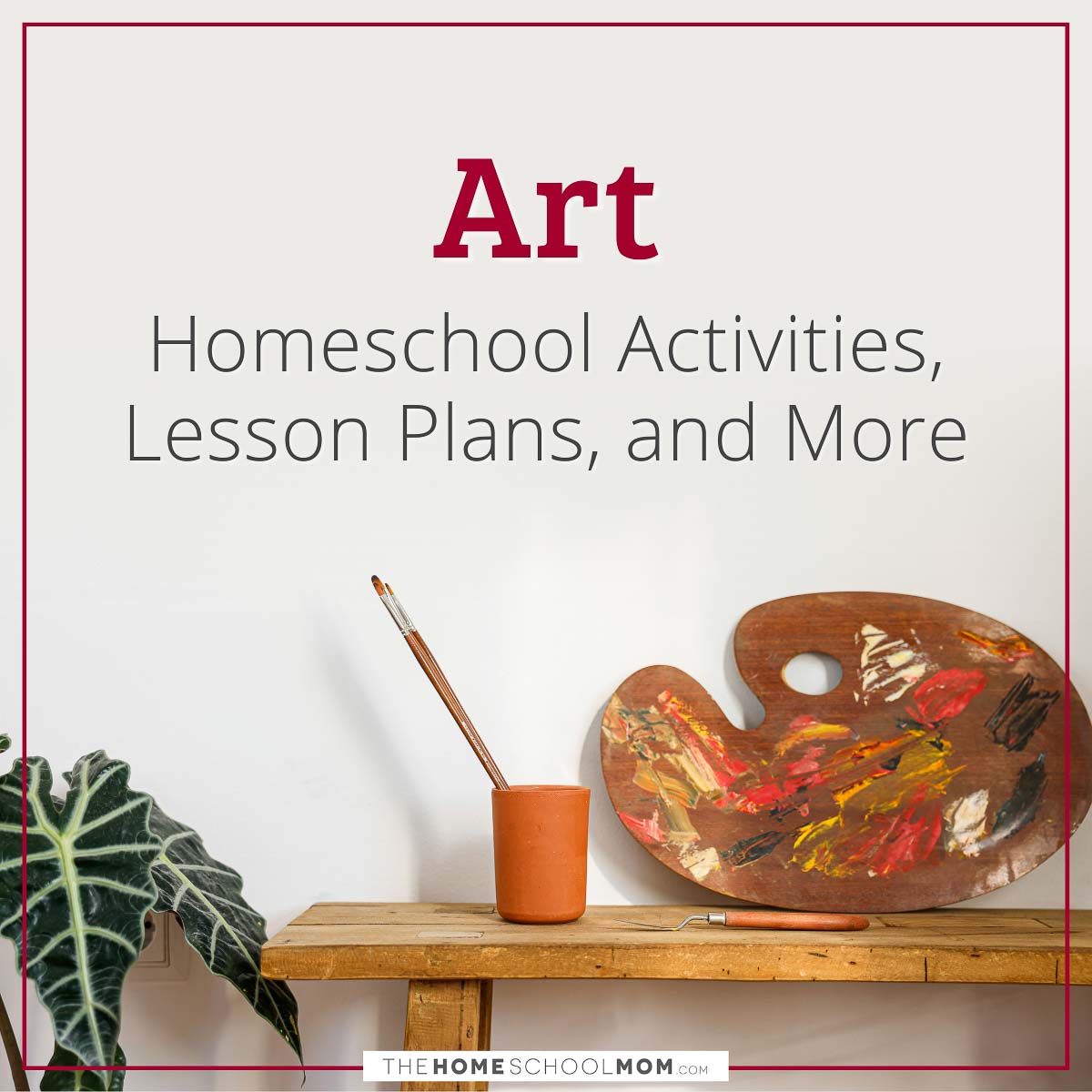 Museum of Modern Art Teacher Resources  (Y,M,O,T)
MoMA offers online courses designed for K-12 classroom teachers and any other educators who want to learn about modern and contemporary art and develop their pedagogical skills. The site provides short lesson plans on different types of art styles, audio clips discussing different art collections, videos, a glossary of art terms, and more. Topics covered include: Art & Inquiry: Museum Teaching Strategies for Your Classroom, Art & Activity: Interactive Strategies for Engaging with Art, and Art & Ideas: Teaching with Themes.
Museum of International Folk Art Lesson Plans  (Y,M,O,T)
The Museum of International Folk Art offers lessons based on folk art from Africa, Indonesia, India, Japan, Latin America, and more. Some of the lessons are offered in both English and Spanish. For grades K-12.
Museum of International Folk Art DIY Projects  (Y,M,O,T)
A collection of DIY art projects based on world cultures from the Museum of International Folk Art.
The Kennedy Center Resource Library  (Y,M,O,T)
The Kennedy Center offers a broad range of educational resources for students and educators. You can find lessons, activities, talks, performances, and more covering music, dance, media art, performance art, theater, visual arts, women in the arts, indigenous arts, world arts, and much more.
National Gallery of Art Learning Resources  (Y,M,O,T)
The National Gallery of Art offers teaching guides, unit studies, lessons, activities, videos, handouts and digital interactives for students of all ages. Topics cover specific artists, arts from various cultures, various styles of art, art history, the elements of art, and introductions to different art media, including drawing, photography, sculpture, and printmaking.
Free Art History "Textbook" (O,T)
Reframing Art History is an open-access multimedia art history "textbook" from SmartHistory. Chapters were developed by a group of more than 40 experts, and the course showcases art and history from the bottom up. The website has additional resources for educators, including syllabi submitted by other teachers using Reframing Art History as a textbook.
The Art Zone  (Y,T)
NGAkids interactives offer an entertaining and informative introduction to art and art history. Featuring a variety of art-making tools that encourage exploration and creativity, these computer-based activities are suitable for all ages. You can learn about each program by clicking on the associated thumbnail image. Download the Art Zone or NGAkids App applications to your Macintosh or Windows-based computer, or order the free CDs. There is also an iOS version of the NGAkids App for iPad. These interactives are no longer available for online play.
Victoria and Albert Museum Art, Craft, and Design Resources  (M,O,T)
The Victoria and Albert Museum has a large collection of lesson plans for students ages 11-18, covering calligraphy, architecture, fashion, textile art, photography, and jewelry, as well as arts from around the world.
San Jose Museum of Art Resources  (Y,M,T)
The San Jose Museum of Art offers a large collection of video tutorials, lessons, activities, talks, and a virtual tours for students, parents, and art educators.
San Diego Museum of Art Tutorials  (Y,M,O)
"SDMA Art Tutorials are a series of instructional videos that demonstrate a new art skill, technique, or material inspired by works of art in the Museum's permanent collection. Whether you're a beginner or a master artist, come learn from Museum educators with SDMA Art Tutorials!" Covers optical illusions, meditation drawing, pattern, etching, still life, calligraphy, and more.
Met Museum Lesson Plans  (Y,M,O,T)
The Met Museum offers a range of art history lessons from around the world that look at various types of art – from ancient armor and architecture to sculpture and textiles.
The MET Kids  (Y,M)
The Metropolitan Museum of Art has an educational kids website where students can take a virtual tour of the Museum, explore the museum's collection of art by time period, style, or media, and find a large collection of kid-friendly videos featuring talks and tutorials. Tutorials include carving, mosaic, stained glass, ceramics, weaving, printmaking, animation, fashion design, and more.
Tate Kids  (Y,M)
"Play free games and quizzes, find art activities, explore homework help and share your art with Tate Kids. The best art website for kids."
Exploratorium  (Y,M,O,T)
The museum of science, art and human perception. Online since 1993, the Exploratorium was one of the first science museums to build a site on the World Wide Web. The site contains over 18 thousand award-winning Web pages, activities, and videos, exploring hundreds of different topics.
Vatican Museums Online  (Y,M,O,T)
View the collections of dozens of museums on the MVSEI VATICANI website. Read about the artworks and Zoom into the details of paintings, frescoes and artworks from different eras of the Italian Peninsula from the Romans to the Renaissance.
Vatican Virtual Tour  (Y,M,O,T)
A virtual tour of the Vatican Museum room by room by MVSEI VATICANI. Provides a 360 degree interactive view with the ability to zoom in on the different sculptures and artworks.
Artist Quest  (Y,M,O,T)
This site provides an extensive database of different artists with short biographies and images of their more famous works. Provides a question guide for students to answer to help retain knowledge about each artist.
Incredible @rt Department Lesson Plans  (Y,M,O,T)
A large database of art lessons categorized by subject, integration, art period, subject, artist, and medium, for all age groups, Preschool-12.
Visual Manna Academy  (Y,M,O,T)
Visual Manna provides free video art lessons, reading books with activities and information about art styles and artists, and student art galleries.
Creative Cricket  (Y,M)
Creative Cricket makes fun, educational art videos for kids. Each video is designed to teach and inspire young artists to draw, illustrate, and think critically. Creative Cricket lessons strengthen children's minds and spark a life-long love of art. Videos feature loosely instructional steps on how to draw, color, illustrate. Each lesson comes packed with useful fun-facts and dialogue for the whole family. Great for all types of learners.
Picturing America  (Y,M,O,T)
The National Endowment for the Humanities offers an exploration American history through art. Includes several galleries on famous American figures and events that occurred in their lifetimes.
LEGO® Madness  (Y,M)
Want to motivate your kids to turn off the computer and television this summer? Send them to this website and I bet their play area will be strewn with LEGO® pieces before you know it. Eric Harshbarger has created hundreds of sculptures and mosaics using LEGO® pieces. Photos of them (some with multiple views) are posted on his website, along with a detailed FAQ to satisfy the curiosity of inspired artists-to-be.
A. Pintura, Art Detective  (M,T)
Eduplace has put together a fun site for teaching the difference between the masters. Using a "choose your own adventure" format, visitors explore the artists while trying to determine who created a painting that the main character, Miss Featherduster, found in her attic. If the visitor chooses an incorrect solution, the site will point them back on the right track. A. Pintura is a fun way to pull some learning into summer.
KinderArt  (Y)
Despite its name, KinderArt is not just a resource for primary grades. Whether you are looking for drawing lessons for your middle-schooler or multi-cultural holiday crafts for any age, KinderArt is the place to look. The site includes lesson plans and project ideas.
Teach Art at Home  (Y,M,O,T)
An excellent resource by an art teacher includes a monthly newsletter, free online projects, lesson plans, articles on teaching methods, and more!
Visual Arts and Crafts Lesson Plans  (Y,M,T)
Several art projects and lesson plans to teach the basics of different artistic concepts, as well as some teacher resources to help teach color basics. From CanTeach for elementary students.
National Gallery of Art Loaner Program  (T)
Connect art and curriculum by borrowing free learning materials from the National Gallery of Art's Division of Education.
DIY: Arts & Crafts Challenges  (Y,M,O)
At DIY.org, students can work on self-directed projects and complete challenges in various "DIY" skills. In addition to many other topics, DIY offers arts and crafts challenges and tutorials in Anime, Calligraphy, Comic Design, Crafting, Decoupage, Digital Art, Drawing, Fashion Design, Jewelry Design, Painting, Pottery, Sewing, Weaving, and much more. Designed for students ages 7-13.
The Imagination Factory - Recycling Art Projects  (Y,M,O,T)
Kids at Art is a website dedicated to teaching how to use recycling in art. In addition to many projects, the site includes an exploration of various artwork around the country.
Arty Factory Lessons and Tutorials  (Y,M,O)
Arty Factory offers design theory lessons and a broad range of illustrated, step-by-step tutorials for Aboriginal Art, African Masks, Ancient Egyptian Art, Still Life, Pencil, Colored Pencil, Charcoal, Painting, Perspective, Pen and Ink, and more. Also included are comprehensive Art Appreciation educational pages covering various time periods and styles of artwork.
The Virtual Instructor Art Lesson Plans  (M,O)
The Virtual Instructor website offers video lessons and tutorials, covering Color Theory, Clay Sculpting, Etching, Figure Drawing, Landscape, and more using various media. The lessons are designed for middle school and high school students.
EDSITEment Art Lessons  (Y,M,O,T)
EDSITEment has a large collection of lessons, activities, and teaching guides covering American Art, Arts of the Afro Atlantic Diaspora, Australian Aboriginal Art, Asian Art, Cave Art, the Elements of Art, and much more.
Free Online Drawing Classes  (Y,M,O)
Whether you're interested in pencil or ink, figure drawing or cartooning, this big list of free online drawing classes from ThoughtCo. has you covered. For all ages and skill levels.
Interactive Colorwheel  (O)
Experiment with saturation, intensity, hue, and luma.
Japan - Images of a People  (M)
In this lesson plan from the Smithsonian Center for Museum and Educational Studies, students will study and compare Japanese art and American art, and re-create their own Japanese-style screens.
Museum Coloring Pages  (M,O)
For adults and teens (preview for suitability), these coloring pages feature items from collections of various art museums, history museums, and libraries. From My Modern Met.
Birds of America  (O,T)
Volumes 1-7 of Birds of America by John James Audubon, which provide artistic descriptions of different types of birds with accompanying illustrations, are available for free online through this link at the Biodiversity Heritage Library.
Didjeridoo  (Y,M,O,T)
Australian Aboriginal music includes the music of Aboriginal Australians and social, cultural and ceremonial observances of these people, down through the millennia of their individual and collective histories to the present day, and has existed for 40,000 years. YouTube submission from Traditional Music Channel.
Art Through Time: A Global View  (Y,M,O,T)
From the Annenberg Learner, a series of video programs on art across the world, art through history, and more, covering a wide variety of styles and how art changes in different environments.
Suggested Reading About Art