When we choose to homeschool, aside from teaching the three Rs, we get to explore many topics our kids might not receive the opportunity to learn otherwise.
Public schools often have limited resources and aren't able to allow kids to take a deep dive into the subjects that truly interest them.
That's one of the myriad reasons homeschooling is a good fit for so many families.
Do you have a child that desires more time for creative pursuits? Or maybe you want to instill in your kids an appreciation for art, music, and the finer things in life?
Either way, a unit study is a fantastic way to incorporate art into your homeschool day.
Want to give it a try?
Here are 8 ideas for creating an art unit study that kids of all ages will enjoy.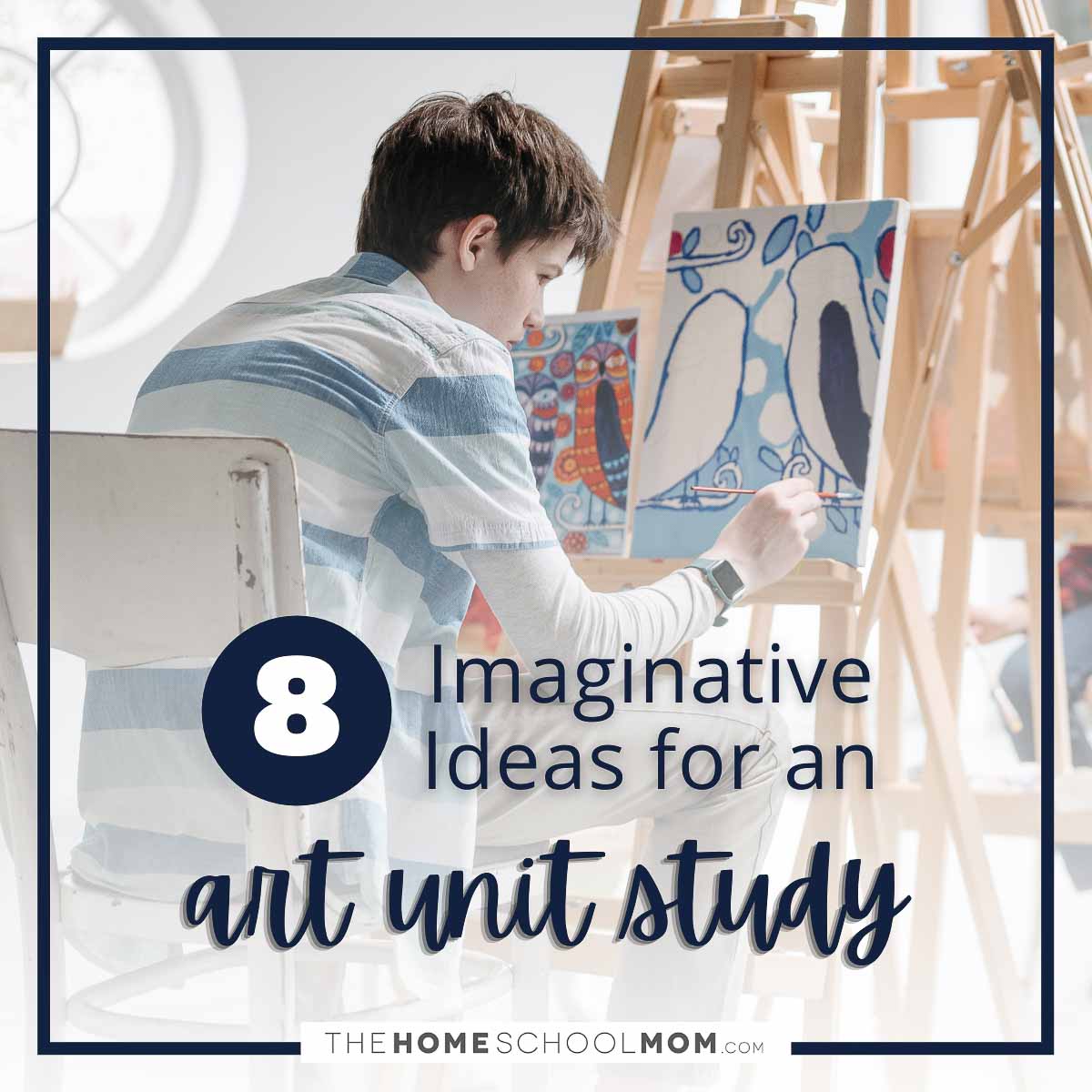 8 Ideas For Creating A Homeschool Art Unit Study
1. Study renowned artists throughout history.
Similar to a composer study for music, an artist study is when you take a closer look at notable artists from selected time periods in history. If you don't want to go the DIY route, you can find prepackaged artist studies for any age group on many curriculum sites.
2. Visit an art museum.
There's nothing like experiencing art firsthand to truly appreciate its value. An art museum makes a fantastic homeschool field trip and gives kids a chance to really connect with the subject they're studying.
If you don't have an art museum nearby, check with local high school or university art departments to see if they ever host events to showcase students' work.
3. Replicate famous works of art.
One of the best ways to immerse yourself in a study of the arts is to try your hand at creating something new. Free art (or creating without a specific end goal in mind) is perfect for achieving this experience.
Another hands-on way to experience art is to replicate a famous piece of work from an artist you admire. Choose an inspirational piece to study and then re-create your own version.
4. Try your hand at different art mediums.
Trying your hand at different mediums is one way to find a fulfilling new hobby. It's also a way to bring hands-on learning to an art unit study. Try out oil paint, acrylic paint, watercolors, tempera, charcoal, pastels, and more.
Younger kids will have fun with an assortment of materials like pom poms, glitter, googly eyes, markers, colored paper, scissors, and glue.
5. Check out the Google Arts & Culture website.
The Google Arts & Culture website is a resource that allows kids (and grownups!) to take a deep dive into the world of art. There you'll find art games, the ability to see art from museums around the world, information about artists and their works, and more — all for FREE!
6. Sign up for an art class.
Thankfully, art classes are readily available online and in most communities. if you can't find a local arts class for homeschoolers, Outschool offers a platform that allows students to connect with skilled art teachers across the globe.
If paying for private or group lessons is out of your budget, try YouTube! Channels like Art For Kids Hub are an incredible resource for kids with an interest in learning to draw. Lastly, don't forget to check out your local community center and library for free or inexpensive art programs for kids!
7. Watch a documentary.
Remember movie days when we were in school? Those were the best! When the teacher rolled out the TV cart, you knew it was gonna be a good day.
Now, the quality of movies and documentaries at our disposal is SO much better than it was when we were kids. And we can access hundreds (thousands, even!) of programs with a few taps on our phone or remote. Bring your art unit study to life with an engaging story on screen.
8. Take a trip to your local library.
You knew this one was coming, didn't you? No unit study is complete without a trip to the library. At the library, you'll find picture books, chapter books, biographies of famous artists, books about art history, and more. If you need help, don't be shy about asking the librarian.
Pro tip — search the online catalog and see if you can order for curbside pickup!
That's a wrap!
Pulling together your own unit study can be easy and fun if you know where to access the right resources. Take the ideas above and create an art unit study for kids of any age and let us know how it goes.
We'd love to hear your experience in the comments below!