Activities, Lesson Plans, and More
Age Range Key
Y—Young (PreK-3rd)
M—Middle (4th-6th)
O—Older (7th-12th)
T—Teacher Resources
Ancient World Magazine: Articles & Archaeological Museums  (M, O, T)
Ancient World Magazine covers a range of archeological topics from the ancient world, written by archaeologists and ancient historians. In addition to fascinating articles, its website features a museum database, cataloging archeological museums by country, so you can find one in your area.
World History Encyclopedia  (M, O, T)
The World History Encyclopedia has a large number of articles, maps, timelines, photos, videos, and other resources you can search by date or topic. Visit the Teaching Materials page to find accompanying lesson plans, activities, and supplementary materials.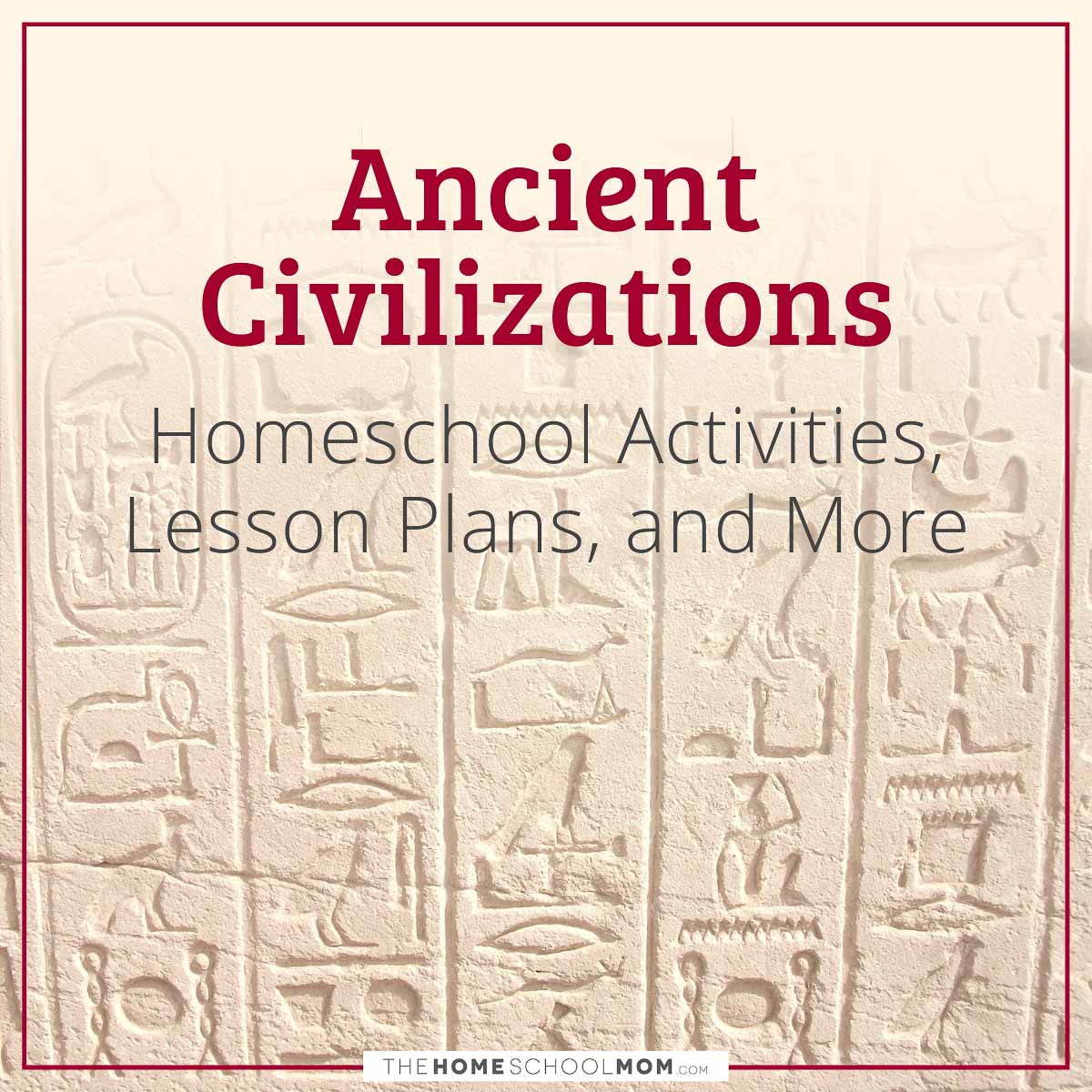 Time Maps: Ancient History Encyclopedia and Atlas  (M, O, T)
Browse the TimeMaps History Encyclopedia by topic, date, or region of the world. It offers a comprehensive ancient civilization section, covering a range of topics not frequently offered such as The Sasanian Empire, Ancient Nubia, The Hittites, and tons more. The TimeMaps Atlas has thousands of interactive maps and timelines you can search by region or country. Their Teachers page also has educational resources designed for middle school and high school students.
DKfindout! Interactive Ancient History Lessons  (Y, M)
The DKfindout! history resource collection has lots of fun, interactive resources for younger students. Learn about ancient Egypt, the Celts, the Indus Valley Civilization, and more through interactive maps, artifacts, architecture, and more.
National Geographic: Ancient Civilizations Resources  (Y, M, O, T)
National Geographic has a large collection of lesson plans, activities, articles, maps, and other resources for learning about ancient civilizations.
Exploring Ancient Civilizations with Interactive Resources  (Y, M, O, T)
This resource roundup from the Texas Computer Education Association has tons of links to interesting interactive websites, maps, timelines, and more for learning about ancient civilizations.
GeaCron Interactive World History Map  (Y, M, O, T)
Use the GeaCron interactive history map to browse civilization boundaries and locations around the world during various points in time. The map chronicals from 3000 BC to modern day. Use negative numeric values to search BC, i.e. -3000 for 3000 BC.
Google Arts & Culture: Ancient Cultures  (M, O, T)
Google Arts & Culture sites are are collaboration of various museums, universities, and other cultural institutions. You can find digital exhibitions on just about any topic. Browse the stories listed under Ancient Culture or search specific topics to find information on ancient Egypt, Greece, India, China, Rome, the Americas, and more.
Google Earth Voyages  (Y, M, O, T)
Google Earth Voyages are guided tours of various areas of the earth or certain topics using Google Earth. Some of the Voyages you can find are on Ancient Civilizations, Lost Civilizations, Maya Ruins, the Vijayanagar Kingdom, and more. There are tons of topics to explore!
Mr. Donn's Ancient China for Kids  (Y)
Mr Donn's lesson plans and activities on Ancient China for kids. Includes lessons on Dynasties, Inventions, the Silk Road, Confucius, and more.
Aztecs, Incas, and Mayans - Oh My!  (Y)
Students study the early civilizations that developed into empires in Central and South America. Grade 4
Mr. Donn's Ancient Africa Unit  (Y,M,O)
Many lessons and units on ancient Africa from Mr. Donn including history, geography, animals, kings and queens, art, symbols, proverbs, and more.
Mr. Donn's Ancient Mesopotamia Unit  (Y,M,O,T)
This unit from Mr. Donn contains guided lessons and activities for learning about Ancient Mesopotamia. Each lesson covers a different topic: Geography, Agriculture, Religion, Inventions, and more.
Mr. Donn's Ancient Egypt for Kids  (Y,M,O,T)
Mr Donn's has an excellent index page of lesson plans and activities about Ancient Egypt for kids and teachers. Browse resources by topic, such as Ancient Egypt Geography, Obelisks, Pharaohs, Math, Inventions, and more.
Mr. Donn's Ancient Greece for Kids  (Y,M,O,T)
Mr Donn's lesson plans and activities on Ancient Greece for kids covers the topics of Greek Mythology, Government, Wars, Inventions, and more.
Ancient India Unit  (Y,M)
India Past and Present - Lesson plans for teachers and students.
BMAG for Kids  (Y)
From the Birmingham Museum, an online time line of activities for kids. Units include ancient Egypt, ancient Greece, Roman Empire, the Victorians, WWII and Art Gallery.
Maya Adventure  (Y,M,O,T)
"The Science Museum of Minnesota presents Maya Adventure, a World-Wide Web site that highlights science activities and information related to ancient and modern Maya culture. Maya Adventure includes images from the Science Museum's anthropological collections and activities developed by the Science Museum's education division. Featured in the project is information from two exhibits about the Maya developed by the Science Museum of Minnesota, Cenote of Sacrifice and Flowers, Saints and Toads."
Nova Online: The Vikings  (Y,M)
This interactive site from PBS.org covers various topics from Viking culture based on recent archeological investigations. Explore interactive maps and learn about Viking ships, language, and culture.
Ancient Greek Olympics Mini Unit study  (Y,M,O,T)
Mr Donn's lesson plans and activities about the original Olympics for kids & teachers.
Why do Civilizations Collapse?  (M,O)
An excellent investigative piece from the How Stuff Works explores how and why civilizations collapse by first investigating requirements for civilizations to thrive. The page also contains a number of links to informative articles relating to ancient civilizations.
Dig the Bible  (Y,M,O)
Dig the Bible is a site designed to help laymen better understand the Bible through the use of archaeology. Learn about where and how the Bible and archeology intersect by touring Holy Land sites. Site pages include a brief overview, images, and links to additional resources.