TheHomeSchoolMom may earn affiliate commissions from purchases made using links on curriculum reviews pages. Read our full 
disclosure
.
Resource Description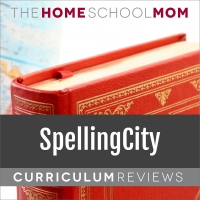 SpellingCity offers a fun and easy way to practice spelling words and vocabulary.
Teachers and parents can create their own spelling lists, save lists, share lists or use those already provided. Students enjoy the benefit of hearing the 43,000+ words and sentences spoken by a "real" human voice.
Users have a variety of options available, such as the ability to see spelling words in flashcard format, hear them spoken by a real human voice, play games with the words, and even take practice spelling tests.
With each created list, a student has the option to: Teach Me, Test Me, or Play A Game.
The "Teach Me" option allows students to reflect on each word of their spelling list while the list and coordinating sentence are being read aloud.
The "Test Me" option allows students to take a test from any spelling list at any time.  This test option gives the students the ability to hear just the word or have a sentence read.
The "Play A Game" option allows students to play a variety of learning games with any spelling list.  SpellingCity offers learning games such as HangMouse, Word Search, Unscramble, and many more.
Visit SpellingCity for more information.
Website: Spelling City
Contributor Reviews
Reviews are solely the opinions of the contributor.
Reader Interactions