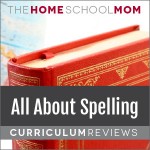 The program is multi-sensory and is mastery-based rather than grade-level based, so when students master a specific concept, they move on. If a child needs more practice in a certain area, the program allows for that so the child can really master each concept. There's no sense building on a shaky foundation, because that will cause spelling difficulties down the road when the spelling words get harder.
Before investing in any homeschooling resources, please read
"How to Choose the Best Homeschool Curriculum."
Reviews are solely the opinions of the contributor. Links to the publisher website above may contain affiliate links.
Reader Interactions