This post was originally published as the introduction to an issue of TheHomeSchoolMom newsletter. Sign up here and get access to subscriber exclusive resources.
You can save yourself and your fellow homeschoolers a few headaches by heeding the advice I'm about to give: Don't overdo meeting the homeschooling laws in your state. Don't underdo meeting them either. Make like Goldilocks and hit that homeschool law juuuuuust right.
On social media this time of year, there are a lot of incorrect comments about homeschool laws, and there are a lot of people who are talking about over complying with the law to show how great homeschooling is and how well their child is doing—or under complying because they don't want to involve the government in family life.
Please think about this carefully.
When you over comply, you risk setting expectations unrealistically high for other homeschooling families. Not everyone is homeschooling a prodigy, yet all children have the right to be homeschooled in every state in the U.S.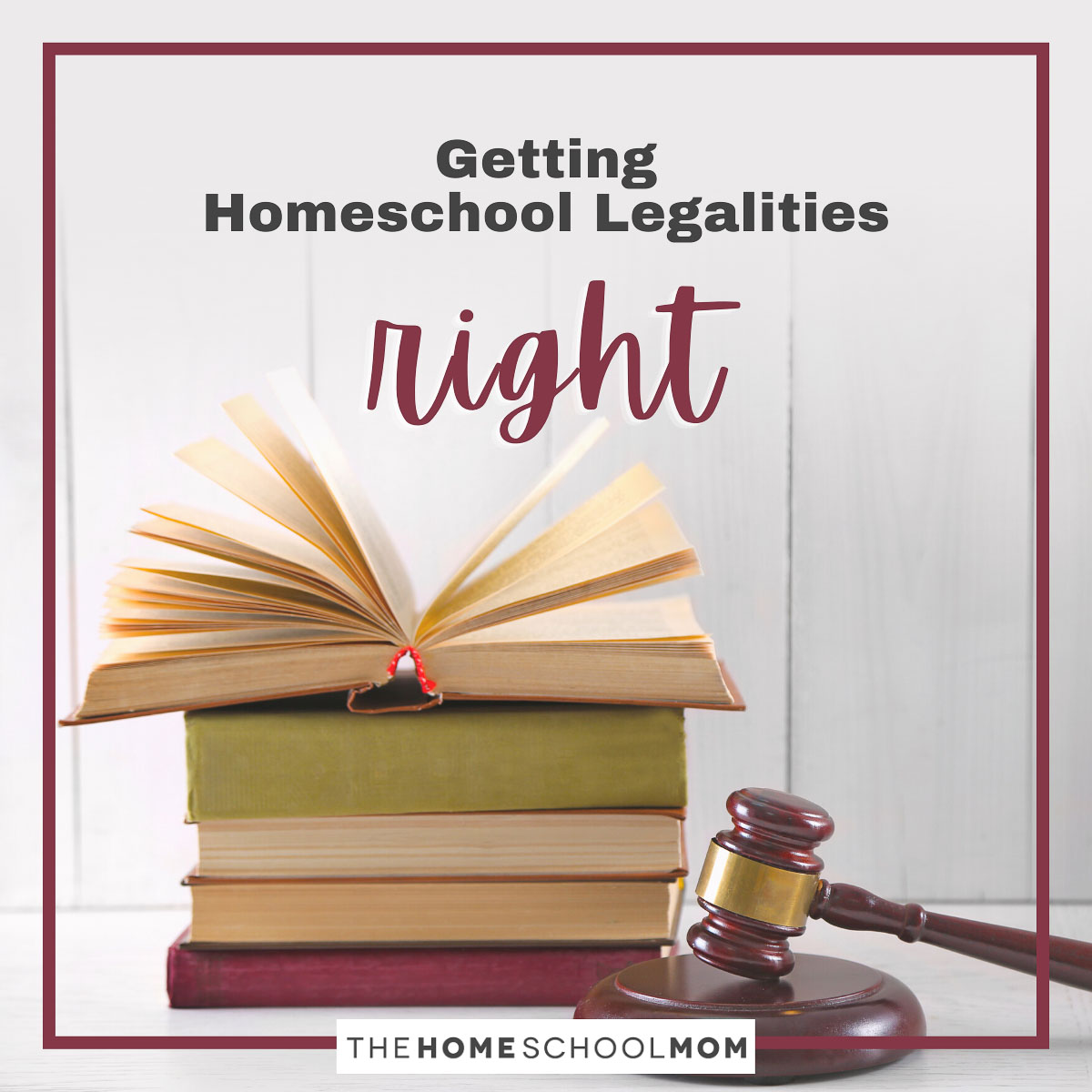 Sure, be proud of your child's accomplishments and share with the grandparents, but there is no need to send in a hundred page portfolio as evidence of progress in a state that doesn't even have an end-of-year requirement.
If your state does have requirements, meet but don't exceed them.
For example, in my state, homeschoolers have to submit a curriculum description, which has been defined as a list of subjects, like this: English, math, science, Spanish, history. When parents send in tables of contents of books and 14 page outlines for each subject, they may unintentionally create "regulation creep."
School superintendents or other education officials may get used to seeing the souped up paperwork from homeschoolers who are doing "extra." Then they may want this level of "compliance" from more homeschoolers. "If the Faulconer family can provide this, then so should all the homeschoolers." Nope! Not fair to your fellow homeschoolers.
On the other hand, under complying can come back to bite you or your child personally—and still manage to make homeschoolers look bad.
Choosing not to comply with your state's homeschool law may feel like an act of civil disobedience, but remember, your child is the one who may face limited options in the future because of your choice.
I have known teens who could not get their driver's licenses when they wanted to because their parents had not created the legally required paper trail that some states require.
I have known teens who could not attend their local community college because years ago, their parents chose to homeschool "underground" in a state where there are notification requirements.
I have known middle schoolers who could not get into public magnet schools because their parents had not filed paperwork correctly during their preceding homeschooling years.
Also? When school officials have dealings with families who have not followed the law, they may form the opinion that homeschoolers are trying to "get away with something." Would that be bad logic on their part? Yes it would. But it still doesn't help the homeschoolers who are caught in that net of suspicion.
In the U.S., homeschooling is regulated state by state, and requirements and laws can vary a lot. In some states, homeschooling is not regulated, and in other states, there are specific annual requirements.
It's not hard to find a homeschool organization or local homeschoolers who are knowledgeable about what is really required and the best way for homeschoolers to comply. Check out what they have to say, listening for ill-founded suggestions to over or under comply.
If laws in your state are not what they should be, learn your state's political peculiarities around homeschooling and work to get the laws changed. If your school division or state officials overreach and ask for more from you than what is legally required, don't give in and overcomply.
Many state homeschool organizations will provide advice and support in these situations. School divisions pretty readily back down when confronted with the actual law.
When it comes to homeschooling, Goldilocksing the law will help us all live happily ever after.