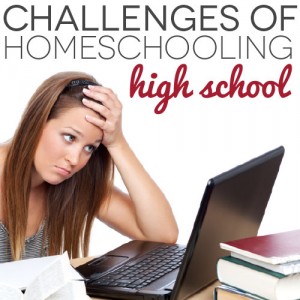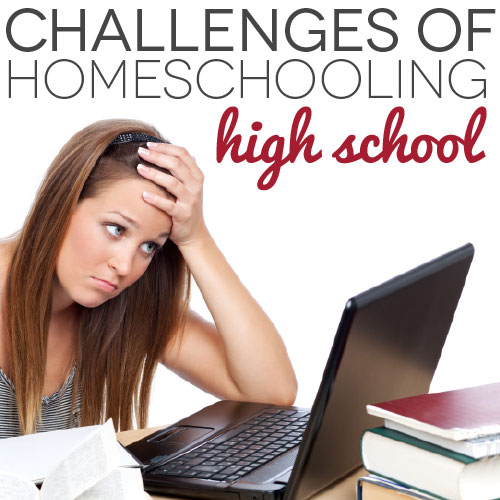 By Beth Gorman
(Names and identifying characteristics in this story have been slightly altered to protect the individuals involved; however, all other circumstances are true.)
Homeschooling a teen can be really hard. While I'm overall glad to be homeschooling, I have a high school age daughter who is difficult to work with and who is inconsistent in her approach to homeschooling. She has always been a challenging child, and as expected, the teen years have had a lot of turmoil. Homeschooling seems to catch a lot of blame for our problems -- but it's not from outsiders or family members. She spends a lot of time lamenting being homeschooled and blaming us for trapping her in home education -- despite the fact that she has always had the option to attend school, an option we would have genuinely supported.
Challenges to Homeschooling High School
Social Issues
Homeschooling parents spend a lot of time saying there is no shortage of social experience for their kids. This is true for elementary kids and still somewhat true for middle school kids, especially in urban and suburban areas. However, so many homeschooled kids choose to attend school for high school that there few homeschoolers left. Many long-time friendships become difficult or impossible to maintain as the formerly-homeschooled kids who begin to attend high school become busy with school activities and new friends.
She actually does not miss things like proms and football games; we do have ways to create similar milestone experiences in the homeschool world that she is satisfied with. What she misses is having generous time to hang out with a few close friends.
The other thing is that a high percentage of the kids who have continued to homeschool have done so because they have specific issues that would make it difficult for them to attend school. Of course there are plenty of "regular" teenagers -- again, especially in more populated areas -- but there are also a number who would truly have a hard time in school because of their social differences. This means that a lot of the homeschool teen gatherings we have attended have seemed to our daughter to be largely "freaks and geeks" -- which sounds terrible, but she actually includes herself in this stereotype.  I have told her that if she were in school, she would find there are "freaks and geeks" everywhere, but she has this persisting idea that just around the corner at the public school there are these shiny, welcoming cheerleaders who would be her friend.
I know.
Still, I understand that in the very small world of homeschooled teens in our community, it's difficult for her to have the kinds of relationships she imagines as "normal," since some of the homeschooled teens are so quirky with extremely narrow interests and not much tolerance for anything else, so that leaves even fewer kids that she might have something in common with. Yes, she recognizes her own quirks contribute to this scenario.
Emotional Issues
Our daughter has problems with anxiety. She is convinced that attending school would have made tests and other "opportunities to fail" (as she calls them) less stressful. I don't really agree with this. Her issues have been present since toddlerhood, and I think school may have made them worse. She has actually had many opportunities to succeed and fail in her homeschooling life, and it really doesn't get any easier for her to face them except when she is successful using specific coping strategies we have worked on for anxiety. She doesn't really have an understanding of what school is like (despite being welcome to begin attending school any time she wanted), and I don't think she has a good base to speculate on how the schedule and pressure of school may have affected her. In any case, there is no way to know—we can't go back and do it both ways with the same child in order to find out. However, it means that she has ill feelings toward homeschooling, since she thinks it has contributed to her anxiety issues.
We are able to provide appropriate support to assist our daughter in learning to cope with anxiety, but her belief is solid that attending school would have made this problem more manageable.
Parental Self-Doubt
Because my daughter has been negative about homeschooling, it has made me doubt myself much more than I did with my older kids or than I do with her younger sister. You read a lot about outsiders criticizing homeschooling, but you hate to think that your own kid that you're doing so much for is unhappy with homeschooling. This is a really difficult place to parent and homeschool from. I often struggle to produce a homeschooling experience that I think will address her concerns, but I also have to work to accept that she is not a very "satisfied" person in general. After all these years getting to know her, I am coming to understand that she would probably also be unsatisfied with any school she attended -- and she would complain about it. Still, these are not exactly the rave reviews for homeschooling that you hope for from your teen homeschooler.
Academic Issues
My daughter expresses preference for structured academic experiences, classes, and group learning. I go to a lot of trouble to set these up and get her there, but she is often unable to take the tests because of anxiety, or she is unwilling to do the homework because she believes the requirements are unreasonable or don't help her learn. (Do you begin to see why I don't think public school is the answer either?) At the same time, she seems to learn well at home by reading and studying topics of interest to her, but she doesn't think that learning is "real" because it's not "like school." She has been in a family that supports all these approaches to learning, but something inside her just won't see learning-outside-of-a-school-like setting as authentic. As you can imagine, it's hard to figure out how to homeschool when she can't or won't participate fully in her preferred kind of homeschooling but doesn't trust the genuine learning she does on her own. On the other hand, I'm close to my two nieces, and I can see that my daughter's education, even with its drawbacks, is more comprehensive than what they are getting in school, so I try to tell myself not to worry.
Sports
Our daughter would like to play team sports, but she has aged out of most opportunities in our small town. She is probably good enough to run track at high school level, but she is not allowed to try out at the high school because of the laws in our state. I hate that she misses out on this and even encouraged her to attend school if she wanted this opportunity, but she feels she is "too old" to adjust to school ways. She feels, then, that homeschooling all these years has caused her to miss out on something important.
Developmental Issues
All of these things are complicated by the normal teen development challenges we know about from raising other kids. While my child is learning to become more independent, there are the inevitable and expected differences in our relationship and her outlook. Unfortunately, just as school is often the setting for disagreements and turmoil in families with teens, homeschooling is often at the center of our struggles.
This makes things really personal. When she is upset about something not going well in one of her homeschool classes, she is more than willing to blame me for not having prepared her well. While I rationally know that her work is her responsibility, and I know that she has been given good support for academics, I do feel sensitive to the criticism. Given that she's a teenager, she'll also blame me for not having many friends, not being normal, and having limited opportunities.
Hard to hear -- but also true: she does not have many friends, her anxiety makes her somewhat other than normal, and there are some opportunities she has missed out on.
On good days, she will also talk about the opportunities she's had because of homeschooling. She has much more time to write and work on her art, and she's had some opportunities to study with accomplished artists because of her flexible schedule. These things are important to her, and she concedes that she has opportunities in these areas that public school teens rarely have.
In fact, in my heart, I tend to believe that she doesn't want to give these kinds of advantages up, and that this is why she has continued to homeschool. She may also feel she is somewhat "trapped" because in her heart, she understands she would really have anxiety problems if she transitions to public school.
However, she has chosen to continue to homeschool, and she has continued to complain about it.
Stressed and Blessed
I feel both stressed and blessed to homeschool this child. She makes valid points about the hard side of homeschooling as a teen, but as a mom, I also see that a lot of these things would have corresponding "hard sides" if she were attending school -- or that there would be other problems. Her dad and I have speculated about how she might cope with her anxiety issues if she were exposed to the illegal drugs and peer pressure that are present in our local high school. We have wondered how she would manage the stress of meeting six classes five days a week, with hours of homework every night, much of it that would surely not meet our daughter's "approval" as a positive learning experience. We feel we are providing her incremental opportunities to grow in these ways without creating crisis or over-sheltering.
But it's hard. It's hard enough to homeschool when a kid feels relieved to have been pulled from a bad school situation or when a generally happy healthy child has been homeschooled from the start and tends to respond well to your efforts.
I feel a lot of stress with this particular child, who isn't happy to be a lifelong homeschooler and sees homeschooling as a liability and almost as an embarrassment. She is too old for me to be able to "make" to do school work or most anything else, and I am often embarrassed myself when she does not prepare well for her homeschool classes or takes a big stand in a class against a particular homework assignment that fifteen other kids simply accept and do without question.
It helps me to know that her older sister and brother, who were always pretty positive about homeschooling, are now even more positive about it as young adults, and they homeschooled through high school too. Then again, they did not have the same personality or challenges that she has.
In a lot of ways, homeschooling a high schooler is just an extension of parenting a high schooler, and if you have a more challenging kid, it is going to be more challenging no matter what the approach to education.
I know that there are gifts attached to my daughter's challenges -- a lot of her complaints are vocal because she is not afraid of telling the truth as she sees it, and she'll never be someone who goes along to get along. I admit that those kinds of people are hard to live with on a daily basis, much less homeschool, but I know our society really needs them.
I'm sure right now she would disagree -- but I also think homeschooling is a good way to make sure that some truth-tellers make it to adulthood still telling the truth. Woe is me in the meantime.