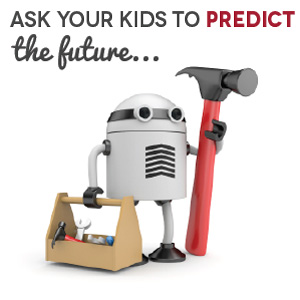 Back in 1964, sci-fi writer Arthur C. Clarke introduced a program on future predictions by stating:
The only thing we can be sure of about the future is that it will be absolutely fantastic. So, if what I say to you now seems to be very reasonable then I'll have failed completely. Only if what I tell you appears absolutely unbelievable have we any chance of visualizing the future as it really will happen.
Among other developments, Clarke predicted the emergence of the Internet, telecommuting, and remote surgery.
Fantastic.
Just like the predictions kids gave when I asked them about the future at a multi-age homeschool program. The youngest ones jumped in eagerly.
"Robots will do all our chores."
"Dogs will come in a bunch of different colors."
"Kids can fly little space cars around wherever they want."
"You'll think of anything you like to eat and it'll appear."
What the teens predicted was more complex and somewhat darker. They talked about the necessity of space exploration to seek out scarce resources on other planets. They discussed enhanced ESP abilities for communication and intuitive powers to diagnose illness, although those topics raised a lot of debate. Most of them hoped teleporting would eventually replace the difficulties of travel. And quite a few envisioned grim scenarios of global scarcity complicated by the use of advanced weaponry.
I'm pretty convinced that our best hope for the future rests in optimistic kids with a can-do attitude. So after the group finished their predictions I steered the conversation in a more positive direction. We discussed what kind of future the kids wanted to live in, what steps were already underway to make that happen, and how the kids themselves could take part. By the close of our session the kids were energized about envisioning and creating a hopeful future, one that included space cars as well as peace.
I wish I'd had the participants in my enrichment program write down their predictions so their parents could save those speculations for a decade or two. Better yet, I wish I'd copied all the predictions so that someday the kids could find out which of the many ideas had come to fruition.
Consider asking your kids to make their own predictions.  It's an interesting way to stimulate conversation about their hopes and fears. Written or recorded predictions are also a wonderful contribution to a scrapbook, time capsule, or family blog.
Let us know in the comment section what your kids had to say. And go one step farther than I did. Remember to save these predictions!
Laura Grace Weldon is the author of Free Range Learning: How Homeschooling Changes Everything.