Summer. Has. Arrived.
And it's time to celebrate! 
Are you ready to throw on those stunner shades and hit the pool with the kiddos? Yeah. Me too.
The thing is...if you're a year-round homeschooling family like us, you might have a hard time setting your schoolbooks aside for some well-deserved fun in the sun.
What if I told you you didn't have to choose?
You can spend time outside enjoying the warm weather AND your kids can keep learning all summer long.
How?
Good question. Glad you asked!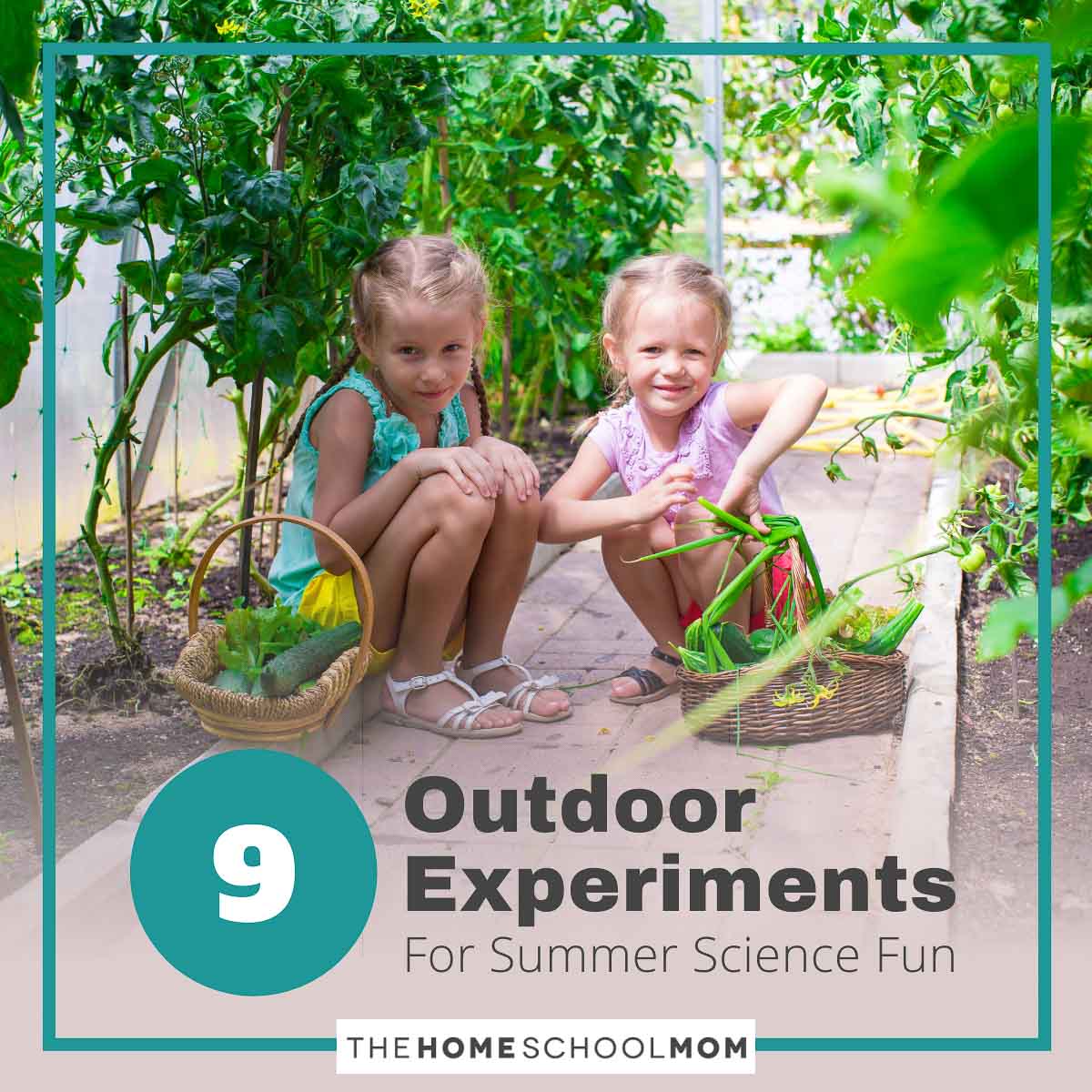 Homeschooling gives you the freedom and flexibility to tailor your children's education to their needs and your lifestyle. That means your kids don't need to sit at a desk from 8:00 am - 3:00 pm with their heads buried in textbooks.
You can choose to homeschool in a way that fits your family. And if spending time outside in the summer is how you roll, by all means, keep on truckin'.
One way you can make this happen is by moving science lessons to the backyard. Taking science outside lets your child explore their environment and enjoy all sorts of messy play.
Today, we're sharing 9 outdoor science experiments for hands-on learning fun!
Let's get started.
9 Outdoor Science Experiments to Encourage STEM Learning This Summer
1. Backyard Science — The Spangler Effect
So, Steve Spangler has made quite the name for himself when it comes to getting kids involved in hands-on science fun. In this video, he's put together a whole slew of experiments that double as party tricks, perfect for your next backyard barbecue (including a MAJOR upgrade on the classic Diet Coke and Mentos routine!).
https://www.youtube.com/watch?v=0k8b9Jtj4F4
2. 5 Easy Summer Activities for Kids — TheDadLab
TheDadLab on YouTube has such cool content for kids. This tutorial shows 5 easy summer activities that you can do with kids — right in your own backyard. The experiments here are geared more toward younger kids, but could definitely be enjoyed by those of all ages.
https://www.youtube.com/watch?v=LN34TM1si1Q
3. How to Make Elephant Toothpaste — Ryan's World
Ryan is a worldwide YouTube sensation, his face appearing on clothes and toys in every big box store around. Ask anyone six and under and I bet you'll find they know exactly who he is. In this video, Ryan is showing our little ones how to make elephant toothpaste. What is that, exactly? It's like regular toothpaste, only so much bigger. This messy experiment was MADE for outdoor play.
https://www.youtube.com/watch?v=P0GBt93ClBE
4. 5 Fun Summer Science Experiments for Kids — Buzzfeed Nifty
The 5 quick and easy experiments shown here in this how-to video by Buzzfeed Nifty are perfect for outside science fun. Best part? The supply list is minimal and you probably already have most of what you need at home!
https://www.youtube.com/watch?v=EfhmSGT0xqI
5. 5 Weather Science Experiments — WhatsUpMoms
There's no time like summertime to learn about the weather. The ladies at WhatsUpMoms have put together 5 weather science experiments for your child's educational enjoyment! Check 'em out below.
https://www.youtube.com/watch?v=2TE56FxH-ao
6. Volcano Experiment — Ryan's World
Another indoor experiment from Ryan's World perfect for taking outside. Building a volcano is messy and fun and just what your summer afternoon is calling for.
https://www.youtube.com/watch?v=wFSYLQkMR7U
7. Fun Summer Science! — SciShow Kids
This huge compilation by SciShow Kids has all sorts of summer science experiments kids of any age will love. But don't stop there. Check out the other videos on their channel for more learning fun!
https://www.youtube.com/watch?v=H4OZfAyjcp4
8. Egg Drop Project — Mark Rober
Did you ever do the egg drop experiment as a kid? If not, you're totally missing out! This one is so much fun to re-create with your kids when you're looking for something to do this summer. Check out Mark Rober's tips and tricks in the video below.
https://www.youtube.com/watch?v=nsnyl8llfH4
9. Grow Your Own Plants! — SciShow Kids
There's no better time for digging in the dirt than when the weather warms up. And there's no better way to teach kids about science and nutrition than letting them grow their own food. Here's a tutorial from SciShow Kids on how to get started gardening with your kids.
https://www.youtube.com/watch?v=Lly75dEbXE8
If you like these videos, YouTube is a goldmine for finding hands-on educational activities to try out with your kids.
Let us know how you plan to keep your young learners entertained and engaged this summer!
Share in the comments below.