Raise your hand if you struggle to get your homeschooled teen to write. Same, friend. Many times, I've felt all the guilt about this because I am a writer, so why wouldn't my kids love it too? And furthermore, why have I struggled to "teach" them my writing ways?
Let's start by acknowledging that deep down I know that just because I love writing (and always have) doesn't mean my teen does. Let's also acknowledge there are approximately 371 ways you can teach, force, cajole, or (worse) demand that your teen just write the essay.  I'm a firm believer in having solid communication skills and writing falls under that umbrella. I've had to get creative in our approach to writing in the high school years because each of my teens has different abilities, desires, and goals.
And isn't that kind of the point of homeschooling?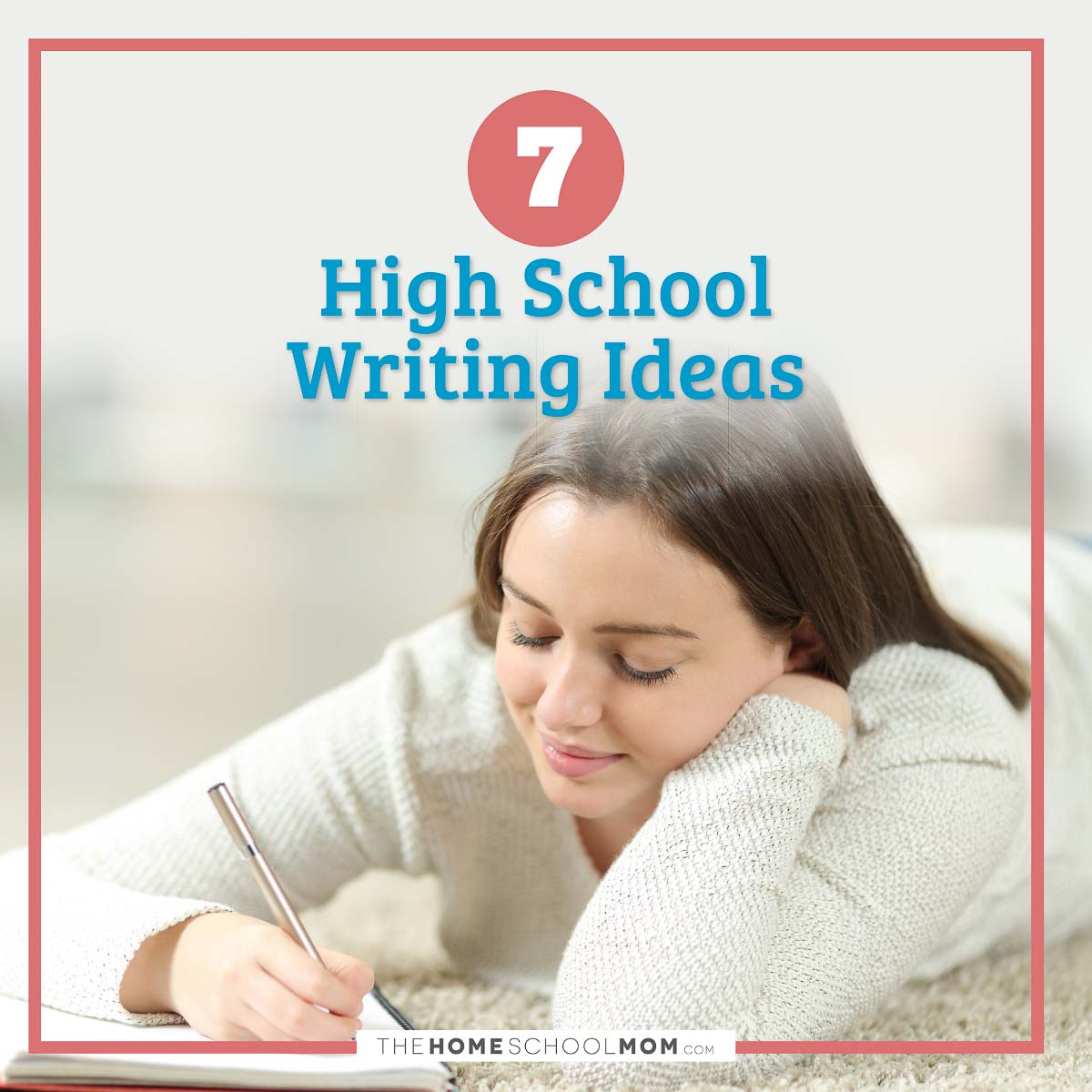 If you have a struggling or uninspired writer, I've compiled a list of writing ideas you can try with your teen. Be open to experimenting, outsourcing, and letting them take the wheel. As usual, serving snacks whilst brainstorming and writing is always recommended.
Note-taking: I'll freely admit, teaching my kids to take notes was something that I kind of sort of skipped over (#forgot) until my oldest started high school. The irony is, I am a keen notetaker and it's how I process nearly everything. No worries! We quickly found some online classes and these helped introduce the topic to them in a variety of ways. My older son also learned to do this when he started taking a handful of co-op classes and needed to keep up with the information. Without solid note-taking skills, it can be challenging to write larger projects.
E-mail writing: My three kids have been writing and sending e-mails since they were in middle school. We showed them how to use e-mail, formatting, etc. We encouraged them to write to their grandparents or faraway friends. When they got into high school, they were (mostly) responsible for writing to their co-op teachers with questions, ideas, etc. We downloaded Grammarly for them (I use it too!), and while you might not think e-mail writing "counts" I would encourage you to flip that thought. E-mail is one of the main ways (if not THE main way) people communicate. Teaching your children proper e-mail etiquette and formatting is a necessary skill. It's also an easy point of entry to get your writing-resistant kid started.
Creating a comic book: This idea might seem like more of a traditional writing project (and maybe it is) but I know for one of my children, this was the only way I could get them to write for a solid year. Not only did they enjoy reading comics and graphic novels, but they also started to copy the writing and art styles and wrote their own. We took out books at the library about writing comics, watched videos, took online classes, and more. Comic book writing for him felt less intimidating and the rewards were great.
Blogging: Why not have your teen start a blog? With so many free or low-cost platforms, this is a wonderful way to get your kid to share their thoughts. The blog can be private or just shared with friends and family. It can showcase literally any topic of importance to them. Grab some books or find a blogging course and let them take ownership. Help them brainstorm topic ideas, an editorial calendar (if you want to be fancy), and how often they want to publish it. The possibilities are endless!
Journaling: My daughter and I are journaling fanatics. We love the quiet, introspective nature of journaling. We also love pens, stickers, and washi tape (maybe a little too much). She has found a love of bullet journaling and planning and also enjoys guided journals (I do too). Some of our favorite journals can be found here *. And if you're looking for bullet journal ideas, head here.
Writing for business or employment: Don't sleep on this skill! Even if your teen isn't ready to get a job, have them write a resume or a document that lists their skills, passions, and talents. Once they have that, encourage them to draft a letter (e-mail) inquiring about a job or internship opportunity. If you have an entrepreneurial kid, encourage them to create their own marketing campaign! Design signage, fliers, social media posts, etc. When your teen is passionate about a topic and has ownership, they are motivated to learn and tackle all sorts of projects.
Content creating for social media: I saved this one for last because everyone has their own thoughts and opinions around social media and teens. I come from the mindset that my teens need to learn how to properly use it and that it can be a great way to connect, learn, and even hone their writing skills. Have them research their favorite content creators and practice writing captions or even video scripts. Keep a social media terms vocabulary list, and have them plan their content (another great skill). Truly, get creative!
I hope this list inspires you and your teen to look at writing with a fresh perspective. What else would you add to this list? Let me know!
* Disclaimer - I am the homeschool liaison for Big Life Journal