Have you hopped on the Disney+ wagon yet?
If not, how come?
It was one of the only good things to come out of 2020, amirite?
And it has saved my sanity many times over.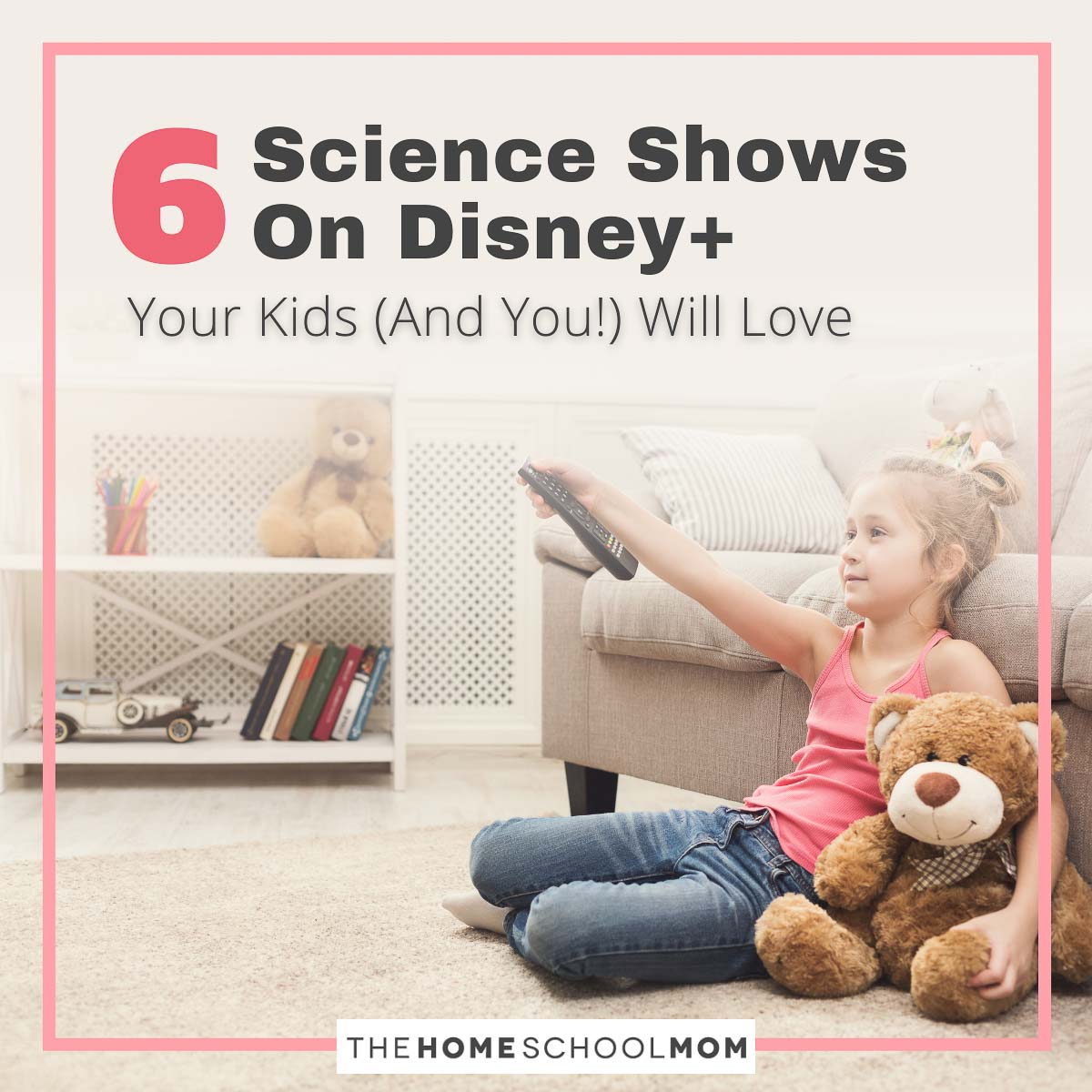 Jump to:
Since we're spending more time at home right now (and I'm a work-from-home mom), it's vital that we have stuff to keep the kids busy and engaged — and one part of that, for our family, is TV that's both educational AND entertaining.
That is the beauty I've found in Disney+.
Sure, there's stuff on there that's purely fun.
And that's A-okay.
It's perfectly fine to watch TV for enjoyment.
We have a weekly family movie night where we regularly watch all the new movies coming out on Disney+ each month.
But, it's good for something else too.
It's good for homeschool families to supplement their learning with shows that are interesting and fun.
Shows like the ones listed below bring textbook lessons to life.
They are engaging enough for parents and kids to enjoy together.
There are SO many good shows on Disney+ that will add a little something extra to your homeschool week.
The 6 listed below are just a sampling of the huge variety available.
Take some time to browse the platform and make a list. Then, work through them one by one.
You can watch during lunch (hint: our family does this and we call it "lunch and learn"!), after dinner during family time, or binge-watch a whole series on occasion.
Without further ado, here are 6 science shows on Disney+ your kids (and you!) will love.
1. Weird But True!
From the Disney+ website, "Set both in-studio and in the field, the award-winning 'Weird But True!' integrates a mix of arts and crafts, unbelievable facts and real-life exploration."
Third season hosts, Charlie Engelman and Carly Ciarrocchi, are children's entertainers and educators.
My kids are working their way through this series right now and the 25-minute episodes are just perfect for watching one a day during lunch.
2. Magic of Disney's Animal Kingdom
Produced by National Geographic and hosted by none other than fan-fave, Josh Gad (Frozen & Frozen 2), Magic of Disney's Animal Kingdom gives families an all-access backstage pass into what it's like to run a theme park full of animals.
This show follows Disney's Animal Kingdom Theme Park and The Seas with Nemo and Friends at EPCOT.
Kids (grownups too!) can experience the magic of how it all comes together — from animal care to behind-the-scenes operations.
Even better? Watching the different animals featured on each episode (they're realllyyyy cute!).
3. First Class Chefs: Family Style
First Class Chefs: Family Style is a competition show getting parents and kids in the kitchen to spend quality time together while whipping up tasty meals.
Kids cooking shows are popular right now — and for good reason. They are both fun and educational.
This is a series that can be enjoyed by the whole family.
4. Shop Class
Shop Class is a new series where groups of kids compete against each other designing, building, and testing out their own DIY projects.
This show promotes innovation and creativity.
Watch with your kids, cheer on your favorite team, and secretly give yourself a high-five knowing your kids are getting a STEM lesson without even realizing it.
5. Brain Games
This Emmy Award nominated series is an interactive show full of games and experiments designed to help you understand how your brain really works.
Brain Games is a show we ALL loved, even my 6-year-old. It's not only entertaining (and it's really entertaining!), but it's incredibly educational.
You'll learn just as much (or more!) than your kids do. Happy watching!
6. It's a Dog's Life with Bill Farmer
Did you know that Goofy and Pluto were voiced by the same man?
Well, they were.
And that man was Bill Farmer. He was the voice of these iconic Disney characters for over 30 years.
Dog lover (who'd have guessed?), Bill Farmer, is stepping out from behind the mic and catching up with his favorite furry friends in It's a Dog's Life.
This series explores dogs all across America doing jobs that make our lives better. These jobs are ones you might recognize (i.e. police dogs) and ones you might not (i.e. dogs who sniff whale poop — if nothing else, that's worth watching for!).
The Wrap-Up
Well, there you have it — 6 science shows on Disney+ your kids (and you!) will love.
Be sure to share this post with your friends and comment below with your favorite show on Disney+!