Homeschooling is a lifestyle choice for many families who take this educational route. Learning happens all the time.  While you may have certain "homeschool hours" during your day, homeschool families typically find educational opportunities in nearly all aspects of life.  And yes, that even includes when you have to move.
Moving is stressful. Even if you have months to plan and pack, it's still a huge change. Add in homeschooling to the mix and it could become quite overwhelming. And while I cannot promise a completely blissful moving while homeschooling experience, I can offer up some helpful tips that worked for our family.
5 tips for balancing a move and homeschooling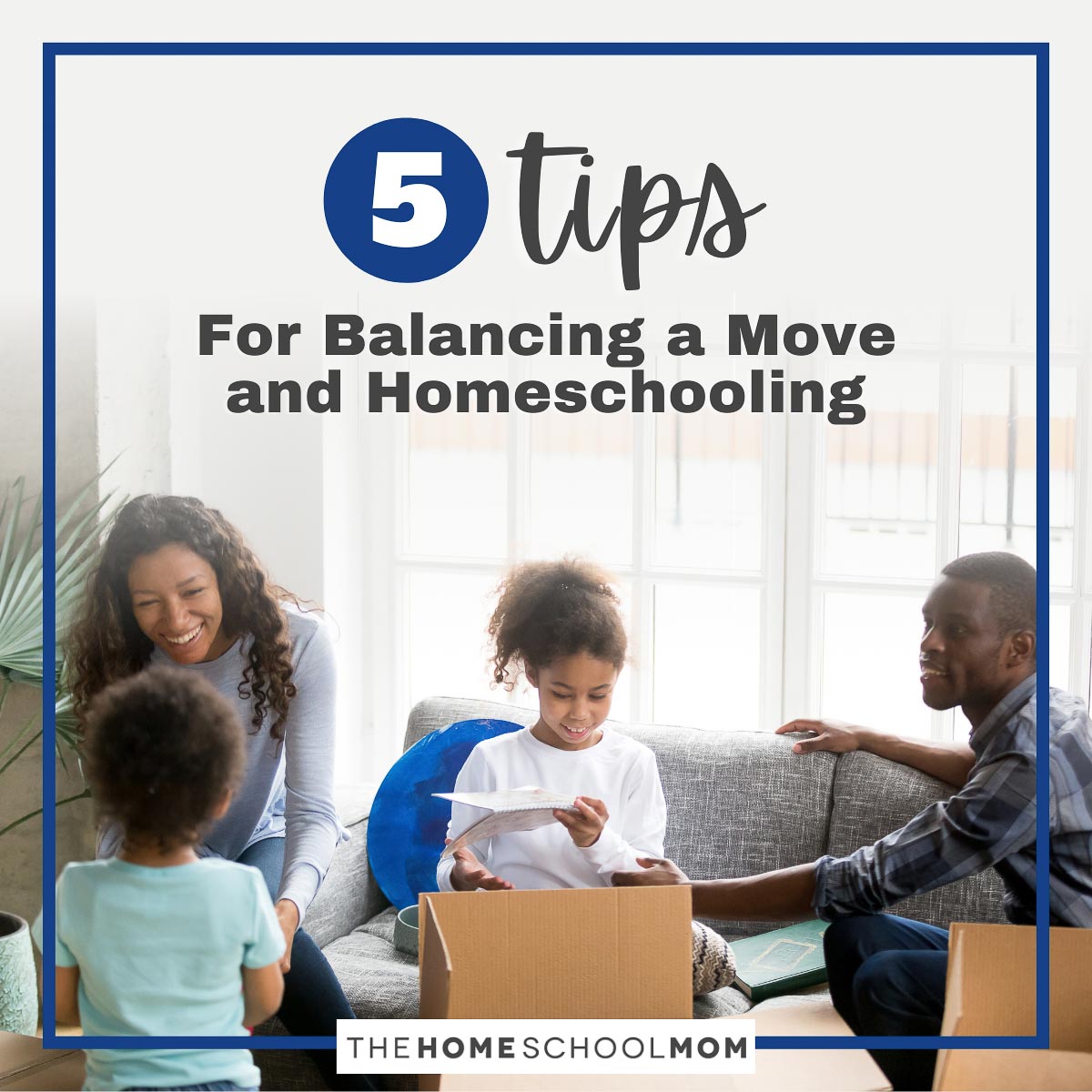 Take time to plan (but don't overdo it): Whether you're moving across town, across the country or across the world, you will need to do some homeschool planning. Both times we have moved, I sat down with our calendar and discussed potential moving dates, house projects to complete, and had to factor in realtors showing the house in the evening (typically smack in the middle of dinner time and bedtime).

I made a plan to clean up the schoolroom and turn it back into a dining room. I had to take down the math fact posters in the powder room (listen, I had a captive audience there and wanted to make the most of their time on the potty. True story), and also review our class commitments. This stage will look different for each family and will depend on the time of year and how much notice you have regarding your move. A little bit of planning is crucial but be careful not to get too caught up in details. Houses may take longer sell or sell before you are ready, your dream home may go off the market, kids may get sick, and LIFE keeps happening.

Pare down and simplify: Okay, friends, let's be honest. Can you keep up a full load of homeschooling and prep for a move at the same time and keep your house clean and the kids fed and your sanity intact? I suppose. But, should you do all those things? I think not.Pare down and simplify. I mean it! Pick two to three subjects you want to continue with during the transition and let the rest go. For us, we kept up with math, geography, and read-alouds with a few writing projects. That's it! I packed up nearly all our supplies and books.I took one laundry basket and stored whatever we were using in it. If a realtor called and needed to show the house, I could toss it in the minivan with the kids and take school work to the library, the park, or the local coffee shop. Each kid had a backpack set up with their writing and drawing utensils and paper and notebooks and some Lego bricks and a few small toys. We could be out the door in a matter of minutes.
Get your kids involved: Kids want to help. So, let them! With our first move, our kids got on real estate websites to look at houses, map out local parks, look for field trip locations, etc. It helped them feel comfortable and like they were making a difference.Need to pack your house? Kids love boxes. Lower your expectations for perfectly packed boxes. Your kids can help pack up their toys, dump socks and clothes into suitcases, and go crazy with packing tape.

Maybe skip the glasses and dishware, but otherwise, don't try to do it all yourself. Set a timer for 15 minutes and see what they can do and then let them go back to playing.

Make time for fun: Be sure to leave time for fun, friends. No doubt there will be special places you want to visit one last time before you move. Schedule time to see friends and family and time to hit your favorite restaurants and field trip locales. We did this and it made such a difference. Your family will cherish the memories.
Add in time to adjust: What happens after you move and are settled into your new home? You might feel the urge to jump right back into a "normal" homeschool routine (whatever that means for your family) instead of giving your family time to adjust. Both times we moved were in the middle of our traditional school year. It's just how things happened and we had no control over when our house would sell and my husband's jobs.

It was necessary for my health and sanity that I let everything go for a few weeks while we unpacked, set up the home, and learned about our new city. Lean into this period of adjustment. There's no specific length of time and depending on the circumstances of your move, you'll need to honor emotions and changes.
Moving while homeschooling can be a wonderful learning experience. Working together and supporting one another during a big life change is invaluable. Do you have any tips to share regarding homeschooling and moving? Let us know in the comments.