Being a homeschool mom isn't easy. Of course, it's incredibly rewarding. But that doesn't mean we don't have a lot of hard days. We question ourselves and wonder if we're doing enough. We wonder if we're screwing up our kids. Or if they'd be better off in public school.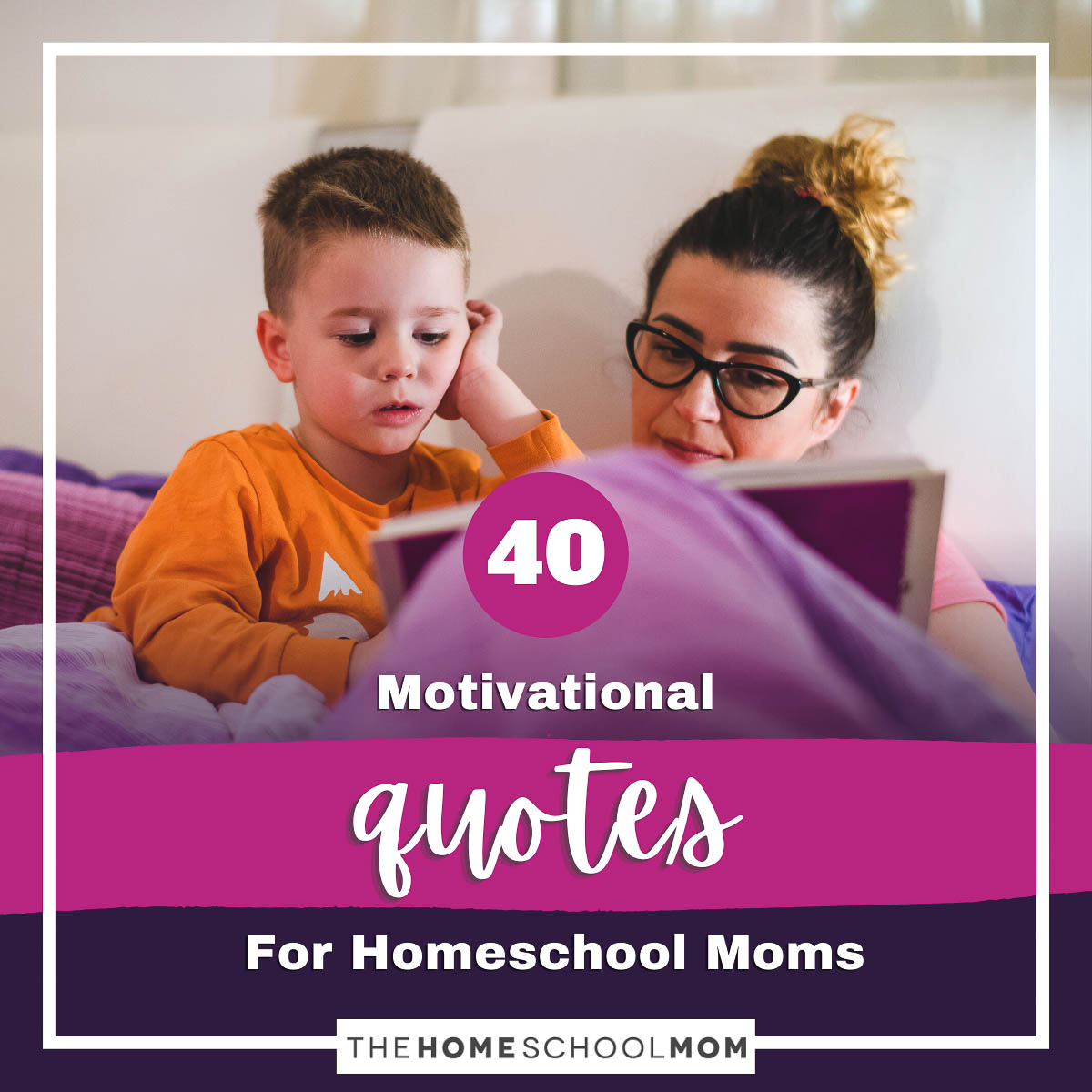 For some families, the answer is yes; they would be better off in public school. Not because mom and dad aren't good teachers, but because it's the right choice for that specific child.
For the rest of us, we're homeschooling our kids because we know in our hearts it's the right fit for our family.
For many, it's more than a choice — it's a calling.
Even if you know you're on the right path, there will still be bumps in the road. Sick days, financial troubles, juggling work and homeschooling, learning struggles, you name it.
If you need a little pick-me-up, here are 40 quotes to encourage you and help you keep moving forward.
Let's get started.
40 Quotes For Homeschool Moms Who Need a Little Encouragement
1. "Don't let schooling interfere with your education." — Mark Twain
2. "You will not reap the fruit of individuality in your children if you clone their education." — Margaret Howshall
3. "Every child has a different learning style and pace. Each child is unique; not only capable of learning, but also capable of succeeding." — Robert John Meehan
4. "The mind, once enlightened, cannot again become dark." — Thomas Paine
5. "Children must be taught how to think, not what to think." — Margaret Mead
6. "The goal of early childhood education should be to activate the child's own natural desire to learn." — Maria Montessori
7. "Thank goodness I was never sent to school; it would have rubbed off some of the originality." — Beatrix Potter
8. "Education is not the filling of a pail, but the lighting of a fire." — William Butler Yeats
9. "No kid is unsmart. Every kid is a genius at something." — Robin Sharma
10. "Children learn from anything and everything they see. They learn wherever they are, not just in special learning places." — John Holt
11. "The beautiful thing about learning is that no one can take it away from you." — B.B. King
12. "Play is the highest form of research." — Albert Einstein
13. "If a child can't learn the way we teach, maybe we should teach the way they learn." — Ignacio Estrada
14. "Tell me and I forget. Teach me and I remember. Involve me and I learn." — Benjamin Franklin
15. "When educating the minds of our youth, we must not forget to educate their hearts." — Dalai Lama
16. "Education breeds confidence. Confidence breeds hope. Hope breeds peace." — Confucius
17. "Play gives children a chance to practice what they are learning." — Fred Rogers
18. "Every child is an artist. The problem is how to remain an artist once we grow up." — Picasso
19. "The mind that opens never returns to its original size." — Albert Einstein
20. "Education is the most powerful weapon which you can use to change the world." — Nelson Mandela
21. "Today a reader, tomorrow a leader." — Margaret Fuller
22. "The capacity to learn is a gift; the ability to learn is a skill; the willingness to learn is a choice." — Brian Herbert
23. "Learning never exhausts the mind." — Leonardo da Vinci
24. "Reading is a passport to countless adventures." — Mary Pope Obsborne
25. "It doesn't matter how slowly a child learns as long as we are encouraging them not to stop." — Robert John Meehan
26. "Play is often talked about as if it were a relief from serious learning. But for children, play is serious learning. Play is really the work of childhood." — Fred Rogers
27. "Learn continually. There's always 'one more thing' to learn." — Steve Jobs
28. "Never help a child with a task at which he feels he can succeed." — Maria Montessori
29. "The journey of a lifetime starts with the turning of a page." — Rachel Anders
30. "Play is our brain's favorite way of learning." — Diane Ackerman
31. "Children are apt to live up to what you believe about them." — Lady Bird Johnson
32. "When little people are overwhelmed by big emotions, it's our job to share our calm, not join their chaos." — L.R. Knost
33. "Learning is not the product of teaching. Learning is the product of the activity of learners." — John Holt
34. "Once you learn to read, you will be forever free." — Frederick Douglass
35. "I believe that education is all about being excited about something." — Steve Irwin
36. "Children are born with all the curiosity they will ever need. It will last a lifetime if they are fed upon a daily diet of ideas." — Charlotte Mason
37. "It is a happy talent to know how to play." — Ralph Waldo Emerson
38. "Children are not only extremely good at learning; they are much better at it than we are." — John Holt
39. "Reading is the gateway for children that makes all other learning possible." — Barack Obama
40. "Why fit in when you were born to stand out?" — Dr. Seuss
Share your favorite quote in the comments below!