It's often said that all you need to homeschool is a library card.
While that may have been true ten or twenty years ago, it can be argued that today the internet is a key component in any modern homeschool household.
No matter which side of the screen time debate you fall on, there's no denying that the world wide web offers a literal world of resources right at your fingertips…and many of those resources are available for free!
Take YouTube, for example. You can learn almost any skill your mind can dream up by watching a tutorial on YouTube. The beauty of a platform like YouTube is that experts in any field can take their knowledge and share it with the world.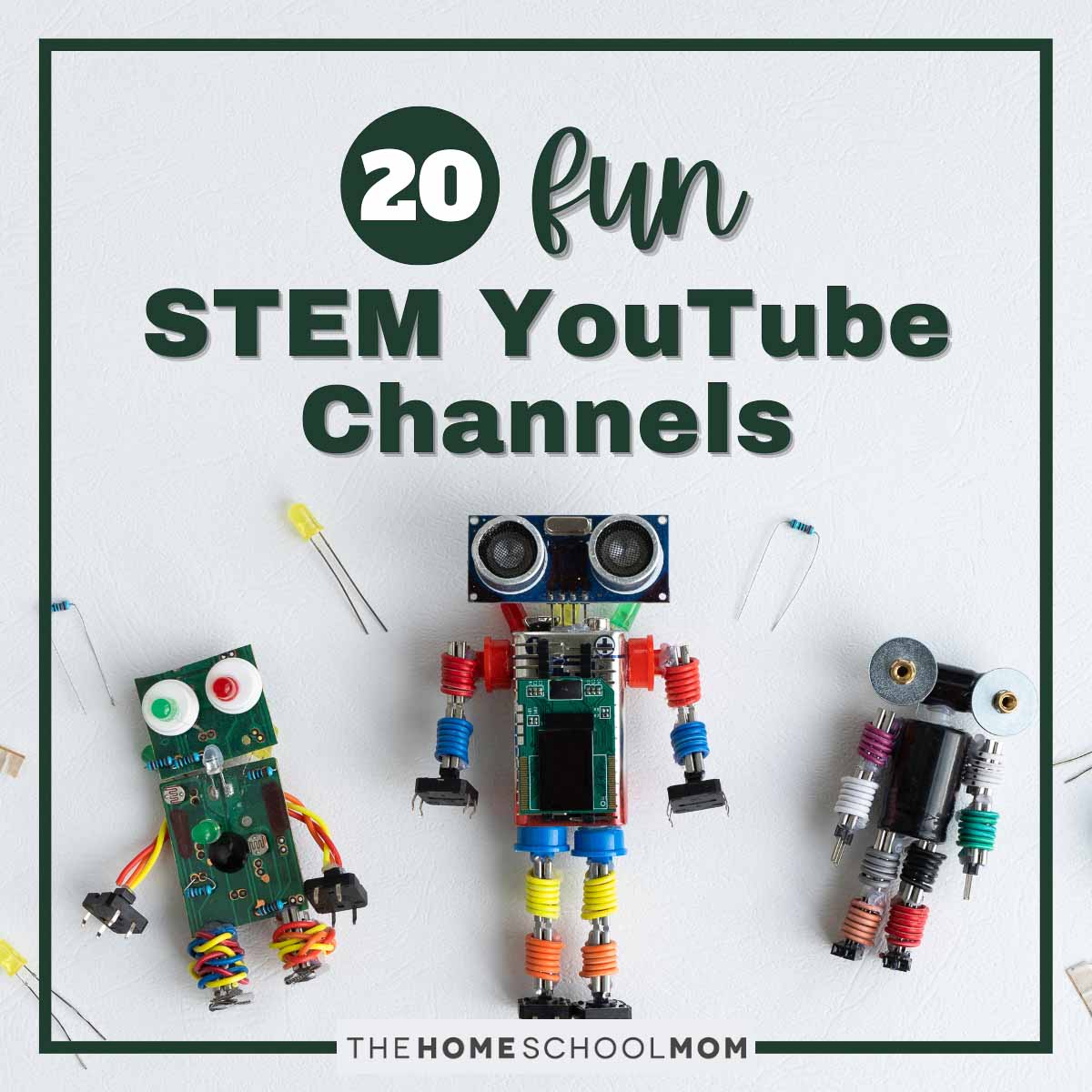 That includes topics covered in STEM learning — science, technology, engineering, and math.
If you're looking for a way to DIY a homeschool science curriculum your kids will love, or you want to jazz up a boxed curriculum, look no further.
Today, we're sharing 20 YouTube channels with a focus on STEM subjects that you can add to your homeschool routine.
Let's get started.
20 Awesome STEM YouTube Channels For Homeschoolers Of Every Age
SciShow Kids is a channel geared towards the preschool and early elementary age group that aims to answer all those random questions your kids ask at the most inopportune times. Bookmark this link and check it out when you're looking for a quick and easy at-home science lesson.
Brave Wilderness, a channel hosted by adventurers Coyote Peterson, Mark Vins, and Mario Aldecoa takes you on an exciting journey into the great outdoors. Experience up close animal encounters from the comfort of your couch. Your kids won't even realize they're learning!
Crash Course Kids is a channel that serves up "science with a side of awesome" (their words… but entirely accurate!). The makers of Crash Course Kids take grade school science topics and break them down in a way that is easy for kids to understand. Their videos cover everything from space science to life science to engineering — and so much more. Bonus: check out the original Crash Course channel for high school level videos your older kids will love!
Science done BY kids, FOR kids — that's what you'll find on WhizKidScience! The other channels listed are phenomenal, don't get us wrong. But when your kids see other kids doing real life science experiments, they'll want in on the action. Engage your kids by replicating the lessons you learn on WhizKidScience.
Formerly known as HooplaKidz Lab, LAB 360 has a library of videos for science fans of every age. Here you'll find experiments, science lessons, and more — all for free! Check 'em out when your curriculum isn't working and you need to shake things up a bit.
For space enthusiasts, you can't go wrong with the NASA channel on YouTube. Filled with updates on their groundbreaking work, you and your kids can watch history happen from the comfort of your couch. Thank you, technology!
With nearly 12 million subscribers, Dr. Derek Muller is a man on a mission — a mission to bring science to life. You'll likely enjoy his videos as much as (or more than!) your kids. Veritasium takes complex topics and breaks them down in a way that'll blow your mind.
Mark Rober is an engineer that has worked for both NASA and Apple (wowza!). And, he's as entertaining as he is smart. Your whole family will enjoy Mark Rober's videos and you'll all walk away with a bit more knowledge in your noggin!
A blog post on teaching STEM concepts with YouTube wouldn't be complete without a channel dedicated entirely to the science of numbers. That's exactly what you'll find on Numberphile. They take incredibly complex math concepts and break them down into easy to understand language for even the most math-challenged among us.
A name synonymous with sound science, National Geographic needs no introduction. On the Nat Geo channel you'll find eye-popping live streams, exclusive video clips and interviews, and even entire episodes of your favorite National Geographic TV shows — all for free! Spice up your homeschool science with the National Geographic channel on YouTube.
If we're going to talk about National Geographic and what an amazing resource it is, we'd be remiss not to discuss the Nat Geo Kids channel too. With content geared towards a younger age group, this channel is perfect for keeping kids engaged and entertained. Kids will learn all about animals, science, and adventure on Nat Geo Kids!
Do you have an animal lover in your house? If so, the Smithsonian National Zoo channel is a goldmine of valuable information. Here, you'll find videos covering the topics of baby animals, the care and feeding of zoo animals, interviews with zoologists, animal news, and more.
Have you heard of Mystery Science? If so, you'll know it's well regarded in the homeschool community for offering an engaging and hands-on science curriculum that both kids and parents love. The creator of Mystery Science, dubbed Mystery Doug, has a YouTube channel dedicated to answering kids' most pressing science questions. How were bicycles invented? Could you make a real lightsaber? Can my pet understand what I'm saying? All of these (and so many more!) are questions real kids have sent in and Mystery Doug has answered on his channel.
Destin Sandlin, rocket scientist extraordinaire, is here to answer all the crazy science questions rattling around in the back of your brain. Smarter Every Day is a channel dedicated to exploring the world through science. Watch it every day and it will definitely live up to its name.
What's the best thing about YouTube? Besides funny cat videos, of course! It's a vehicle for experts in any field to break down highly complex topics in easy to understand language. Physicist Henry Reich does just that on his channel, MinutePhysics, where he answers viewer questions with stick figure animations and super simple explanations.
Design Squad Global, a PBS production, teaches kids about the science of engineering. According to their about section on YouTube, Design Squad Global "  empowers middle school kids to solve real-world problems and understand the impact of engineering in a global context".
Nothing says science like the Science Channel on YouTube. Chock full of engaging videos on every topic you can think of, you can't go wrong by choosing the Science Channel. For a real treat, check out the MythBusters Jr. playlist — it's both fun and educational!
Khan Academy is an iconic name in the education space. Known for their high quality pre-k through college level math courses, Khan Academy has expanded to science, history, grammar, and many other subjects in recent years. While their website is incredibly comprehensive, the Khan Academy YouTube channel also has a growing library of STEM-focused videos for kids (and adults!) of every age.
SciShow Kids kicked off our post today, but let's not forget where it all started — the OG SciShow channel on YouTube. While SciShow Kids focuses on a younger audience, SciShow's videos cater to older kids, teens, and adults. Learn everything about everything on SciShow!
If you've got kids who love animals, you've probably seen Wild Kratts on PBS Kids. While full episodes are free on the PBS Kids app and website, the Wild Kratts YouTube channel is an awesome resource as well. On it, you'll find video clips from many of the episodes highlighting different animal species. This is a wonderful way to supplement a zoology curriculum!
That's a Wrap!
Learning STEM subjects doesn't have to cost an arm and a leg. Today's technology offers the opportunity for our kids to learn anything about anything with a few quick taps on any smart device.
If you want to jazz up your science curriculum, give YouTube a try. Share your favorite YouTube channels in the comments section below!