My oldest son has ADHD.
What does that mean?
Well, ADHD is a diagnosis that presents differently in each child (or adult!).  (This article from Child Mind Institute gives a really thorough overview.)
What it doesn't mean is that my son is incapable of learning, hyper all the time, or lazy and unmotivated.
Quite the opposite is true, in fact.
He's incredibly intelligent, super chill, and he's anything but lazy.
He's a fantastic kid with a creative mind and a huge heart.
It can feel scary to homeschool a child with an ADHD diagnosis. Their learning needs are often different from those of a neurotypical child.
The thing is...homeschooling gives you the opportunity to individualize your child's education in order to meet their specific needs.
For many families, the decision to homeschool ends up being a better choice than a one-size-fits-all public school classroom.
Below, I'm going to share 10 tips for homeschooling a child with ADHD.
Let's get started.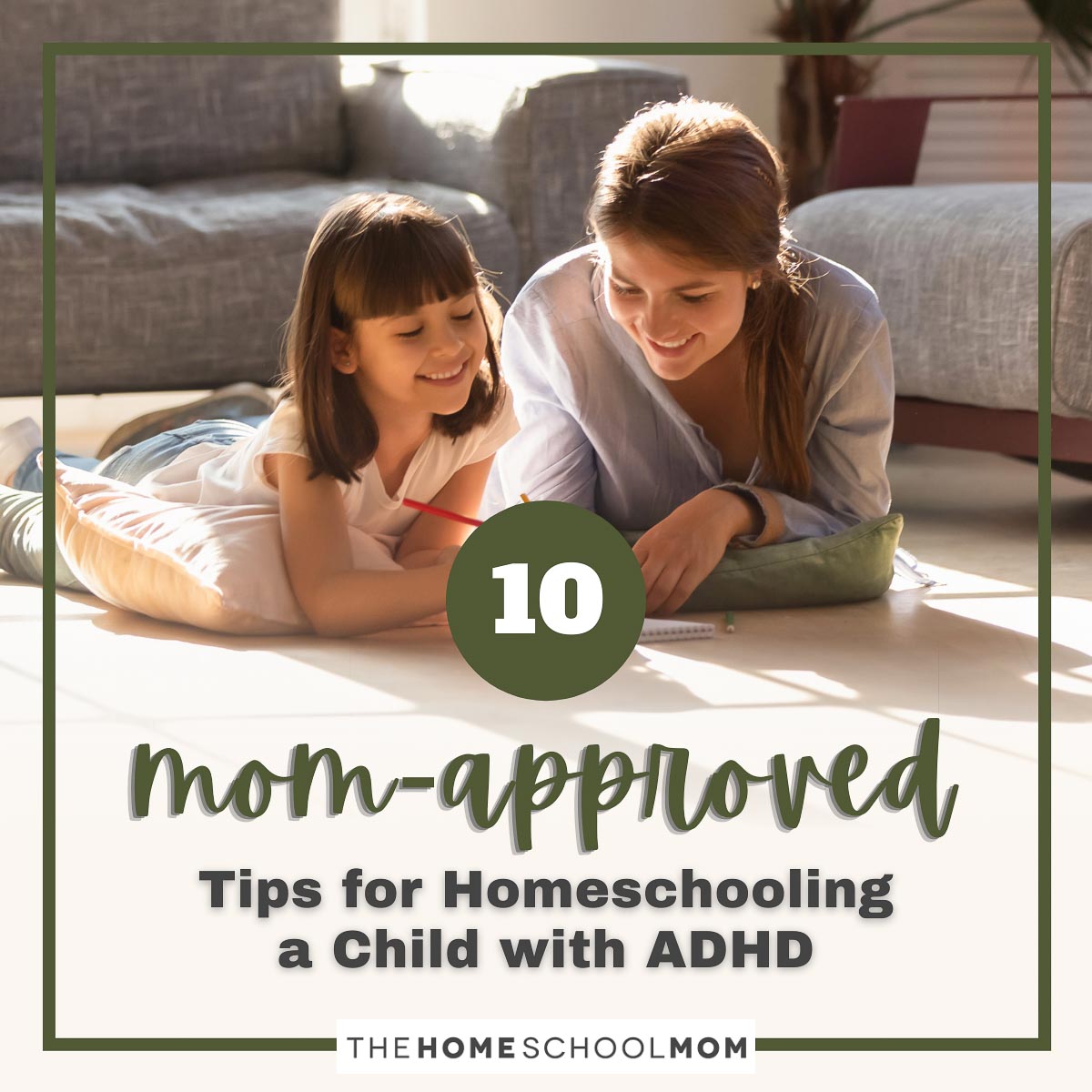 1. Let go of a public school mindset.
Your homeschool doesn't have to look like the public school up the road. Your child doesn't have to do schoolwork for hours on end, sit at a desk, or raise their hand to ask questions. Let go of that notion and do what works for your family.
2. Take a collaborative approach to learning.
Your child's education is just that — theirs. It makes sense to include them as you sit down to map out a plan. Figure out what their learning style is, what educational goals they have, and what you can do to make your homeschool a more enjoyable experience. If you take a collaborative approach, you'll get far less pushback because they feel heard.
3. Spend time researching how the ADHD brain works.
Those with an ADHD diagnosis are outside-the-box thinkers. Take time to research how the ADHD brain works and you'll feel more confident in your approach to homeschooling your child. Knowledge is power. Bonus: when you know more about how the ADHD brain works, you can help your child understand their own unique wiring too.
4. Get and stay organized.
Organization is key for an ADHD brain. Work together with your child to create a calm, clutter-free environment and develop routines to better manage their time. By including them in the process, you'll build their confidence and give them tools they can use for the rest of their lives.
5. Write out a checklist.
It's important for kids with ADHD to have a clear picture of what is expected of them, broken down into bite-size steps. Plus, checking things off a list offers a sense of achievement and a visual representation of the work they've completed (and what's left!). Keep it simple — a spiral notebook, dry erase board, notes app — and it will be easy to stick to every day.
6.  Start your day with movement.
Let your child get their wiggles out before you start your school day. When you make movement a priority, your child will have a much easier time paying attention. A few ideas: a walk around the block, playing in the backyard, a 10-minute yoga video, a game of Twister.
7.  Plan plenty of breaks.
For most kids (with or without ADHD), it's best to keep schoolwork to short blocks of time with plenty of breaks in between. Ideally, plan to spend no more than 15-20 minutes on any given activity before taking a short break. Let your child take a short walk, step outside for some fresh air, do a few jumping jacks, drink a glass of water, eat a snack, or use the restroom — anything to break up the monotony and allow them to come back feeling refreshed.
8. Set up a snack station.
Kids have fast metabolisms and when hungry, it's hard to concentrate. Being home allows you to make sure healthy snacks are readily available and easy to access. Setting up a snack station is one way to achieve this goal. The caveat is that you need to set clear boundaries so kids know what they can eat and when. For example, sweet snacks on the top shelf are for special occasions. Or, no eating within thirty minutes of mealtime.
9. Be flexible with seating arrangements.
There's no need to make your child sit at a desk. Sit around the kitchen table, on the couch, on the floor, outside on the deck...wherever they (and you!) are comfortable. You can also let them sit on an exercise ball or buy kick bands for the bottom of their chair if they like to wiggle and move. Or, kids don't even have to SIT at all. Let them stand if they want. Some kids focus better when they can stand or pace back and forth.
10. Make adjustments to the curriculum when necessary.
If the curriculum isn't working, make adjustments. Read aloud instead of assigning your child independent reading. Let them answer questions orally if writing is too difficult. Practice math facts while jumping on the trampoline. And if it still isn't working, even with adjustments...throw it out! Pass it along to someone else who can use it or sell it on a used curriculum site — let it go and try something new!
The Takeaway
It's totally possible to homeschool a child with ADHD. In fact, it's likely they'll thrive at home, away from the pressures of trying to conform to a box they were never supposed to fit into.
Many kids with ADHD need more than the average public school system can give them.
If you have the opportunity to homeschool your child and give them an individualized education, why not give it a try?
What is your number one tip for homeschooling a child with ADHD? Share in the comment section below!