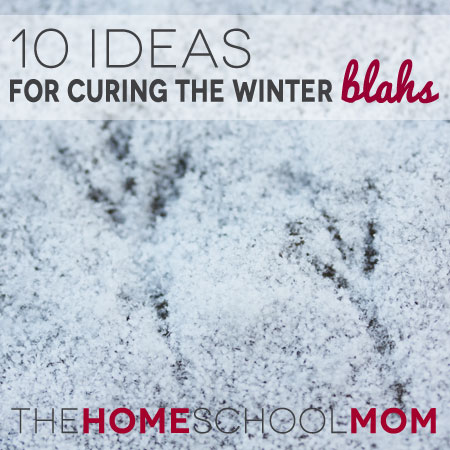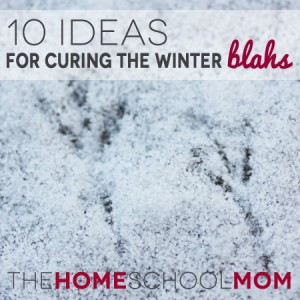 It's March, and by this point in the winter most homeschoolers have the winter blahs. You know, that "sick of being inside" "tired of the daily homeschool grind" sentiment that leads you and the kids to wish you could be doing anything other than school. Often by this point in the season, the art supplies have been well used, the indoor games have been played, and everyone is in need of a little excitement. Sometimes a dose of creativity and fun can help bridge the gap until Spring breathes a breath of fresh air into homeschooling life. Never fear, there are plenty of great ways to make the waning days of winter worthwhile and educational. Here are 10 ideas for curing the winter blahs:
Go on a scavenger hunt of the library. Prepare a list of books, videos, CDs, and other resources that kids would be interested in, and write them down. Each child has to find 3-5 items on the list. Once he has found them, he receives a special prize. Then the whole family goes home to read and watch the "loot" obtained. This is a great way to teach kids how to use the library, as well as having a bit of family fun.
Put on a cooking show. Kids get to choose 1 food item they want to make. Shop for the items, and then have Mom film each child making the item, as if the child were filming a cooking show on t.v. The child must give specific instructions on what she is doing and why, and should add in plenty of comments about how good the food tastes, to hook in the audience. Play the video for Dad when he gets home, and then let him taste the food.
Go on a photographic scavenger hunt. Get out the camera and bundle up! Make a list of specific items for each child to photograph. These can be items related to something being studied (such as types of trees), items from nature, items that all being with a certain letter, items that have specific geometric shapes, photos of the kids doing funny things in different locations, etc. Go out together and have each child take pictures of each item. The child receives a special prize or incentive when he gets photos of all of the items on the list. When you come home, print out the photos and make them into a collage.
Go on a field trip. Winter is one of the best times to check out local museums, historical attractions, and places of interest. Indoor options are perfect for cold months, and kids can learn and have fun at the same time. Children's museums, planetariums, historical homes, battlefield memorials and even places like the fire station, donut factory, florist, newspaper and local rescue mission can all be educational and inspirational ways to bring some life into learning.
Let kids be the teacher. Mom and students switch places for a day! Children go through each subject, teaching their parent either a new concept (if they are old enough to do so), or a concept recently learned. Mom has to do complete any written work as well, and kids check over Mom's work. This is not only fun for the kids, but the best way to learn something thoroughly is to teach it to others!
Explore genealogy. Teach children about their genealogy by looking through old family photo albums and memorabilia. Have children create a family tree with their art supplies, and then paste copies of photos of extended family members onto the tree. Kids can write something they learned about each family member under each picture.
Write or act out a story. Older kids can write it, younger kids can simply act it out. Have kids come up with a story starter, such as a protagonist ("good guy"), an antagonist ("bad guy"), a place, a time period, and a problem. Then have them make up the story from there. When they're done, they can act out the story for Mom and Dad or grandparents.
Have a joint homeschool day with another homeschooling family. Do half of the schoolwork all together at your house, and half at the friends' house. This enables everyone to see what the others are doing, be inspired by someone else's creative activities, and get schoolwork done in a fun and different atmosphere.
Make some ice art. Kids (and adults) of all ages can enjoy getting outside to go on a scavenger hunt of natural treasures (such as acorns, leaves, berries, etc.) and then using those items in an ice art project! By using any variety of pans, cookie cutters, or other shaped items as molds, kids can place the natural treasures then found into water and let the water freeze in the molds. For photos and instructions, visit squidoo.com.
Take school to the coffee shop. Shake up your homeschool day by packing up the books and going to a local coffee shop. Everyone gets a coffee or hot chocolate, and spends time reading together or completing independent work. When the weather is cold, going to a coffee shop and cozying up together while doing schoolwork takes homeschooling from drudgery to family adventure!