Take homeschool astronomy out of the classroom! Homeschoolers have the advantage of being able to study astronomy where it happens and when it can best be seen—the night sky.
Astronomical events provide a great way to extend homeschooling to cover more science. During winter, especially, darkness comes early and lasts long, giving us more time to view the night sky with our children.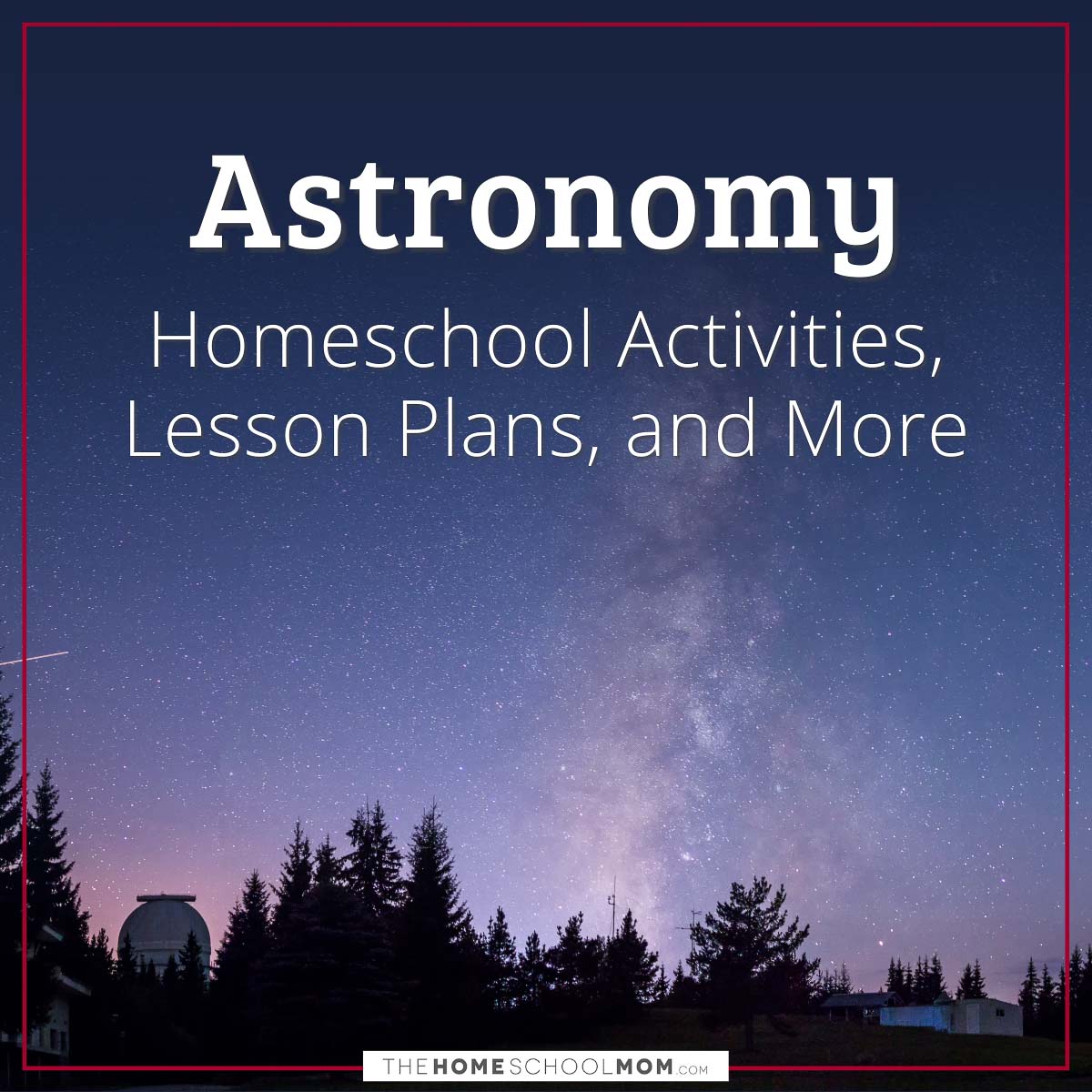 Jump to:
Homeschool Astronomy Activities
Try these ideas for homeschool astronomy:
Plan an outdoor evening in sleeping bags to gaze at constellations, the moon, meteor showers, and identifiable planets. (Pick a back-up night in case of cloud cover!)
See if you have a local astronomical society, astronomy club, or science museum where your kids may be able to use telescopes to observe the heavens.
Consider an outing to a dark sky park. Seeing the stars from a truly dark setting can create a magical and memorable evening. (Plan for the fact that cell phone service may be spotty in these areas).
Use this site to learn about upcoming upcoming celestial events well in advance. So many occasions for sky watching are predictable, and knowing ahead of time when there is an eclipse or meteor shower makes it easier to plan time for the family to commune with the stars.
Tips for success:
Get started with events that coincide with a new moon—they are much easier for inexperienced eyes to see than those occurring during the bright light of a full moon.
Use a free augmented reality app like Skyview Lite (available for Android and iPhone) to help you find and identify constellations and stars to orient your stargazing. It can even tell you where the International Space Station is at any given time!
If you know about sky watching events ahead of time, you can enhance your viewing by reading related library books aloud and watching videos with the kids. Voila! An easy astronomy unit study!
More Astronomy Ideas
Astronomy Websites, Lesson Plans, and More
Age Range Key
Y—Young (PreK-3rd)
M—Middle (4th-6th)
O—Older (7th-12th)
T—Teacher Resources
NASA's Universe of Learning  (Y,M,O,T)
NASA's Universe of Learning provides resources and experiences that enable youth, families, and lifelong learners to explore fundamental questions in science, experience how science is done, and discover the universe for themselves. Using its direct connection to the science and the experts behind the science, NASA's Universe of Learning creates and delivers timely and authentic resources and experiences for youth, families, and lifelong learners. The goal is to strengthen science learning and literacy, and to enable inquisitive learners to discover the universe for themselves in innovative, interactive ways that meet today's 21st century needs.
Sky Lights Science Blog  (M,O,T)
Sky Lights, a science blog from retired teacher Dan Heim, "is an ad-free website already in use by many teachers and students. I cover topics from astronomy, meteorology, and earth science. I also take questions from readers. With over 400 posts to date there's a wealth of information available in the archives, and more to come. The content includes 2D and 3D animations, slideshows, and original photos and graphics. Links are included in most posts for greater depth and further research. I taught science for 30+ years, am now retired, and provide this content gratis." Dan has a page for educators explaining how to best make use of his blog and he welcomes questions.
The Nine Planets  (Y,M,O,T)
The Nine Planets is an encyclopedic website dedicated to the "history, mythology and current scientific knowledge of the planets, moons and other objects in our solar system." Take a multimedia tour of the Solar System through this awesome collection of almost 100 pages of photos and information.
Astronomy For Thinkers  (M,O,T)
Astronomy for Thinkers is a personal website of science educator, John Krieger. He has a large collection of printable tools students can use to make hands-on observations of the sky, including sundials with solstice and equinox calendars, a paper observatory, constellation maps, a lunar phase dial, an astrolobe, a paper quadrant for surveying and navigation, and more.
Views of the Solar System (Y,M,O,T)
Views of the Solar System is an encyclopedic website produced by electrical engineer Calvin J. Hamilton. The website contains a wealth of information, from the formation of the Universe to each of the Solar System's planets. You can also learn about the history of space exploration, find information on notable scientists in astronomy, and access lessons and activities.
Google Earth  (Y,M,O,T)
Want to know more about a specific location? Dive right in -- Google Earth combines satellite imagery, maps and the power of Google Search to put the world's geographic information at your fingertips.
Online Star Register: One Million Stars Virtual Tour (Y,M,O,T)
Take a very cool virtual tour of the Milky Way Galaxy and learn about our neighboring stars on this interactive website from Online Star Register, the organization that allows you to register a star in your or someone else's name.
Zooniverse (Y,M,O,T)
Zooniverse is a scientific research crowd-sourcing platform where students can help identify planets, galaxies, aurora patterns, dark matter, black holes, and more. The platform will show you a picture of interest and you help categorize it by answering simple, step-by-step questions.
Greg Clements: Introductory Astronomy Videos  (O)
Greg Clements is an Astronomer and Physicist who has a comprehensive collection of introductory Astronomy videos on his YouTube Channel that includes short lectures and solutions to numerical problems. The videos on are indexed on his website and cover topics like the History of Astronomy, Black Holes, Galaxies, Telescopes, Cosmology, the Search for Life in the Universe, Solar and Lunar Eclipses, and much more.
NASA's Moonbase Alpha  (M,O)
Moonbase Alpha is a NASA-funded multiplayer game.
WorldWide Telescope   (Y,M,O,T)
WorldWide Telescope (WWT) enables your computer to function as a virtual telescope.
Astronomy Picture of the Day  (Y,M,O,T)
Each day a different image or photograph of our fascinating universe is featured, along with a brief explanation written by a professional astronomer.
The People and Discoveries of Physics and Astronomy  (M,O)
Learn about the important people and discoveries in physics and astronomy from this databank from PBS. It starts with the discovery of the quantum nature of energy in 1900 and ends with the introduction of cosmic string theory in 1976. You can search by topic or by person.
Astronomy: Our Place in Space  (Y,M,T)
This kids' astronomy page from Ology has games, videos, stories, activities, and more. Ology is a science-rich, educational website for kids from the American Museum of Natural History in NYC.
Space Place  (Y,M)
Space Place is an educational website for kids from NASA that has games, animations, projects, fun facts, and educator resources about Earth, space, and technology.
NASA Kids' Club  (Y,M)
NASA Kid's Club is an educational website where kids can learn about NASA and space science. It has a large collection of games, activities, science projects, informational pages, and much more.
The Comet's Tale  (Y,M,O,T)
The Comet's Tale is an educational website from the Science Engineering Gateway for Berkeley education. A look at all aspects of comet's from history to predicting future killer comets. Instructions for making a comet.
Space Science Institute Educational Games and Websites  (Y,M,O,T)
The Space Science Institute (SSI) is a nonprofit, public benefit corporation formed in 1992. Its purpose is to create and maintain an environment where scientific research and education programs can flourish in an integrated fashion. Visit their education page to find games, apps, digital exhibitions, educational websites, teacher's guides, and more.
StarChild: A Learning Center for Young Astronomers  (Y,M)
StarChild is an educational website from NASA for students ages 5-13 to learn about the Solar System, the Milky Way galaxy, and the universe beyond.
Imagine the Universe (M,O,T)
Imagine the Universe is an educational website from NASA designed for students ages 14 and older to learn about the stars, space, and the universe beyond.
PBS NOVA Labs (Y,M,O,T)
PBS NOVA Labs are online, interactive learning activities for kids that are accompanied by videos, quizzes, games, educator resources, and more. Use their two astronomy labs to learn about Exoplanets and the Sun.
Zoom Astronomy  (Y,M,T)
A comprehensive educational microsite about space and astronomy from Enchanted Learning. You can find tons of informational pages on the planets, stars, solar system, and space. Also included are plenty of activities, quizzes, coloring pages, crafts, puzzles, and other educator resources.
Make a comet   (Y,M)
From the Lunar and Planetary Institute. This activity introduces kids to the structure of comets and the interactions between comets and our Sun. Activity for space unit. (Y,M)
Styrofoam Planets  (Y,M)
You guessed it: make styrofoam planets. This classic space craft is always fun – learn how on eHow.
Outer Space Crafts  (Y,M)
"Take your kids on a trip to outer space with our fun and easy crafts, colouring pages and worksheets or give them (or yourself!) a bit more of a challenge with something like the "Moon Landing on Digital Nebula" tutorial." From DLTK-Kids.
On the Moon Activity Guide  (Y,M,O,T)
Six activities that bring engineering and NASA's moon missions to life. Two activities--Launch It and Touchdown--are for grades 3-8 (and work well at events). Three activities--Roving on the Moon, Heavy Lifting, and On Target--are for grades 6-12. One activity--Feel the Heat--is for grades 9-12. From PBS Kids, archived on the Wayback Machine.
A Trip Through Our Solar System An Internet Scavenger Hunt  (Y,M)
You have been selected by the National Space Travel Institute to take a high-speed voyage through our solar system. Your journey will begin on our star, the Sun. This fantastic round-trip voyage will take you all the way to Pluto and back again! You have been asked to find the answers to some interesting questions along the way.
NASA Coloring Books  (M)
NASA has a large collection of printable coloring pages, activity books, comics, and more available online. The topics cover Astrophysics, the Solar System, the Sun, Earth Sciences, and more.
NASA Teaching Materials  (Y,M,O,T)
All of NASA's 1,700+ educational materials in one place. This is an extensive database, searchable by subject, grade level, and product type. It contains lesson plans, activities, educational websites, games, interactives, videos, image galleries, and much more.
Free NASA Educational Publications  (T)
An extensive, A-Z, database of free posters, lithographs, fact sheets, brochures, teacher's guides, and other interactive educational resources available for download from NASA.
National Air and Space Museum Educator Resources  (T)
The Smithsonian's National Air and Space Museum contains a wealth of educator resources, including lessons, activities, and downloads, as well as a large collection of artifacts that can be viewed online.
Kennedy Space Center Educator Resources  (Y,M,O,T)
The NASA Educator Resource Center (ERC) at Kennedy Space Center Visitor Complex provides educational resources available include videos, slides, lesson plans, publications and lunar & meteorite samples.
The McDonald Observatory Resources (Y,M,O,T)
If you can't visit The University of Texas McDonald Observatory in-person, you can check out some of their numerous resources online, including virtual visits, classroom activities, and K-12 lesson plans.
ISS National Laboratory (Y,M,O,T)
The International Space Station National Laboratory is an educational website dedicated to the ISS. You can find all of the latest ISS news, as well as a large collection of lesson plans and activities for the classroom.
European Southern Observatory Educational Materials (Y,M,O,T)
The European Southern Observatory has a large collection of astronomy teacher's guides, virtual tours, videos, images, educational websites, and tons more available online.
Exploratorium Astronomy and Space Sciences Resources (Y,M,O,T)
The Exploratorium of San Francisco has a wealth of Astronomy and Space Sciences information, educational materials, lessons, activities, projects, apps, tools, and more available online.
The Aurora Page  (Y,M,O,T)
A source for information, links, and images about the "Northern Lights" from Michigan Technological University.
HubbleSite  (M,O)
HubbleSite, from NASA, is home to the complete collection of every Hubble Space Telescope news release and its supporting materials, along with tools and resources designed to further your knowledge of astronomy.
Space Weather Prediction Center  (Y,M,O,T)
Space weather, as our scientists understand it now, manifests on Earth when a solar storm from the Sun travels through space and impacts the Earth's magnetosphere. Studying space weather is important because solar storms can affect the Earth conditions and the advanced technology.
Living with a Star Program  (O)
The LWS Program provides missions to improve understanding of how and why the Sun varies, how the Earth and Solar System respond, and how the variability and response affects humanity in Space and on Earth.
SpaceWeather.com  (Y,M,O,T)
For the skywatchers among us, SpaceWeather.com is a wonderful site for predicting space events such as meteor showers, auroras (northern lights), falling asteroids, and more.
Apollo 11 Story  (Y,M)
On July 20, 1969, the human race accomplished its single greatest technological achievement of all time when a human first set foot on another celestial body. Get the Apollo 11 story from launch to splashdown on this NASA microsite.
Spot the Station (Y,M,O,T)
"Watch the International Space Station pass overhead from several thousand worldwide locations. It is the third brightest object in the sky and easy to spot if you know when to look up." You can find a live tracking map on the Spot the Station website by NASA, so you can catch a glimpse of the ISS when it passes by.
The Great American Eclipse (Y,M,O,T)
When is the next solar eclipse and where can you see it? The Great American Eclipse website has all of the information you need, including how to watch the eclipse, maps of where in the U.S. you will be able to view it, and by how much in different locations.