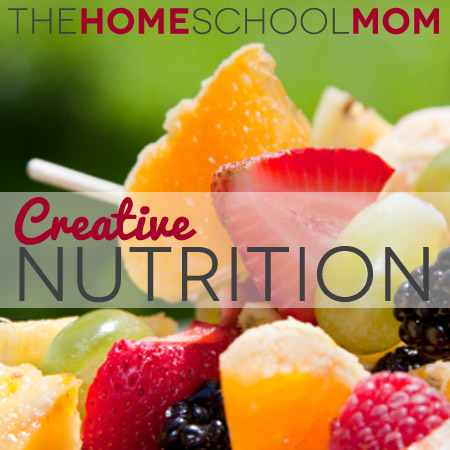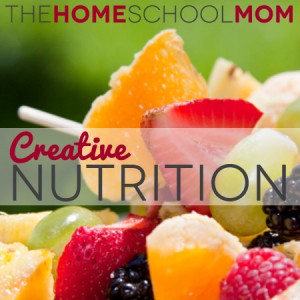 Most homeschoolers know that gummy bears and chips are not the food choices that will help to bring about optimal school performance. But many are not aware of just how important nutrition is, and what an impact it can make on a child's ability to learn. For example, studies have demonstrated that children with low iron levels have short attention spans[1]. Learning specialist Dianne Craft reviews research in which the supplementation of essential fatty acids has been used to treat hyperactivity, learning delays, and other academic and emotional problems. With there being so many factors about learning that we cannot control, it would be imprudent to ignore such a simple thing as making sure our kids get the nutrition they need.
Of course the best ways to get kids the nutrition they need is to make healthy food the only option. Get rid of the chips, ice cream and sugary snacks and replace the shelves with nuts, homemade popcorn, granola, and fruit. If unhealthy foods are not available in the home (or at least only sparingly available), this will significantly increase kids' nutritional intake. Making food from scratch, avoiding packaged or processed foods, and using food as close to its original source as possible are all great tips for keeping a healthy household. But even with all of those efforts, sometimes a little creativity can go a long way to helping kids enjoy eating what's good for them. Consider these options:
Put it into a shake. Kids will eat just about anything when it's disguised in a shake or smoothie. You'd be amazed how well spinach (an incredibly nutritious "super food") works in a fruit smoothie, or how wheat germ disappears into a mixed drink with ice! Yogurt, frozen bananas, frozen berries, 100% fruit juice, oats, carrots, zucchini and protein powder are all wonderful healthy shake-making ingredients. Consider these shake ideas: Dr. Oz Spinach Raspberry Flaxseed Oil Shake, or the green smoothie recipes at incrediblesmoothies.com.
Be creative with it. The more fun the food looks, the more likely kids are to eat it. Get artistic! Here are some ideas:

Put cheese and fruit slices on to skewers as kabobs
Dot raisins on celery slathered in peanut butter to make "ants on a log"
Turn an apple into a 3-D puzzle!
Use blueberries to make a smiley face on pancakes
Instead of a regular salad, make a salad head with a head of lettuce, cherry tomato eyes, carrot stick nose, and green pepper mouth. Serve with ranch dipping sauce.

Use a dip. Vegetables shunned by themselves often become quite palatable when paired with an interesting dip! Kids love to try different dips, so get creative with yogurt, cheese, ranch, honey-mustard, and anything else that tickles your child's taste buds.

Substitute healthier foods for unhealthy ones. Spaghetti squash "noodles" make an excellent substitute for pasta, and sweet potato fries boost the nutrition over regular potatoes. Honey is much healthier than sugar, and mashed cauliflower can be used in place of mashed potatoes for a nutritious alternative.

Freeze it. Frozen items are associated with dessert favorites like ice cream, so use this to your advantage! Make homemade orange juice popsicles, or freeze individual grapes. Plain yogurt sweetened with honey and fruit can be frozen for a wonderful cold and nutritious treat!

Purchase a grain mill. One of the best investments you can make for your family's nutrition is a grain mill, such as the WonderMill. Did you know that up to 90% of the nutrients in whole wheat flour are lost in 72 hours[2]? This is because as soon as wheat berries are opened, such as in the milling process, the natural oils begin to oxidize. Store-bought bread (even "whole wheat" bread), has lost the majority of its nutrition because of the timeframe the lapses between milling and baking in the industrialized process. Milling your own flour and baking items immediately locks in the maximum amount of nutrition within the wheat itself. Even more reason to mill your own flour – most commercial baking processes strip the grain kernel of its most nutritious parts (the bran and germ). Wheat, when used as a whole, contains all but 4 of the 44 essential nutrients needed by our bodies, including essential fatty acids[3]. That means one homemade milled and baked loaf of bread can pack the large majority of nutrients kids need into one extremely yummy package! With a grain mill, you can not only make healthy homemade bread, but muffins, cornbread, waffles, pancakes, sweet breads, cinnamon rolls, English muffins, tortillas, pizza crust, cookies, and more – it changes all of the foods kids love from being empty carbohydrates into being nutrition-packed super-foods! For more information on wheat milling, and its benefits, read Grains of Truth or Facts About Fats by breadbeckers.com.

Make it small. Picky eaters tend to dislike chunky or textured foods. If vegetables are pureed into sauces and soups, they become less noticeable. Broccoli is much more appealing to kids when it is very finely minced and added into rice or casseroles, and carrots, spinach or even zucchini disappear when put in the food processor and added to spaghetti sauce. Pumpkin and sweet potatoes blend beautifully into muffins, and squash can be put into sweet breads and even cakes to boost their nutritive value.

Make healthy snacks from scratch. Kids tend to eat "snack" foods much better than traditional meal foods. Unfortunately, the vast majority of commercially prepared snack foods are unhealthy, so a great option is to make your own! This can be incorporated as part of school, as well, so the kids are involved and learning cooking skills and Mom doesn't have to add one more thingto her list. Check out these options:

Get a Whirley Pop! Homemade popcorn is healthier and cheaper than microwave bags. For about $25 you can purchase a stovetop popcorn popper that kids will love to use, which is much more economical than purchasing bagged or microwave popcorn. Buy popcorn kernels in bulk and let the kids do their own snack!
Make a homemade trail mix. Mix together assorted nuts, dried fruit, and maybe even a few chocolate chips for fun! Keep this in reach of the kids so they can grab and go.
Bake a batch of healthy muffins or breads. Keep half in the refrigerator for quick snacks, and half in the freezer for the future. Find recipes that use honey rather than sugar, and use freshly milled flour for maximum nutrition. Excellent options: Zucchini bread, banana bread, blueberry muffins or carrot muffins with cream cheese.
Bake pita chips. Simply cut pita bread into triangles, brush with olive oil, add salt, and bake. Let kids dip these into salsa.
Make homemade granola. Granola can be used for breakfast, or put in baggies for a great snack. Consider this granola recipe by Alton Brown which incorporates cashews and coconut. Or make it more portable by putting into a bar, such as the Granola Bars Basic Recipe at superhealthykids.com.
Sources:
Taras, H. (2005). Nutrition and Student Performance at School. Journal of School Health: 75(6).
http://www.sciencedirect.com/science/article/pii/0306987781900141
---