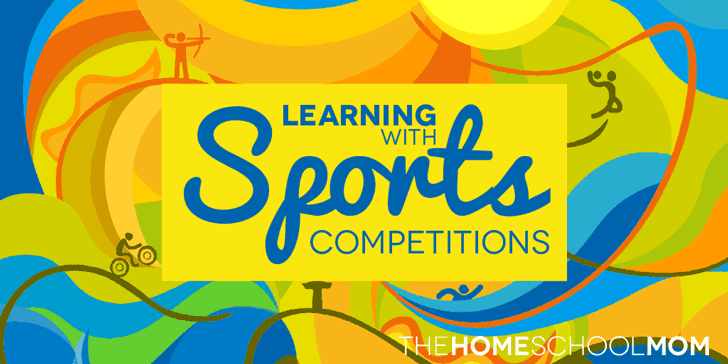 I'm cautious about twisting every interesting thing into a "learning opportunity" that can turn off otherwise interested kids, but the Olympic Games are compelling, and your kids will probably want to know more.
Watching actual competitions on television or via internet is surely the hook. Competition is its own drama, and the personal stories of athletes who have trained for so many years are interesting.
But with the 2016 Olympics in Rio set for August 5 - 21, what are some good resources for additional learning?
History
The Olympic Games website itself provides much more information than a television schedule. There is a description of each sport, along with profiles of featured athletes who compete in that sport. The Olympic Games archery page, for example, explains historic connections to the modern sport of archery, noting, "In 1200 BC the Hittites and Assyrians shot their bows from chariots, becoming fearsome opponents in battle," and explaining that archery was a "favourite sport of the Egyptian pharaohs during the 18th dynasty (1567-1320 BC)."
Archery is certainly experiencing a wave of popularity today, but your child may want to learn about the history of other sports -- which has a way of turning into sparking general historic learning as well.
In addition to specific historical connections for each sport, the Olympic Games site has information about the Ancient Olympics, including history of the games, related mythology, and historic athletes. Homeschooled kids who have enjoyed Rick Riordan's Percy Jackson and the Olympians books will be interested in the mythological tie-ins to the modern Olympics -- or it could work the other way in your family -- the Olympics might set the agenda for your kids to read the Riordan books or listen to you begin reading one of them aloud.
Geography
Another angle is to use the Olympic Games to learn more about the host country, other participating countries, and world geography. While the Olympic Games website has a roundup of the countries in the Olympic Games, a much better resource is Knowledge Quest's My Country Book, available as a free printable. Younger kids might enjoy watching the Parade of Nations and using the country flag flashcards to identify where the athletes are from. For kids who like workbook-type unit study exercises, there are fill-in-the-blank workbook pages for each country.
Current Events
Older kids -- some who are in the later elementary grades and certainly kids and teens through middle school and high school -- might be interested in discussing Olympics-related current events and issue-oriented topics. Here are some topics you might want to be prepared to discuss -- or you could send your teens on a rabbit trail of internet research to find news or history on these topics:
Athletes' use of performance enhancing drugs (individually, and for 2016, the Russian team has been in the news, as other countries have been in the past)
Problems with the athletes' accommodations in Rio (and at previous Olympics)
Security and terrorism concerns (history of incidents at the Olympics, current preparations)
Use by governments of the Olympics in international diplomacy and world affairs (be sure to look at the 1936 Olympics as well as other years)
Athletes' issues with injuries, body image, celebrity, and training techniques & time (a number of Olympic athletes have been homeschooled)
The economic advantages and challenges of being a host country for the Olympics -- and the bidding process
Issues involving athletes' sex, gender, and race over the years
Other Olympics-related organizations, such as the Paralympics and Special Olympics
Technological marvels related to the Olympics -- sophisticated timing devices, specially designed high tech swimwear, broadcasting and internet streaming set-ups, and more
The highly varying body types that are needed to excel in different sports (compare gymnasts to swimmers, for example)
Life Skills
It's also just a great time to learn about Rio, Brazil, and South America. Get out the globe and the map, and come up with questions that might interest your kids:
Could we drive to Rio from the United States?
What is the language and culture of Brazil? How is it the same or different from your own country?
How much would it cost to get tickets and travel to the Olympics in Rio as a spectator?
An event on the world stage like the Olympics gives parents the opportunity to help kids learn concrete factual information, but also to engage in inquiry-based learning. Watching together, having conversations, sprinkling historic and current issues into the dialogue, and following up on questions with research and reading are all great ways to help kids form the habit of making connections -- a big piece of "learning how to learn."
Plus, it's a marvel to see the strength and grace of Olympic athletes in high caliber competition - and to consider the time, effort, talent, strategy, psychology, coaching, nutrition, politics, money, sacrifice, and fortune involved in getting there.